TweakTown's Rating: 89%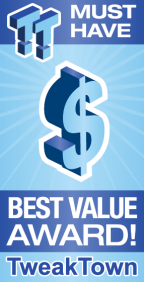 The Bottom Line
The Drop + EPOS H3X wired gaming headset is an impressive all-rounder that delivers great sound for its affordable price-point. From build quality to PC and console versatility, it's an easy recommendation.
Pros
+

Impressive sound for the price

+

Great build quality

+

Stylish and comfortable

+

Versatile and works great with PC and consoles

+

Decent for gaming and listening to music
Cons
-

The microphone is chunky and not detachable

-

Default tuning emphasizes bass a bit too much

-

The volume dial is a little flimsy
Should you buy it?
Avoid
Consider
Shortlist
Buy
Introduction & Specification Details and Close-up
Knowing the price before putting on a pair of over-ear headphones or a gaming headset is a good baseline indicator of what to expect. Of course, there are exceptions, but the truth is that budget-oriented audio gear will never truly compete at the audiophile level. Even so, the results can still be impressive.
Audio quality will always be the biggest thing to look out for, even in the most budget-conscious gaming headsets. You've also got voice quality, comfort, building materials, and extra features like surround and other customization capabilities - but 'how it sounds' always sits at the top.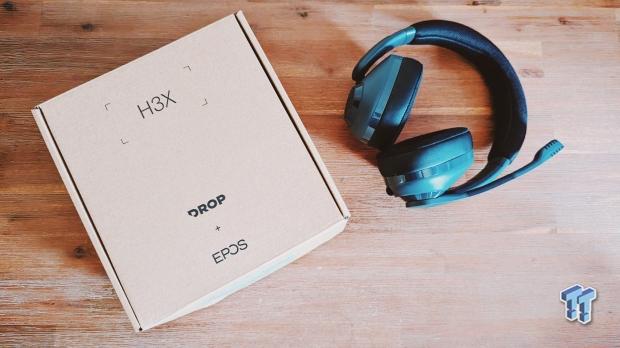 This brings us to the exciting Drop + EPOS H3X Gaming Headset, a collaboration between online specialty retailer Drop and the audio gurus at EPOS (formerly Sennheiser gaming), which redesigns and repurposes the USD 119 wired EPOS H3 Gaming Headset from 2021 into a more affordable USD 79 package.
Designed to deliver impressive audio performance at an entry-level price for gamers, students, and PC enthusiasts, it even changes the underlying hardware. That means gaming, listening to music, video conferencing, and other desk-bound activities are all catered for.
It's a cool approach because the EPOS H3 Gaming Headset was impressive but flawed. Its default sound, or tuning, was way too bass heavy. This is ok for cinematic blockbuster explosion-filled gaming but not for other tasks. As a stylish little retail outlet and brand, Drop is known for focusing on quality in addition to aesthetics.
So the X in the EPOS H3X references a new sound profile that features a "meticulously tamed frequency response at both extremes of the spectrum for a more reference-like listening experience."
Let's dig in.
Specifications & Close Up
Product Type: Wired Gaming Headset
Interface: 3.5mm (one Console and one PC cable)
Form Factor: Over Ear Closed
Drivers: 40mm
Headphones Frequency Response: 20 - 20,000 Hz
Microphone Pick-up Pattern: Bi-Directional
Surround: Windows Sonic (PC)
Cable: 3.5mm, 3.5mm with PC splitter
Weight: ~ 270 grams
In the Box: Drop + EPOS H3X Gaming Headset, 3.5 mm TRRS connector (1.5m), 3.5 mm with split TRS connector (2m), Carry Pouch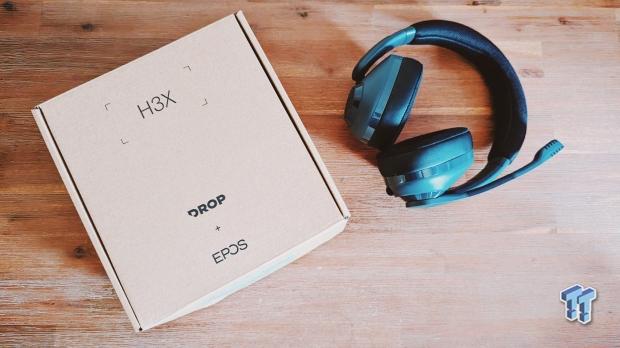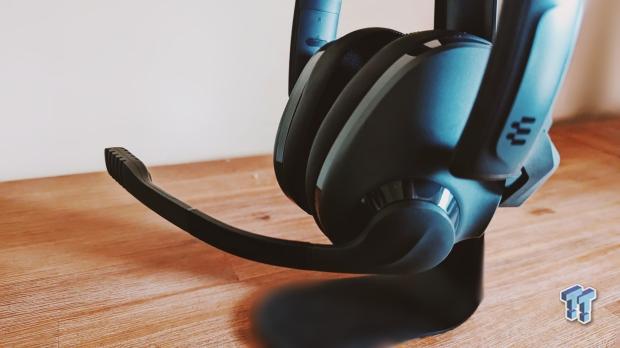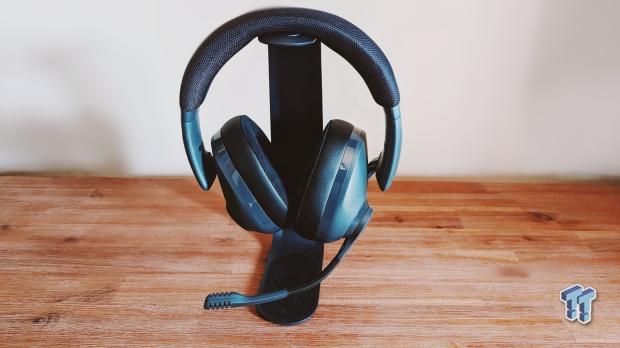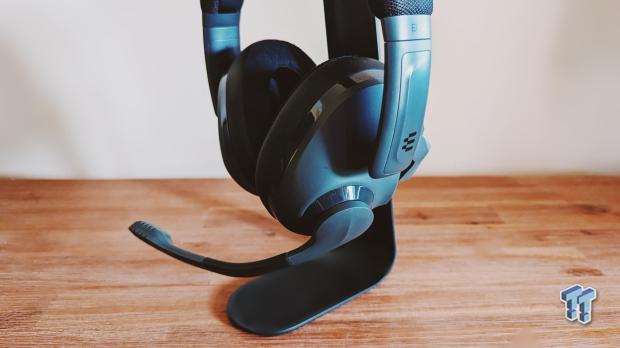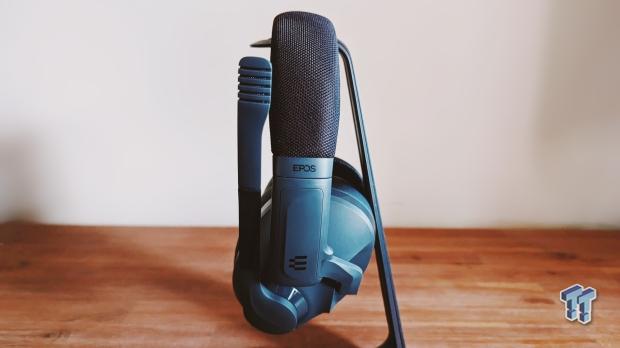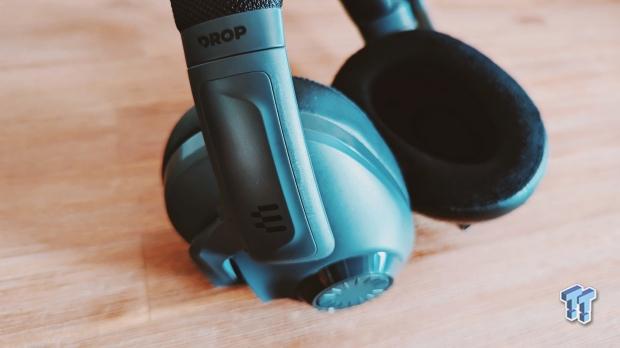 Kosta's Test System Specifications
Motherboard: MSI MPG X670E Carbon Wi-Fi
CPU: AMD Ryzen 9 7900X
GPU: NVIDIA GeForce RTX 4090 Founders Edition
Cooler: Corsair iCUE H100i RGB PRO XT Liquid CPU Cooler
RAM: 64GB (4x32GB) Corsair DOMINATOR PLATINUM RGB DDR5 DRAM 5200MHz
SSD: Kingston FURY Renegade PCIe 4.0 NVMe M.2 SSD 2TB
Power Supply: Thermaltake Toughpower GF1 850W
Case: Thermaltake Core P3 Tempered Glass Snow
OS: Microsoft Windows 11 Pro 64-bit
Design & Software and Support
Design
From the form factor to the fit, the physical design of the Drop + EPOS H3X Gaming Headset is in line with the original EPOS H3 Gaming Headset with a few notable changes. The headband is significantly improved, featuring a more robust build, padded fabric finish, and stainless-steel adjustment band. For a USD 79 gaming headset, it's impressive stuff. Throw in a charcoal color for the overall headset, and it's a more stylish take on what came before.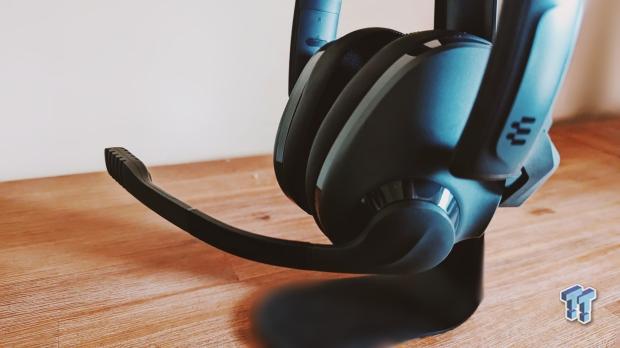 Although the ear cups aren't the largest, the closed over-ear fit is firm and comfortable, with a decent seal for passive noise cancellation. The microphone follows the same flip-up-to-mute design of EPOS and Sennheiser gaming headsets but isn't detachable. This means it's always there, and with the overall microphone design being as chunky as it is, it's noticeable too.
The Drop + EPOS H3X Gaming Headset ships with two detachable 3.5mm cables, one for standard 3.5mm headphone jacks and gaming consoles and another for PC in splitter cable form. The latter is also longer, with 2 meters being more than enough for most desktop setups. The cables are decent quality and a dark grey like the headset but are prone to twists and tangles. As a budget-oriented gaming headset, there aren't many frills, but Drop has packed in a material-based carry bag, which is a nice addition for portability and storage.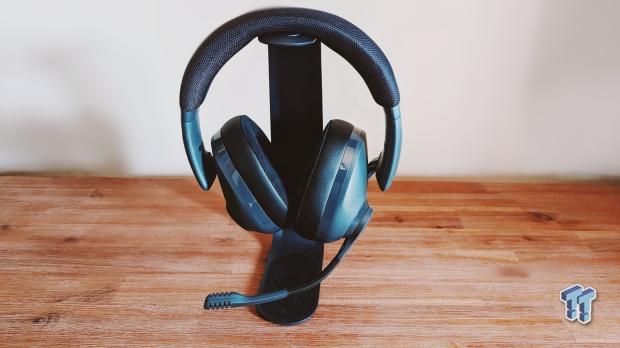 Weighing in at 270 grams, it's also comfortable and light enough to wear for extended periods. As simple as the physical design for the Drop + EPOS H3X Gaming Headset might be, it has a few notable touches that make it feel more premium than the price point would suggest. There's the headband mentioned above with fabric and comfy cushioning, the metallic adjustment band, and even hinges on each cup to support a more versatile fit.
Ultimately, the quality and balanced audio stand out. The Drop + EPOS H3X Gaming Headset delivers a balanced and detailed sound with rich bass, crisp highs, and enough mid-range detail to work well out-of-the-box with games and music without the need to make regular equalizer adjustments.
Software and Support
As a wired headset, the Drop + EPOS H3X Gaming Headset is pure plug-and-play action which means no official software support for customization and tinkering. This doesn't mean you're left with the out-of-the-box sound, and that's it. EQ tinkering can be found in free and open-source audio software. On Windows 10/11, you can enable Windows Sonic for Headphones for surround or pay for a subscription for either Dolby or DTS spatial audio.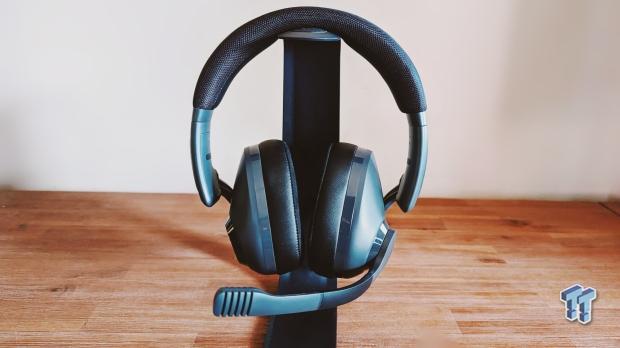 For this review, we paired the headset with EPOS's GSX 1000 2nd Edition external sound card, which features in-built options for standard two-channel audio, virtual 7.1, and presets for music, movies, and FPS gaming. For the most part, external soundcards are superior to onboard audio (directly connecting a headset to a motherboard or laptop), offering a cleaner sound with a better DAC. Using an external sound card with dedicated audio hardware often brings the best out of a wired headset - especially when paired with high-fidelity recordings.
Performance & Microphone
Performance
Although the overall sound from the Drop + EPOS H3X Gaming Headset has plenty of detail, the 40mm drivers are still tuned for bass. Testing with various electronic-based music and games like The Callisto Protocol, Marvel's Spider-Man, God of War, and Forza Horizon 5 on PC, the crisp highs come across, but so does the booming bass.
This isn't a bad thing per se, but if you're a fan of a warmer sound with bass that doesn't rattle (being closed does amplify the bass, too), you might become a little fatigued with the overall sound.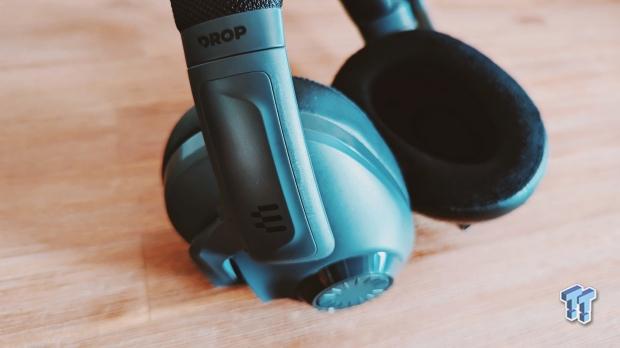 Adjustments can be easier with direct access to customization software on a PC, but the only issue is bass, which can sometimes feel slightly too pronounced. It's not a deal breaker, nor does it completely overshadow the rest of the frequency range.
The good news is that, for the most part, the sound quality here is impressive for the price point and a great all-rounder. And the Drop + EPOS H3X Gaming Headset also pairs well with the PlayStation 5 or Xbox Series X|S, using both consoles' spatial audio capabilities and chat functionality.
Microphone
Like the sound quality, the voice and chat chops of the Drop + EPOS H3X Gaming Headset punches above its weight class - the USD 79 price point. Straightforward and with plenty of detail, it's better than most headsets costing double the price. This is very welcome, considering the size of the non-detachable microphone, and great for those that do plenty of conferencing or play co-op or competitive titles with friends.
There isn't much in the way of noise cancellation, but flip-to-mute is a super easy way to 'go quiet.' Like making changes to the sound profile, many tools offer AI-based options and chat mix balance customization, like NVIDIA Broadcast.
Final Thoughts
The Drop + EPOS H3X Gaming Headset takes an existing headset, improves upon it, and gives it a price point that makes it stand out. As a wired gaming headset, it's both comfortable and delivers excellent sound quality, with crisp highs and booming bass. If your budget sits firmly in the USD 79 price range and you're looking for something decent for gaming and listening to music, this becomes an easy recommendation.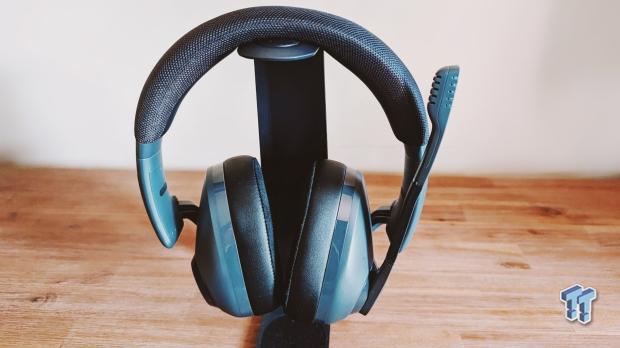 It's not perfect, but the build quality is uniformly impressive. If we'd make one change, it would be for the microphone to be detachable, as the mics on EPOS headsets are chunky. Also, we'd love to see headset makers release software that isn't limited to USB or wireless models - which would add a dose of customization when all you want to do is make a few minor adjustments.