Razer Naga V2 Pro MMO Wireless Gaming Mouse Review
Razer's Naga V2 Pro might be a wireless gaming mouse designed for MMO and MOBA players, but the customization and versatility here are impressive.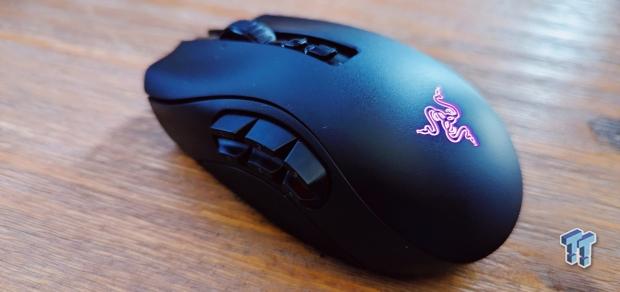 VIEW GALLERY - 17

Published
Manufacturer: Razer (RZ01-0440)
8 minute read time
TweakTown's Rating: 97%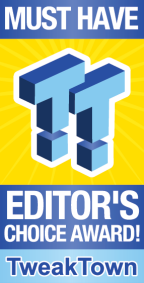 The Bottom Line
Much more than a new wireless gaming mouse designed for MMO and MOBA players, the Razer Naga V2 Pro offers impressive customization, cutting-edge hardware, and even some innovation in the form of its fully customizable scroll wheel.
Pros
+

Hot-swappable side panels make it an all-in-one

+

Focus Pro 30K Optical Sensor is a monster

+

Build quality is uniformly excellent

+

The fully customizable scroll wheel feels like a true slice of innovation

+

Comfortable and weighty in the age of the ultralight gaming mouse
Cons
-

The shape might be too wide for some

-

RGB panel lighting limited to the big MMO 12-button one

-

Pricey
Should you buy it?
Avoid
Consider
Shortlist
Buy
Introduction & Specification Details and Close-up
Innovation comes in many forms but is also somewhat rare in the peripheral space. It's always good to separate the new from the refined, where evolution sees incremental improvements made year-on-year or gen-on-gen. In the gaming mouse world, there are improved sensors, lighter and more robust physical builds, new wireless tech, and better battery life. The sorts of things we've come to expect with new models and product refreshes.
And with that, we don't normally think about something that could fundamentally change the way you look at something as tried and true as the gaming mouse. Even when it comes to reviews, where doing that one thing well is enough to warrant consideration.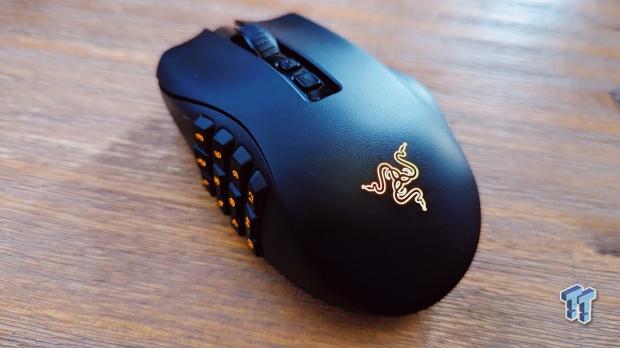 The Razer Naga V2 Pro MMO Wireless Gaming Mouse is the latest version of Razer's all-in-one gaming mouse, a premium design that not only provides a viable option for those that consider the MMO and MOBA genres to be their gaming styles of choice - but creates something that can excel in all point-and-click arenas. As per the Naga range, the side panel with all the crazy buttons is a major draw card, but it can be magnetically swapped with a side panel with fewer buttons or even one with two to give it that traditional mouse feel.
That said, having swappable side panels wasn't where I was going with all that innovation talk. Where the Razer Naga V2 Pro innovates and presents something new and exciting comes with its fully customizable scroll wheel. Dubbed the Razer HyperScroll Pro Wheel, you've got a scroll wheel that can switch between smooth scrolling and something that has distinct and firm scroll wheel ticks.
And it's not a simple toggle to switch between a few different settings but a mix of hardware and software that provides 100 levels of scroll tension and scroll steps to customize and tweak. There's even an option to automate it to adjust depending on the application.
Firing up a first-person shooter where tension and distinct steps make weapon swapping a breeze? The Razer Naga V2 Pro can accommodate that and make the change on a per-game basis. Likewise, you can have it automatically switch to smooth scrolling with added acceleration when firing up your browser. It's impressive stuff, and it works.
Specifications & Close Up
Product Type: Gaming Mouse
Interface: Razer HyperSpeed Wireless (2.4GHz), Bluetooth, Wired (Speedflex Cable USB Type-C)
Sensor: Focus Pro 30K Optical Sensor
DPI: 30000
IPS: 750
Acceleration: 70G
Polling Rate: 1000Hz
Switch: Optical Mouse Switches Gen-3, rated for 90 million clicks
Programmable Buttons: 10, 14, 20
Mouse Feet: 100% PTFE
Lighting: Razer Chroma RGB (Logo and 12-button side plate)
Dimensions: 119.5 x 75.5 x 43.5 mm
Weight: 134 grams (w/out cable and dongle)
Battery Life: Up to 150 hours (on HyperSpeed Wireless), Up to 300 hours (on Bluetooth)
In the Box: Razer Naga V2 Pro Gaming Mouse, 3 Swappable Side Panels, Wireless USB Dongle, USB Dongle Adaptor, Razer Speedflex Cable, Product Information Guide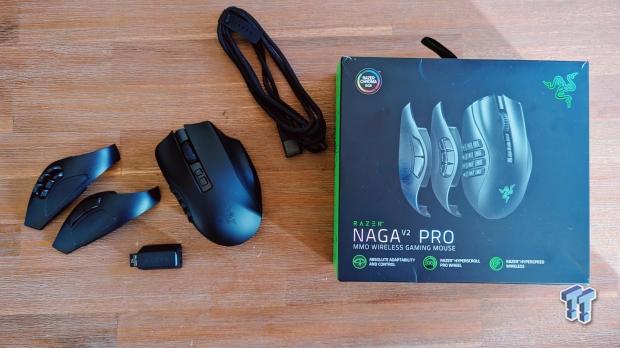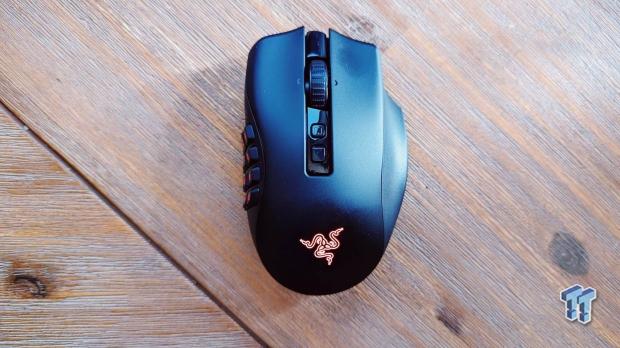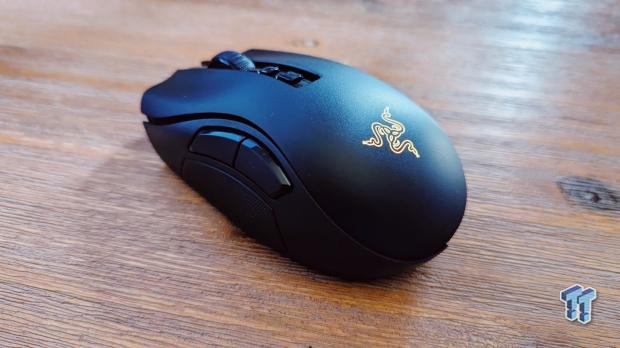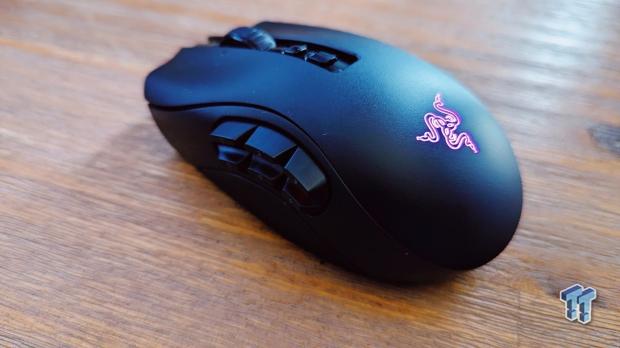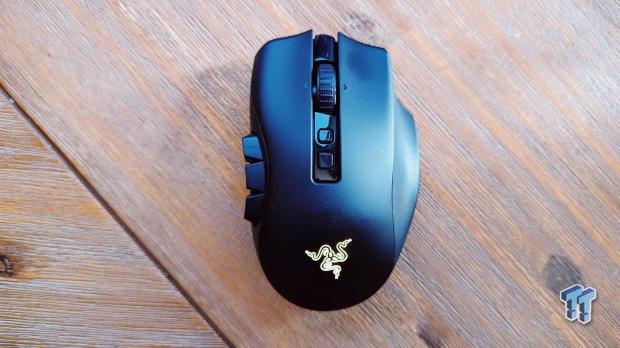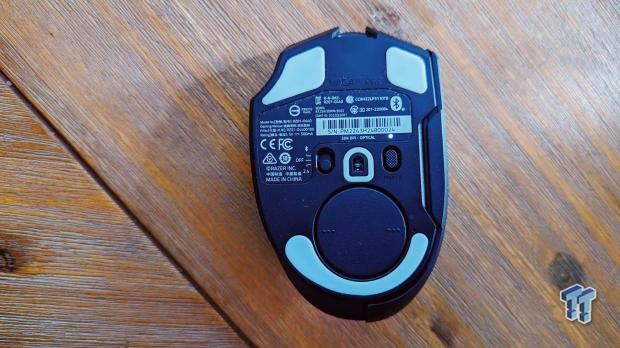 Kosta's Test System Specifications
Motherboard: MSI MPG X670E Carbon Wi-Fi
CPU: AMD Ryzen 9 7900X
GPU: NVIDIA GeForce RTX 4090 Founders Edition
Cooler: Corsair iCUE H100i RGB PRO XT Liquid CPU Cooler
RAM: 64GB (4x32GB) Corsair DOMINATOR PLATINUM RGB DDR5 DRAM 5200MHz
SSD: Kingston FURY Renegade PCIe 4.0 NVMe M.2 SSD 2TB
Power Supply: Thermaltake Toughpower GF1 850W
Case: Thermaltake Core P3 Tempered Glass Snow
OS: Microsoft Windows 11 Pro 64-bit
Design, Sensor, & Software
Design
The Razer Naga V2 Pro is not only an all-in-one in terms of being a mouse designed for MMO and MOBA players, as well as offering up hot-swappable side panels for various mouse modes, it's also one of Razer's more premium entries in the gaming mouse space. With a USD 179 and AUD 319 price point, you're looking at a pretty costly gaming mouse. The good news is that you immediately get a sense of that the first time you connect it to a PC.
The 134-gram weight bucks the current trend of ultralight peripherals - as seen with the recent Razer DeathAdder V3 Pro - but that's baked into the overall design philosophy. You've got a wide three-finger palm grip, premium side grips, and even the big 12-button MMO side panel features RGB lighting to make activating abilities in a game like World of Warcraft or Final Fantasy XIV a lot easier than most button-filled mice.
What's brilliant is that no matter the panel you've attached, it fits so snugly that you wouldn't even know that the Razer Naga V2 Pro has replaceable side panels unless someone showed you.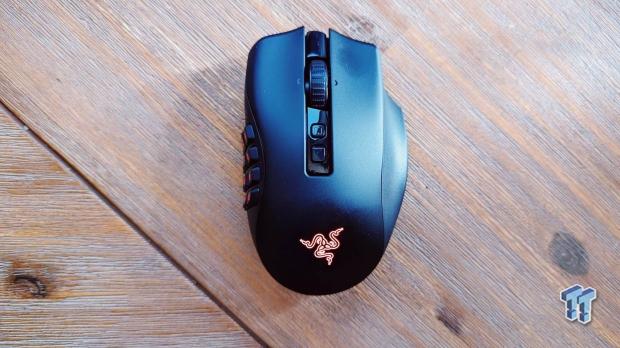 With low-latency wireless and Bluetooth, the Razer Naga V2 Pro also supports Qi charging - though Razer's wireless charging dock is sold separately. Instead, you've got the standard dongle and play-and-charge functionality seen in various Razer gaming mice, which does the job.
Again, as a 134-gram gaming mouse, it errs on the chunky side (especially with the wider grip), but the 100% PTFE feet deliver a great glide - and if you've been using a mouse for a few decades like us, the fact that the Razer Naga V2 Pro isn't an ultralight isn't a misstep. It suits the design and fills a void for those in the market for something weightier.
If there's one flaw in the design, it comes with the overall lack of RGB lighting on the two side panels that aren't the big 12-button MMO one. If the 6-button panel and traditional 2-button panel also featured lighting in or around the additional buttons, then the overall visual aesthetic of the Razer Naga V2 Pro would be flawless. As this is a purely visual and superfluous gripe, it's safe to say that the overall design of the Razer Naga V2 Pro is excellent.
Sensor
The Razer Naga V2 Pro makes use of the impressive Razer Focus Pro 30K Optical Sensor, created in collaboration with PixArt. In addition to sensitivity that goes all the way up to 30,000 DPI, you've also got improved tracking and surface compatibility - right up to being able to track movement on various surfaces ranging from mousepads to glass.
Not that you'd ever choose a glass surface as your main gaming station, but that level of precision adds to the accuracy and reliability you get. On the plus side, it made the reviewing process a lot of fun; some of the surfaces we tested on included wood, plastic, cardboard, a plastered wall (which was a little weird), and of course, glass.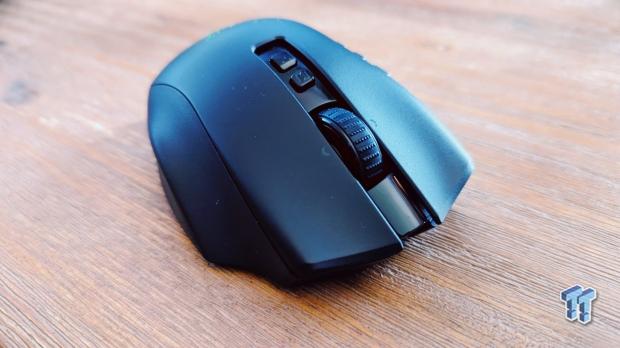 In addition to sensitivity and all the surface stuff, you've got 750 IPS tracking and 70G acceleration, which is indeed overkill - but also the sort of headroom that's nice to have when you're talking about a gaming mouse with a premium price point like the Razer Naga V2 Pro. The Razer Focus Pro 30K Optical Sensor also offers up the ability to customize asymmetrical lift-off and landing cut-off distances with surprisingly impressive levels of detail.
Software
From its design alone, you can tell that the Razer Naga V2 Pro was designed with customization in mind, so it's great to see that Razer's Synapse software immediately picks up when you swap out the side panel. Another great feature is the ability to customize any of the buttons on any of the panels no matter which one is currently connected, and the interface for doing so is clean and intuitive - with several categories broken up into mouse, keyboard, scrolling, multimedia, and app functionality.
You can even set the buttons to perform text functions. Which we assume would come in handy when playing a competitive title, and you want to let your teammates or opponents know that they're doing a great job and should keep it up. Or the more likely scenario, which would be to set it to type something negative or disparaging. As is the way with all things online and social.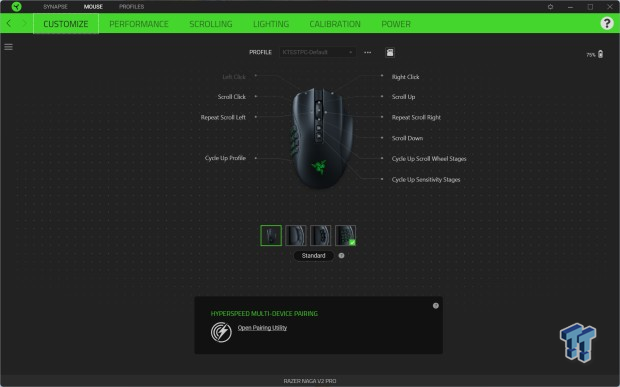 Being able to set up a Razer Hypershift button (which adds a second functionality to other buttons) makes a lot of sense for the Razer Naga V2 Pro, which has no shortage of buttons. Getting used to a side panel with 12 buttons takes quite a while, and in our testing having the 6-button panel with Hypershift was easier thanks to only having two rows of buttons to deal with. This a subjective note but a testament to the impressive customization and versatility on offer.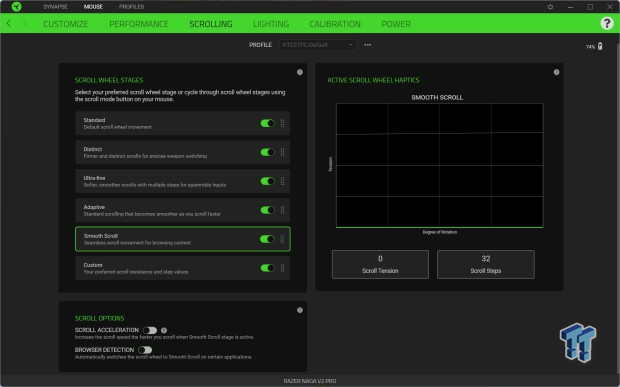 As a wireless mouse, you've also got power-saving features and control over RGB lighting (which on the main mouse body is limited to the Razer logo), but the truly impressive slice of customization comes with the fully adjustable scroll wheel. In Razer Synapse, you've got five settings and a sixth custom setting where you can adjust tension and steps and even fine-tune a graph representing rotation and tension. Being able to feel even minor adjustments in tension and steps is awesome - and it's a feature worth celebrating.
Gaming Performance and Productivity
Gaming Performance
Whether or not the wide grip and overall weight of the Razer Naga V2 Pro is something you'd consider comfortable for all games comes down to personal preference. The overall shape of a gaming mouse is often that first point where you'd bother to see what else it can do, and on that note, using the Razer Naga V2 Pro took a moment for me to adjust to its specific ergonomics. The build quality and comfort are excellent, though, and there's no obvious fault or drawback in either department.
Using the full 12-button panel with World of Warcraft: Dragonflight makes the case for why something like this needs to exist in the first place, but most testing was carried out with the 6-button panel and the traditional 2-button one.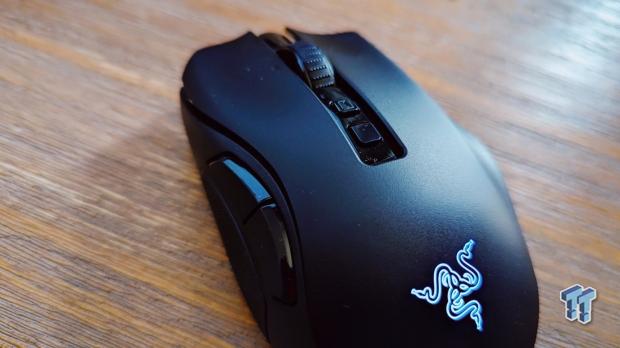 The Razer Focus Pro 30K Optical Sensor and Razer's 90 million click-rated Optical Mouse Switches perform wonderfully, and jumping over to Call of Duty, Portal with RTX, and even some Vampire Rising showcases the Razer Naga V2 Pro as an everything gaming mouse. And that's everything in a very specific and fine-tuned sense; multiple buttons for playing a game like DOTA 2, as well as increasing tension and lowering the scroll wheel's steps to make weapon swapping in an FPS feel as binary or free-flowing as you'd like.
Productivity
With the 2-button side panel and comfy side grips, the Razer Naga V2 Pro works well as a productivity mouse, which is something you wouldn't expect to find in a device aimed at the MMO and MOBA crowd. The level of customization on offer in terms of secondary functions and multiple profiles is great, and even something like the 6-button side panel can be useful for editing software and applications where there's a lot of repetition in keystrokes or functions.
The real clincher for me was the ability to have the smooth scroll functionality automatically engage when firing up a web browser and then switch back when using a different application where a more tactile response was needed.
Final Thoughts
The Razer Naga V2 Pro is an all-in-one wireless gaming mouse in ways pretty much any other gaming mouse can't match. Sure, its main selling point is the MMO-specific side panel with seemingly unlimited buttons to trigger abilities and cast spells, but the versatility that comes with hot-swappable panels, a high-quality sensor, and a fully customizable scroll wheel (which was a first for me) feels next level. So much so that Razer could have skipped the V2 naming and gone straight to V3.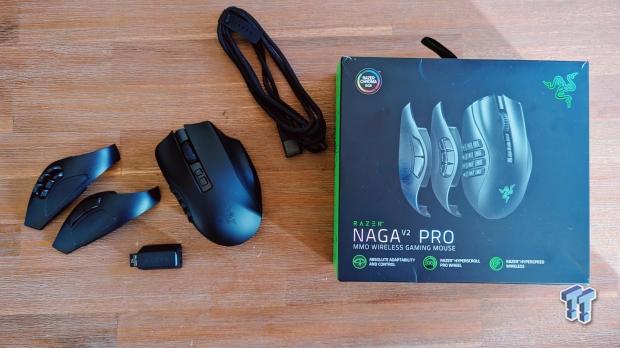 Of course, all this functionality and cutting-edge features come at a cost, literally, with the USD 179 and AUD 319 price points just about hitting the sort of level where you feel the need to call on that gif with that dude that opens his eyes, all startled.
In the end, though, the excellent build quality, software support, and underlying hardware make the Razer Naga V2 Pro an impressive gaming mouse no matter if you're still playing WoW, are into Call of Duty Warzone, or have moved on to more relaxing fare like Minecraft or Age of Empires. And the innovative Razer HyperScroll Pro Wheel is something we'd love to see become standard.
| | |
| --- | --- |
| Performance | 99% |
| Quality | 98% |
| Features | 100% |
| Value | 92% |
| Overall | 97% |
The Bottom Line
Much more than a new wireless gaming mouse designed for MMO and MOBA players, the Razer Naga V2 Pro offers impressive customization, cutting-edge hardware, and even some innovation in the form of its fully customizable scroll wheel.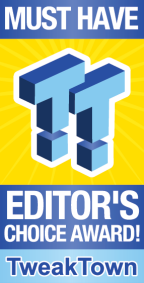 We openly invite the companies who provide us with review samples / who are mentioned or discussed to express their opinion. If any company representative wishes to respond, we will publish the response here. Please contact us if you wish to respond.