Seagate Barracuda 7200.10 750GB - Perpendicular recording at its best
Seagate has been making great leaps in HDD tech lately - We check out the 7200.10 750GB to see if this trend continues.
Published Thu, Dec 21 2006 11:00 PM CST
|
Updated Fri, Sep 18 2020 10:50 PM CDT
Introduction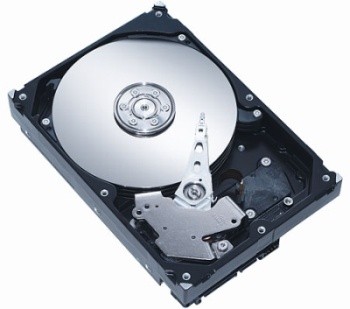 The evolution of the desktop PC in the 21st century really has taken us for a very quick ride in the direction of Dual Channel memory, multiple core processors as well as multiple graphics cards for better gaming performance.
Although, there is one area of technology that has really taken a back seat while the rest of the personal computer advances, that being the storage systems - that's right, the good old hard disk drive.
While the enthusiast doesn't give their hard disk much of a thought other than how much space they have to store their data, gaining performance increases here simply go unnoticed compared to that of the CPU, memory or graphics system.
The hard disk is simply the slowest part of the computer system. CPU's can transmit data in the form of gigabits per second, memory bandwidth goes over 5GB/s and graphics cards can handle data in the order of 38GB/s across its memory buses. But the trusty hard disk in most cases cannot deliver sustained data faster than about 60MB/s, simply put, going for the faster CPU isn't going to be able to speed up your load times on games if you can't get the data off the disk quickly enough.
In recent years, the advancement of the hard disk has started to become a major part of the PC industry with Serial ATA replacing the older Parallel standard that was used for over 10 years. Native Command Queuing or NCQ for short sped up the way the data is read off the drive, and now with perpendicular recording coming into the frey from companies like Seagate, we are now starting to see speed increases as much as what a magnetic recording device is capable of.
Today we have Seagate's Barracuda 7200.10 desktop drive on the test bed, the first desktop drive to support this new technology and it comes with a whooping 750GB of storage space. Could this make a great late Christmas present? Let's take a closer look!
Specifications
Seagate Barracuda 7200.10 SpecificationsModel Numbers
80GB: ST380815AS ST380215A ST380215AS
160GB: ST3160815A ST3160815AS ST3160215A ST3160215AS
200GB: ST3200820A ST3200820AS
250GB: ST3250620A ST3250620AS ST3250820A ST3250820AS
320GB: ST3320620A ST3320620AS
400GB: ST3400620A ST3400620AS
500GB: ST3500630A ST3500630AS
750GB: ST3750640A ST3750640AS
Performance
Interface: 100MB/s (ATA-100) SATA 300 NCQ
Cache: 2, 8, 16MB Depending on Model
Revolutions Per Minute: 7200 RPM
Configuration
Discs/Heads: 8/4, 6/3, 5/3, 4/2, 3/2, 2/1, 1/1 Depending on Modle
Bytes per Sector: 512
Recording Method: Perpendicular
Power Management
Start-up Current 12-5v Amperage: 2.8
Seek: 12.6 Watts
Environmental
Operating Temperature (C): 0 - 60
Nonoperating Temperature (C): -40 - 70
Operating Shock: 2 msec (Gs): 350
Nonoperating Shock: 1 msec (Gs): 900
Our Test Drive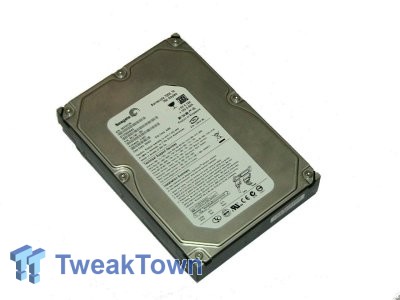 Our test drive came direct for Seagate and we were fortunate enough to get the high-end 7200.10 model with a huge 750GB storage capacity with 16MB of cache memory and supporting the fast SATA-300 transfer protocol.
All of the 7200.10 drives are available in either Parallel ATA (IDE) with ATA-100 transfer speeds or the SATA variant that support both 150 and 300MB/s transfer rates. All of the SATA drives support NCQ and Hot Swap whereas the IDE variants do not. Depending what model you buy determines the amount of cache that is included.
The 750, 500, 400 and 320GB models all come in a single cache size, that being 16MB. The 250GB model comes with either 16MB or 8MB. 200GB come in 8MB only, while the 160 and 80GB models come with either 8MB or 2MB cache. Just check the model number before buying to make sure you get the right amount of intended cache.
All of the drives support the new perpendicular recording technology that has allowed the drives to exceed their pervious storage capacity limitations as well as increase read and write speeds.
Perpendicular recording works just how it sounds. Normally a hard disk has its magnetic bits arranged in a longitudinal array, where by the bits are stored in a lateral way on the disk surface. This required 2x the mount of space to store a single bit of data. While you can reduce the size of the bit in order to increase capacity, you can only go so small that the bits begin to loose magnetic coherency when the drive is at maximum speed, causing the bit to flip, and data can become corrupted.
Perpendicular recording rotates the data bit 90 degree and stores the data bit in a vertical manner, reducing the amount of space needed on a platter to store the bit. This allows the drive to pack more data onto the drive without the need to reduce the data bit size, this is how Seagate has overcome the 500GB barrier with traditional magnetic recording. And this is not the first drive either from Seagate to use perpendicular recording. We tested a Seagate Momentus 5400.3 notebook hard disk drive not too long ago that was the first Seagate drive to take advantage of this, and when it came to the crunch, the new technology was extremely useful for notebook applications where size is important.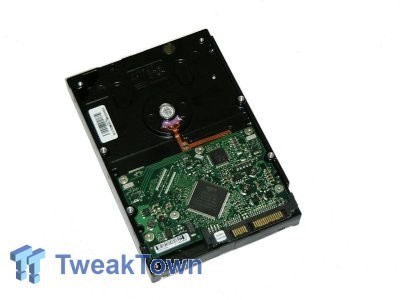 The bottom of the drive contains the PCB with all the circuitry onboard. The controller chip that makes use of the SATA-300 interface as well as the NCQ is the Agree controller chip which is one of the companies that Seagate owns. The cache memory is located on the reverse side of the PCB with a single 16MB module that are supplied by Samsung.
Benchmarks - Test System Setup and PCMark
Test System SetupProcessor
: Intel Core 2 Extreme X6800 (Supplied by
Intel
)
Motherboard
: Gigabyte P965-DQ6 (Supplied by
Gigabyte
)
Memory
: 2x 1GB DDR2-1066 Corsair (Supplied by
Corsair
)
Graphics Card
: MSI Radeon X1950 Pro (Supplied by
MSI
)
Cooling
: Gigabyte Neon775 (Supplied by
Gigabyte
)
Operating System
: Microsoft Windows XP SP2
Drivers
: Intel INF 8.1.1.1001
Today's tests are going to be performed between some of the members of the Seagate 7200 series of drives.
We have a 400GB 7200.8, 500GB 7200.9 and the brand new 750GB 7200.10 just to see what, if any, performance increases comes from each series of the drives.
PCMarkVersion and / or Patch Used:
1.2.0
Developer Homepage:
http://www.futuremark.com
Product Homepage:
http://www.futuremark.com/products/pcmark04/
Buy It Here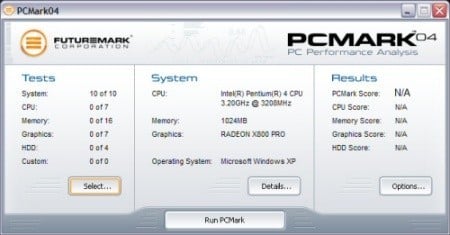 PCMark is a multipurpose benchmark, suited for benchmarking all kinds of PCs, from laptops to workstations, as well as across multiple Windows operating systems. This easy-to-use benchmark makes professional strength benchmarking software available even to novice users. PCMark consists of a series of tests that represent common tasks in home and office programs. PCMark also covers many additional areas outside the scope of other MadOnion.com benchmarks.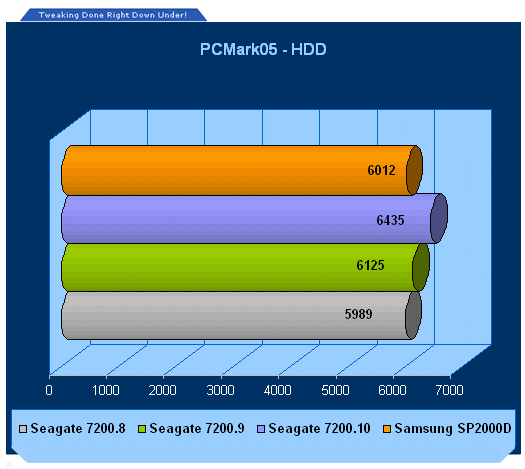 Here we can see that the Seagate 7200.10 manages to take a commanding lead in PCMark's Hard Disk test suite.
Benchmarks - Adobe Premiere Elements
Adobe Premiere ElementsVersion and / or Patch Used:
2.0
Developer Homepage:
http://www.adobe.com
Product Homepage:
http://www.adobe.com/products/premiereel/
Buy It Here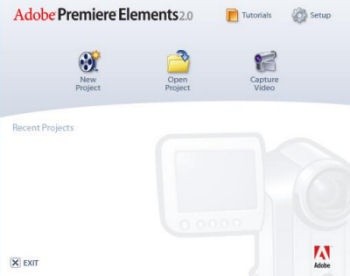 Our test with Adobe Premiere Elements 2.0 is performed with a raw two hour AVI file. It is then compressed into DivX format using the latest version codec. We measure the time it takes to encode and then record CPU usage.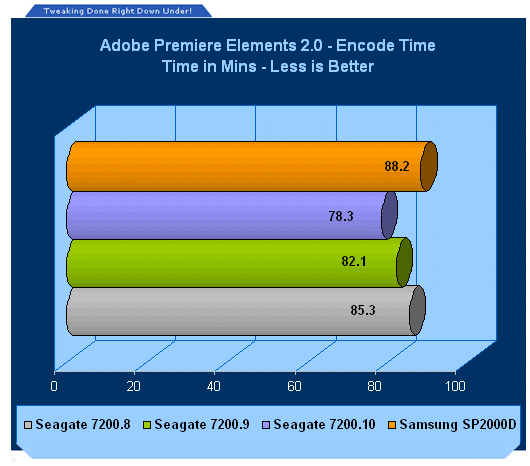 Surprisingly that Adobe Premiere Elements likes the faster hard disk drives for its encoding. What we first thought was only a CPU and memory intense application, the HDD also plays a major part in its encoding state.
Benchmarks - HD Tach
HD TachVersion and / or Patch Used:
3.0
Developer Homepage:
http://www.simplisoftware.com
Product Homepage:
http://www.simplisoftware.com/Public/index.php?request=HdTach
Buy It Here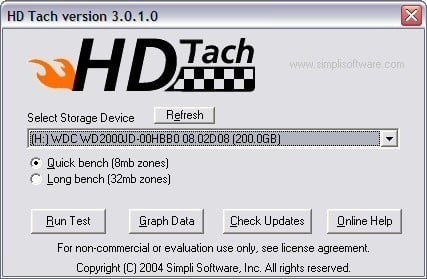 HD Tach has been around for a long time and is excellent when it comes to testing hard drive performance. It is also a very handy program when it comes to testing the controller used on particular motherboards. Tests such as Read, CPU Utilization and Burst are available at a click of the button and give you a good idea of how the hard drive can perform from system to system.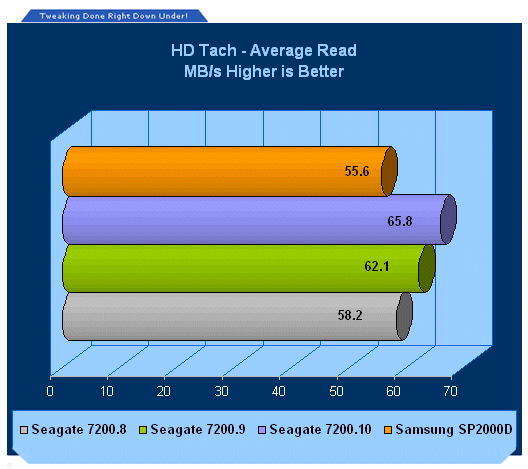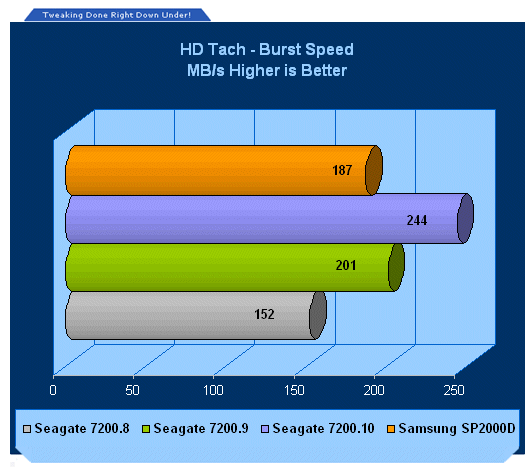 Both tests in HD Tach favour the 7200.10. Our burst speed is only for a single drive - we have recorded between 400 - 415MB/s when using two drives in RAID 0 on the ICH8R Southbridge.
Benchmarks - WorldBench
WorldBenchVersion and / or Patch Used:
5.0
Developer Homepage:
http://www.pcworld.com
Product Homepage:
http://www.pcworld.com
Buy It Here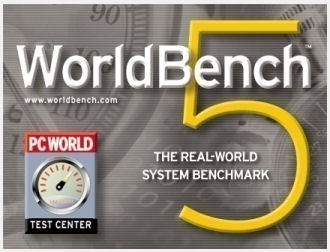 WorldBench 5.0 is the fifth generation of PC World's industry-standard benchmarking application. Designed to measure the performance of today's wide range of personal computers, WorldBench has been in continuous use at PC World for nine years.
WorldBench 5.0 uses the following applications to gauge system performance: ACD Systems ACDSee PowerPack 5.0, Adobe Photoshop 7.0.1, Adobe Premiere 6.5, Ahead Software Nero Express 6.0.0.3, Discreet 3ds max 5.1 (DirectX), Discreet 3ds max 5.1 (OpenGL), Microsoft Office XP with SP-2, Microsoft Windows Media Encoder 9.0, Mozilla 1.4, Musicmatch Jukebox 7.10, Roxio VideoWave Movie Creator 1.5 and WinZip Computing WinZip 8.1.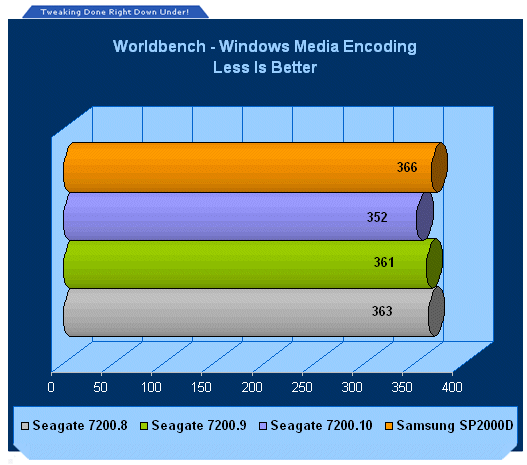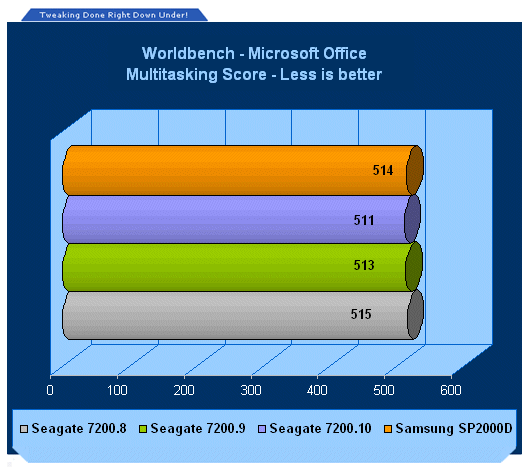 In media encoding tests the Seagate drive manage to just outscore its older brothers. When we put it into the multi tasking tests though Office, it managed to score well again. Finally the WinZip test when pure performance comes into the equation, the 7200.10 is king.
Benchmarks - Game Load Times
Game Level Loading Times
Here we manually time (with a stop watch) game level loading times.
We loaded our test maps in both Half Life 2 and Doom 3. We did the tests over three attempts on each and used the average time to give a fair example. Due to the human factor, there is a slight reaction time delay because nobody is able to hit the button on the exact millisecond, however, all were right on the point of full load in each map.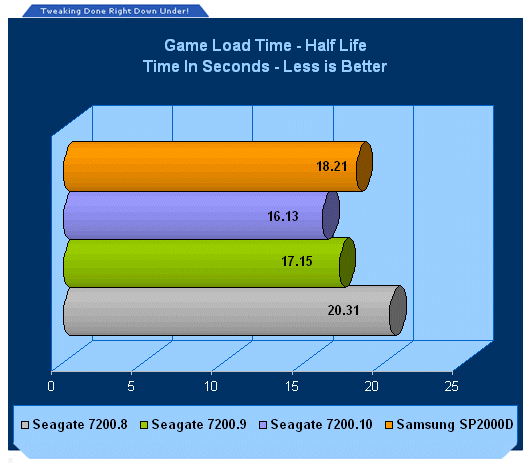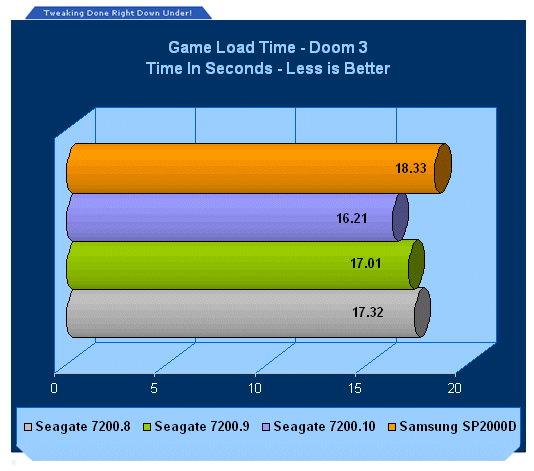 There is little difference between the 7200.9 and 7200.10 in game loading times as it seems to have more pull on the system than the hard disks pure performance.
Final Thoughts
Hard Disk Drives have for the most part been what are holding systems back, and while that is still true, companies like Seagate have been working real hard on performance related problems lately.
Traditionally size has been important to the end users (especially with the introduction of such services as torrent files and so on), more gigabytes to store the data has come up more often then how fast you can access it. Now with the CPU and memory not holding the systems back, the cry for faster HDD access has started to get louder and louder.
Seagate had done a fantastic job with the Barracuda 7200.10 series in terms of performance as well as storage space - 750GB is truly a fantastic feat of engineering - and with the use of all the latest SATA technologies and the inclusion of perpendicular recording, things are only going to get better from now on for the poor old hard disk, which is definitely receives great levels of attention by Seagate.
The drive is not cheap coming in at around $400 USD (about $560 AUD in Australia) but indeed you get what you pay for. It's the only drive on the market with this massive amount of storage space and your drive is covered by Seagate's excellent customer service with 5 years warranty, which only makes the whole deal even sweeter, in our opinion. Seagate's line of 7200.10 drives is a brilliant product and come fully recommended.
- Pros
Fastest 7200 RPM drive we have tested
Massive 750GB storage capacity
Over 400MB/s burst when in RAID 0
Uses SATA-300 interface and NCQ
5 Year Warranty
- Cons
Gets a little warm at times when under full speed
Expensive but you get what you pay for!
- Latest Pricing
Rating - 9 out of 10 and TweakTown's "MUST HAVE" Best Performance Award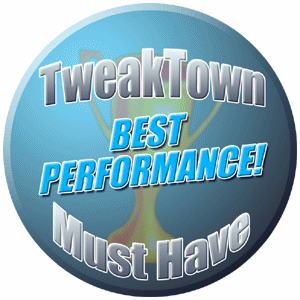 PRICING: You can find products similar to this one for sale below.
United States: Find other tech and computer products like this over at Amazon.com
United Kingdom: Find other tech and computer products like this over at Amazon.co.uk
Australia: Find other tech and computer products like this over at Amazon.com.au
Canada: Find other tech and computer products like this over at Amazon.ca
Deutschland: Finde andere Technik- und Computerprodukte wie dieses auf Amazon.de
We openly invite the companies who provide us with review samples / who are mentioned or discussed to express their opinion. If any company representative wishes to respond, we will publish the response here. Please contact us if you wish to respond.