Patriot Viper VPR400 1TB SSD Review - Bling Bringer
Viper Gaming is bringing the bling to fast NVMe storage with its new Viper VPR400 RGB SSD. Join us as we take a look righty here.

Published Jul 20, 2022 5:18 PM CDT
6 minute read time
TweakTown's Rating: 89%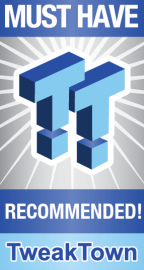 The Bottom Line
Coolest looking M.2 SSD on the planet.
Introduction & Drive Details
Back in February, we had the pleasure of reviewing Patriot's P400 1TB. The drive was the second of its kind to come through the lab controlled by InnoGrit's DRAMless IG5520 four-channel controller and arrayed with Micron 176 Layer B47R flash. Beginning with the ATOM 50 this exact hardware combo completely changed our view of DRAMless SSD. It was the first DRAMless SSD capable of delivering performance equivalent to DRAM-equipped enthusiast SSDs.
The SSD we have the spotlight on today is another Patriot DRAMless offering, but this time it's not a plain-looking value type offering like the P400. This SSD is the first of its kind M.2 x2280 with addressable RGB lighting. Patriot is selling the new VPR400 under its gaming brand Viper. The Viper VPR400 we are examining today appears to be a P400 outfitted with an ARGB heat sink.

The Viper VPR400, like the P400 before it, is an InnoGrit IG5220 controlled DRAMless SSD arrayed with Micron 176L B47R flash. A known potent hardware combination. However, a close comparison of factory specs between the two Patriot offerings reveals there are some significant differences in both performance and warranty period. The P400 carries a 3-year factory warranty, and the VPR400 has a 5-year warranty. The P400 is factory rated for up to 5,000 MB/s sequential reads and up to 4,800 MB/s sequential write throughput. Curiously, the VPR400 is factory rated for up to 4,600 MB/s read, 4,400 MB/s write throughput. So, 400 MB/s lower sequential throughput respectively. In a nutshell, it's slower but warranted for 2-years longer.
Humm, why would apparently the same hardware combo deliver less performance while having a longer warranty period? To us, this sounds like a difference in flash speeds. Micron's B47R flash comes in different grades and can be programmed to run at different speeds. Commonly we encounter Micron's B47R running at 1,200MT, but sometimes we see it running at 1,600MT. Typically SSDs running at 1,200MT carry a higher TBW rating than those running 1,600MT. An example of this would be Seagate's FireCuda 530 arrayed with 1,200MT B47R flash vs. Kingston's KC3000 arrayed with 1,600MT B47R flash.
We believe this is where the differences in performance and warranty period between the P400 and VPR400 stem from. Now, this is purely speculation on our part, but every benchmark we ran seems to suggest this to be the case. Sequential performance is the same, but workload performance is markedly better on the P400 than on the VPR400. Exactly as it is with the FireCuda 530 vs. KC3000, 1,200 MT flash vs. 1,600 MT flash.
The good news is that although slightly slower than the P400, the Viper VPR400 is still plenty fast, carries a longer warranty period, and brings the bling where it's never been before.
Drive Details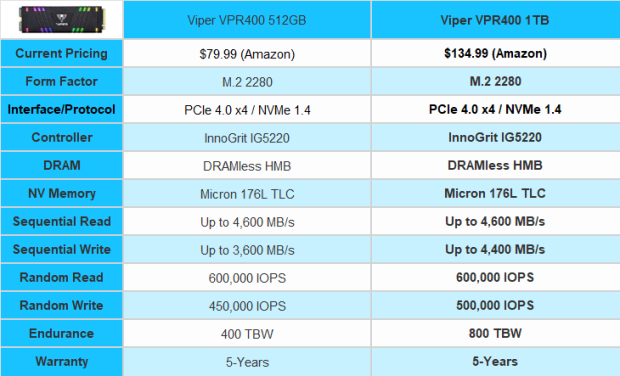 Up to 4,600 MB/s throughput, 5-year warranty, and 800 TBW endurance.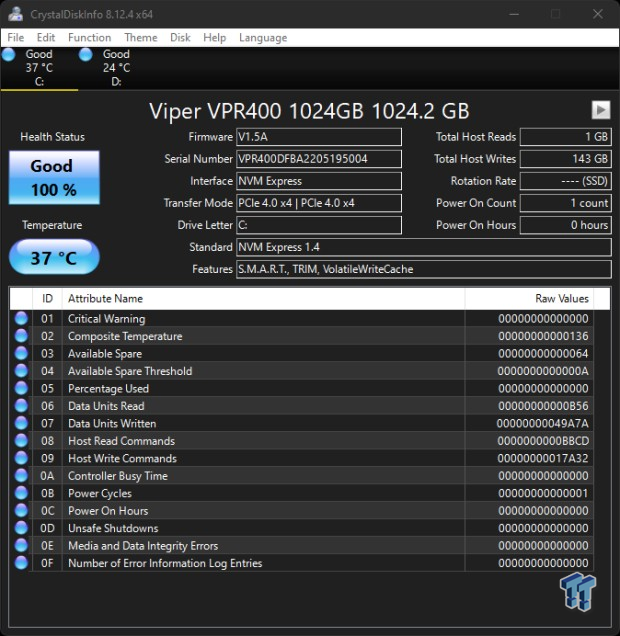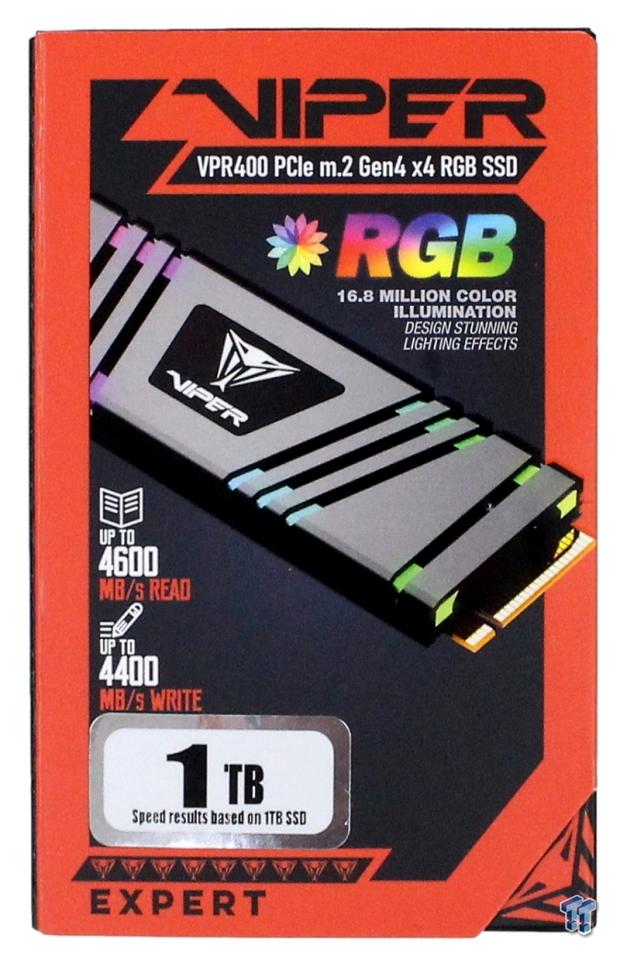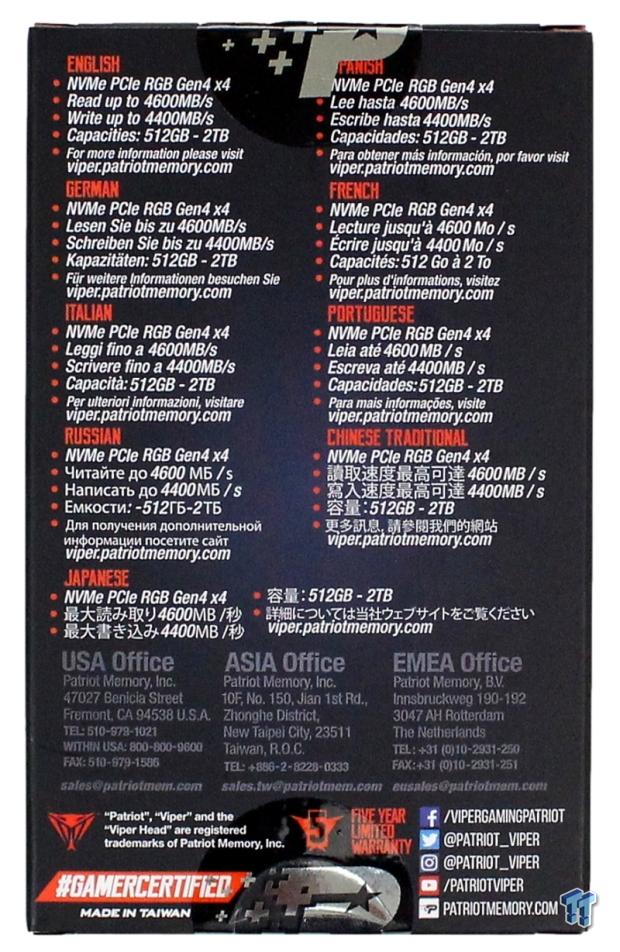 The VPR400 1TB is a double-sided design featuring a flash array composed of 1,200MT Micron B47R 176-layer flash behind an InnoGrit IG5220 4-channel DRAMless controller. The drive features a one-of-a-kind ARGB-infused heat sink.
Jon's Test System Specifications
Synthetic Benchmarks: CDM, Anvil, ATTO
CrystalDiskMark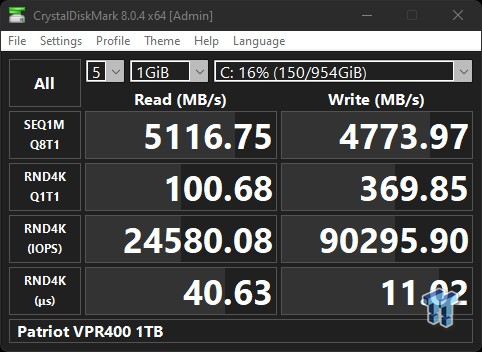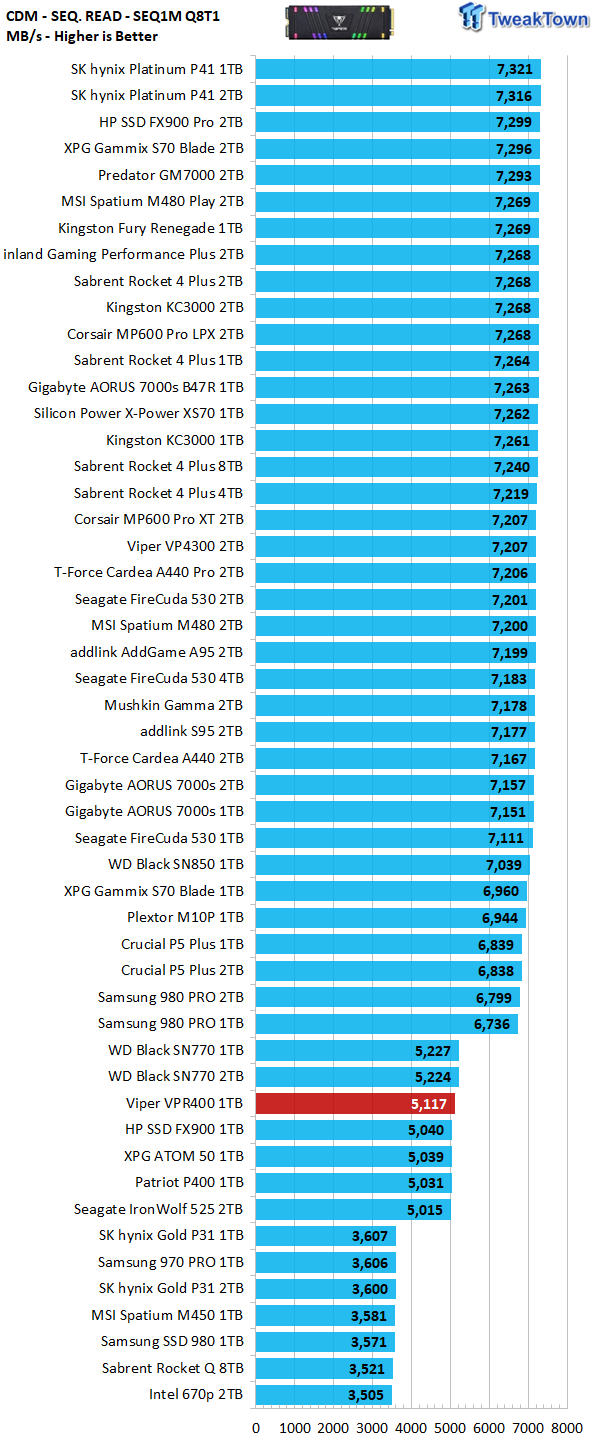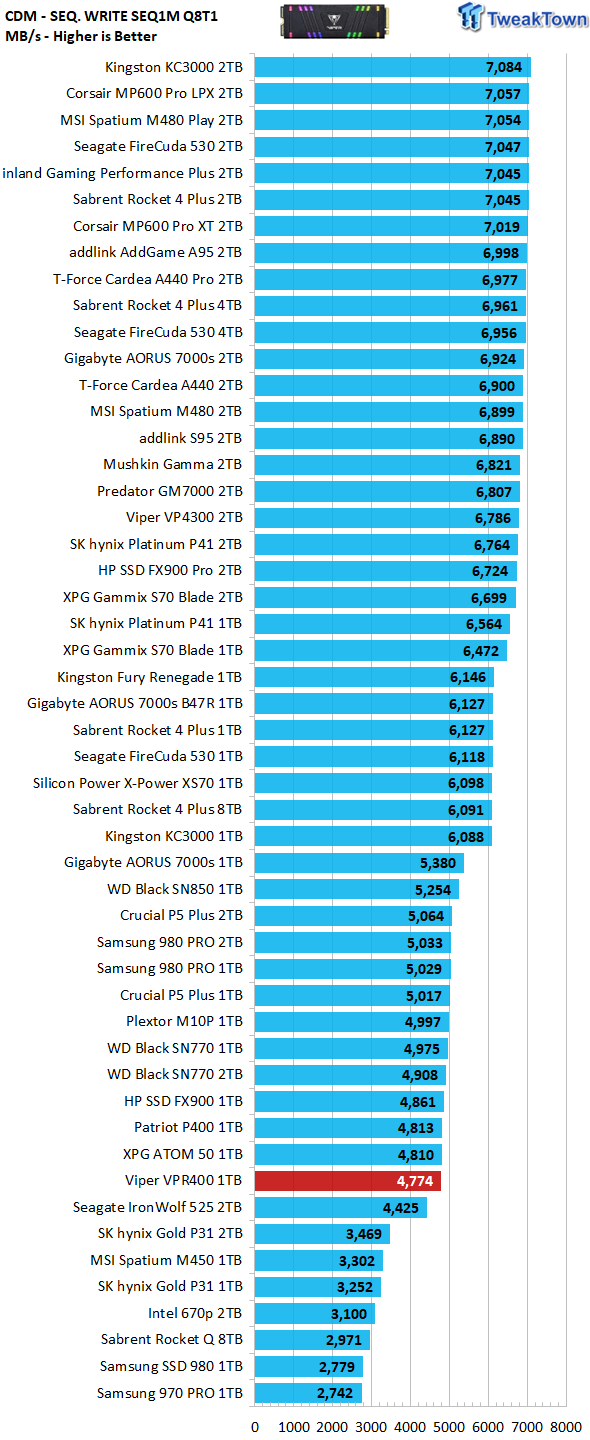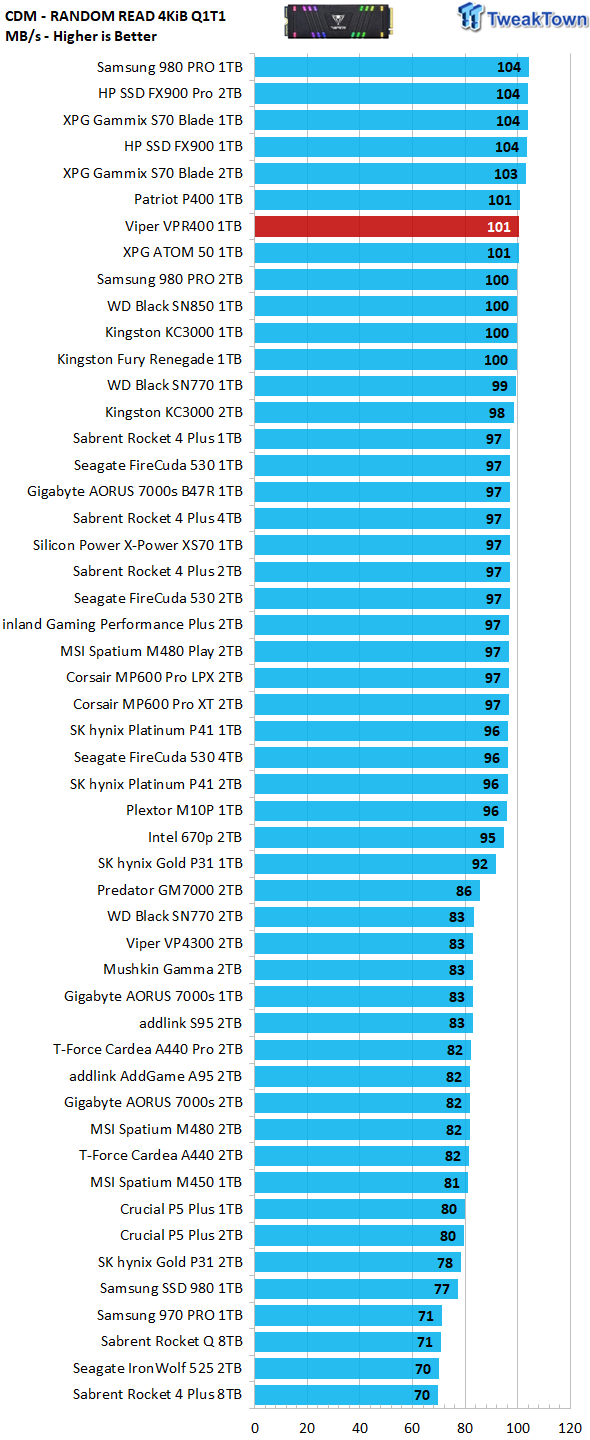 Our sequential read chart has all the SSDs featuring an IG5220 controller stacked up one on top of the other. VPR400, FX900, ATOM 50, and P400. Interestingly enough, we see the VPR400 taking the top spot for sequential read throughput. Sequential writes come up just the opposite, with the VPR400 coming in last between the four similarly configured SSDs.
Anvil's Storage Utilities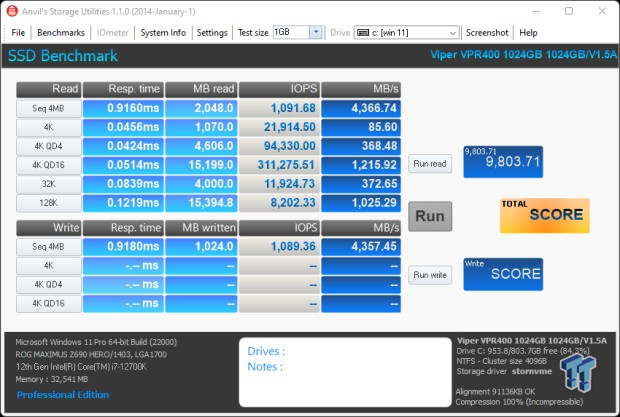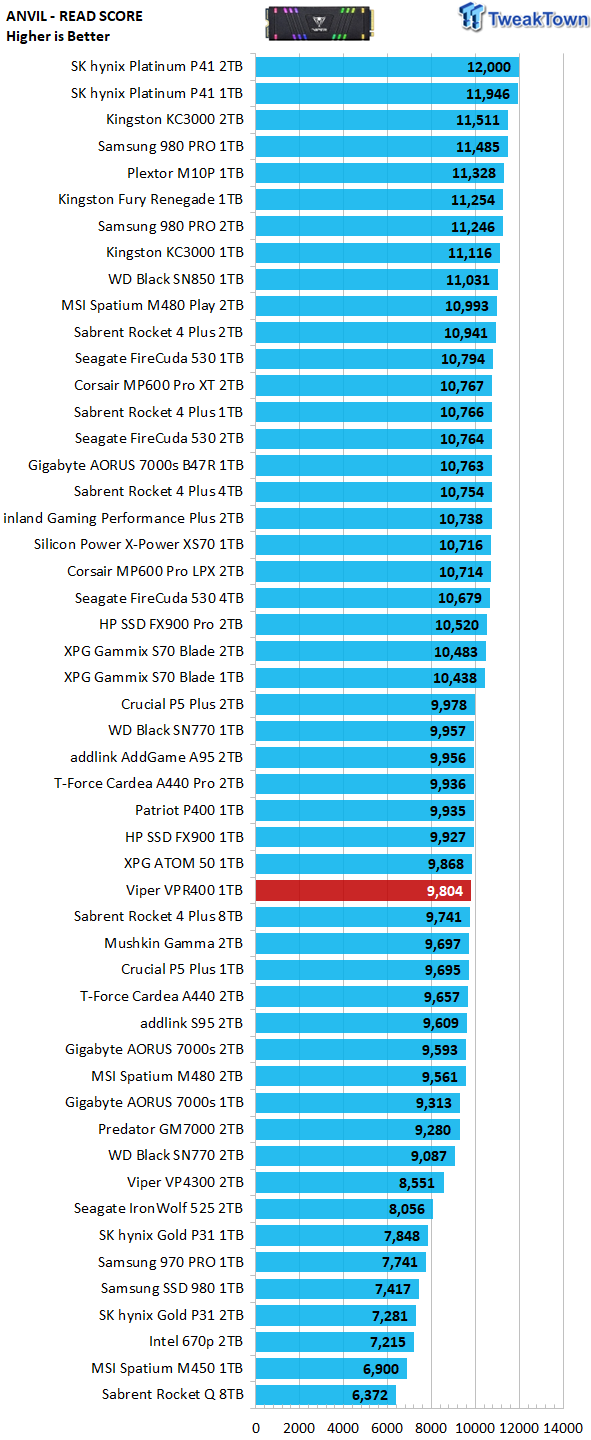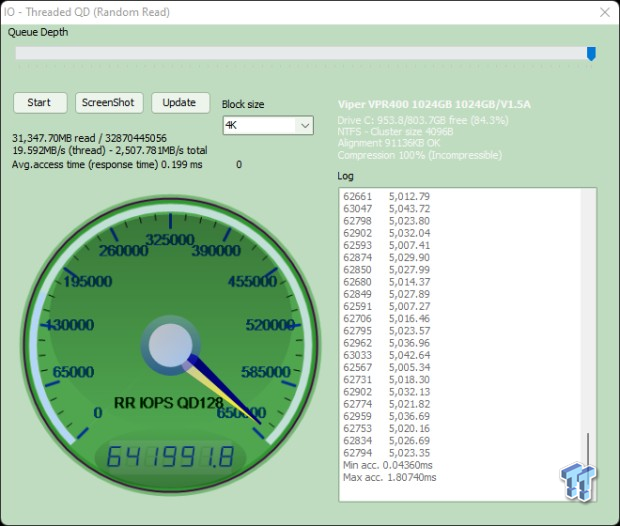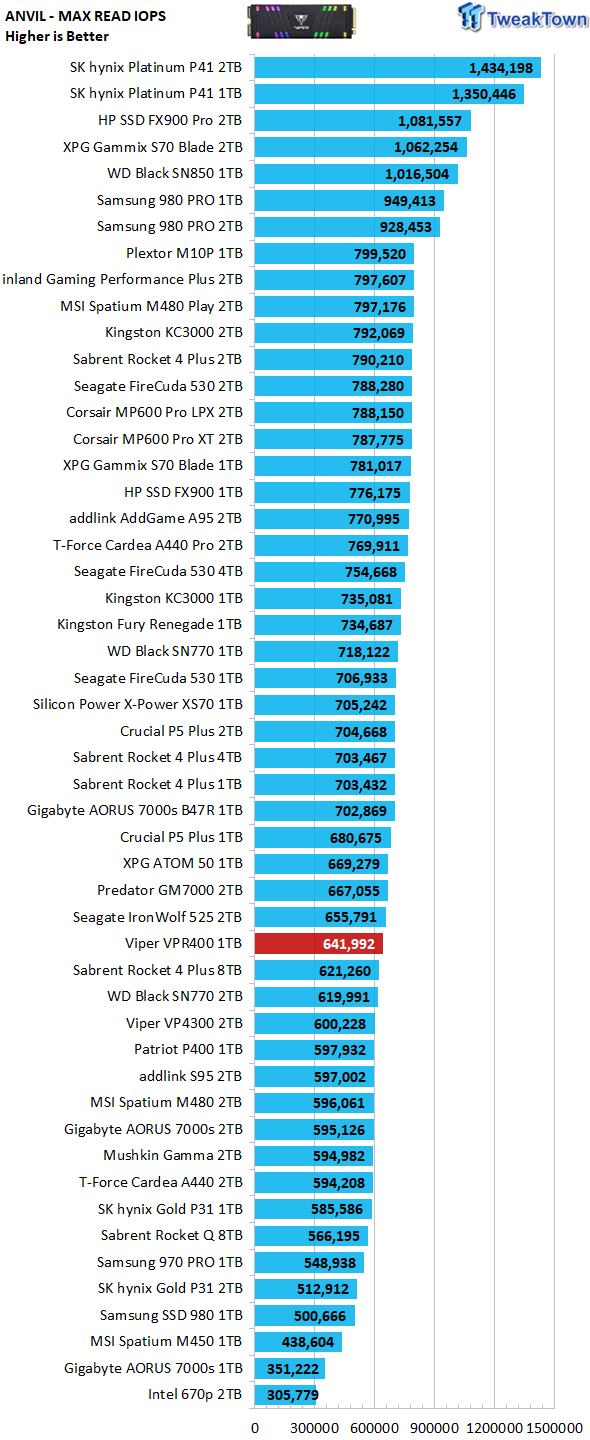 Overall, the VPR400 delivers a stout read score here, equivalent to what we get from E18-controlled SSDs arrayed with 96L flash. Impressive for a 4-channel DRAMless SSD. Max random read IOPS is also impressive and better than we expected, coming in higher than the P400, but well below the FX900 and ATOM 50, both of which are arrayed with 1,600MT flash.
ATTO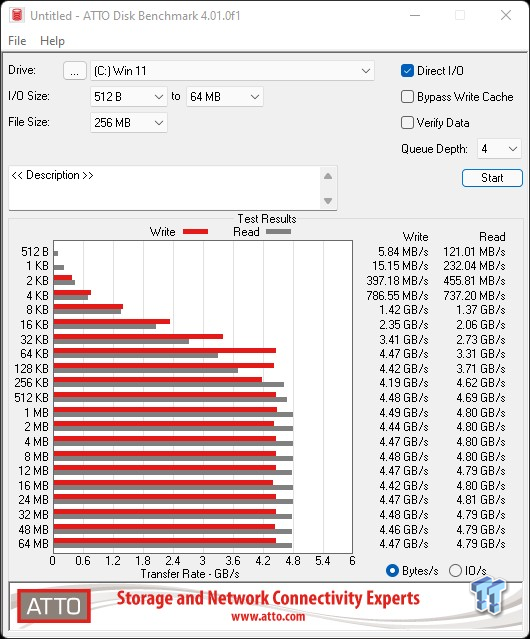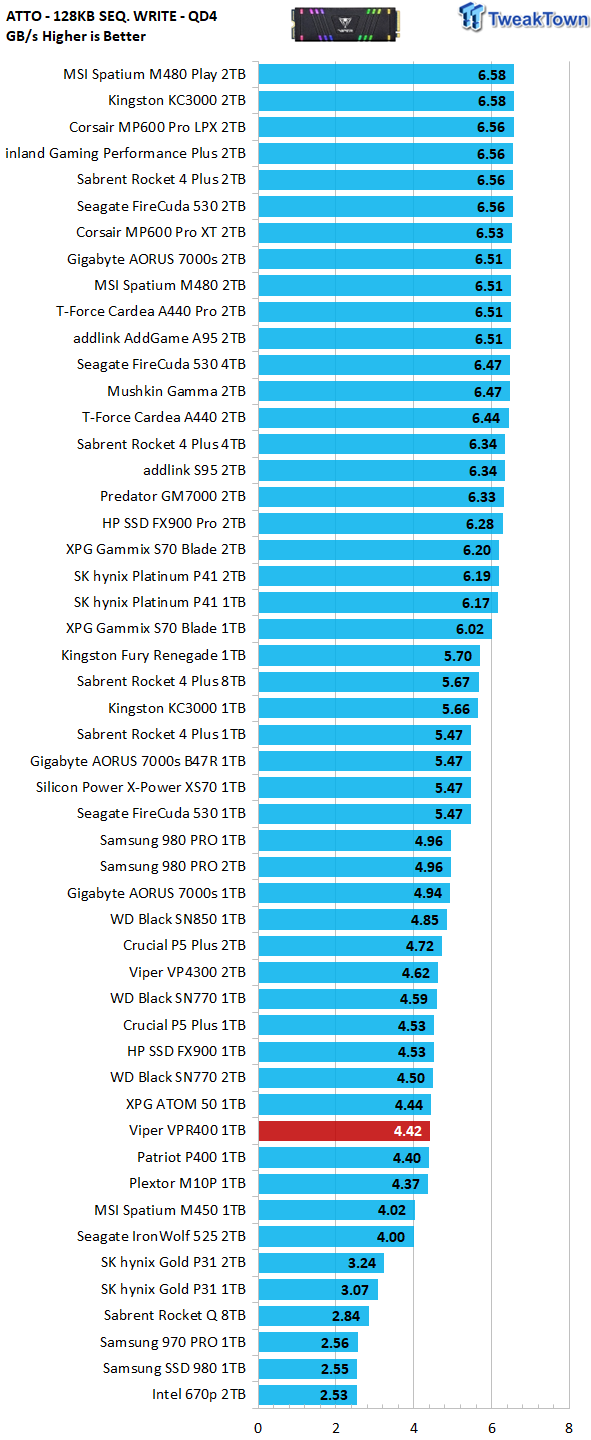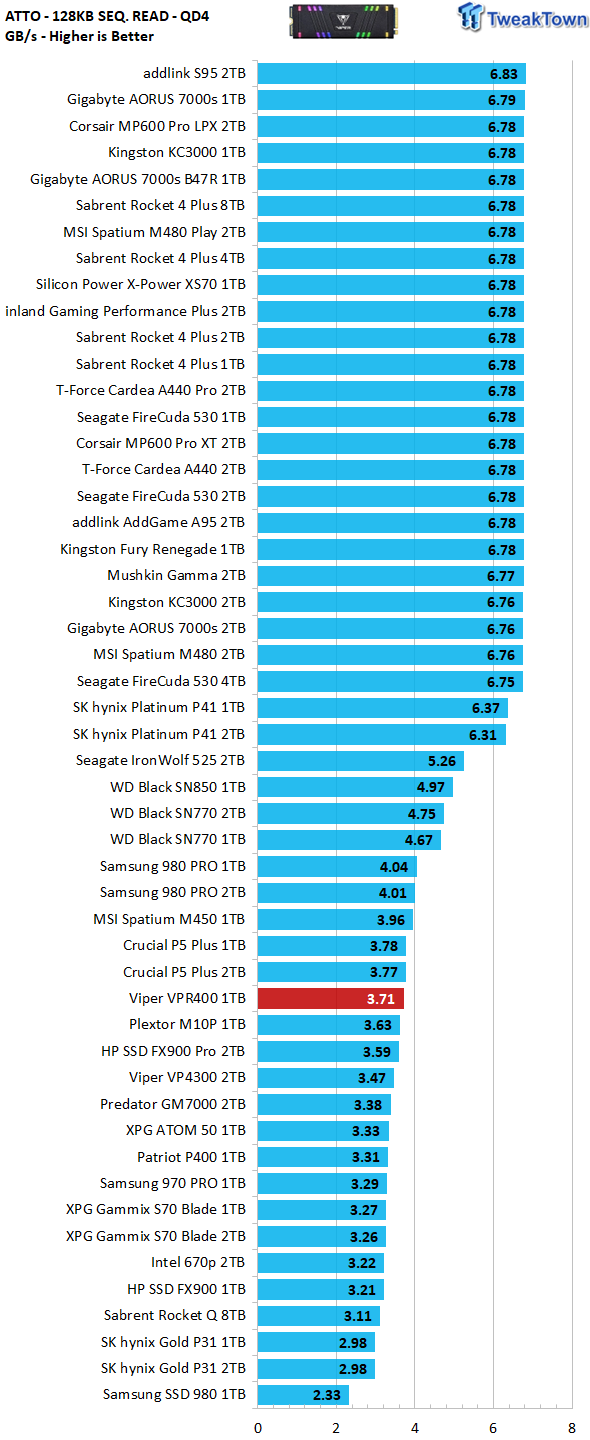 Sequential performance comes in at higher-than-expected levels, but again this is not where performance differences between 1,200MT and 1,600MT flash manifest.
Real-World Testing: Transfers, 3DMark SSD Gaming Test, PCM10 Storage
Transfer Rates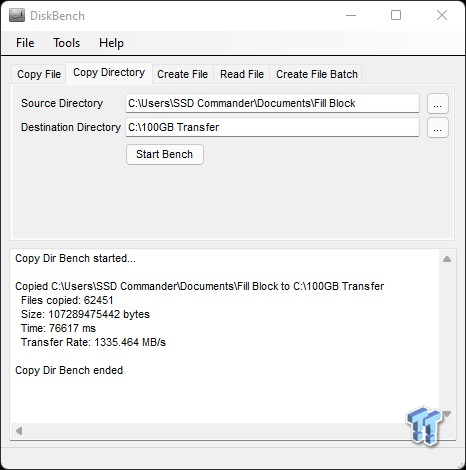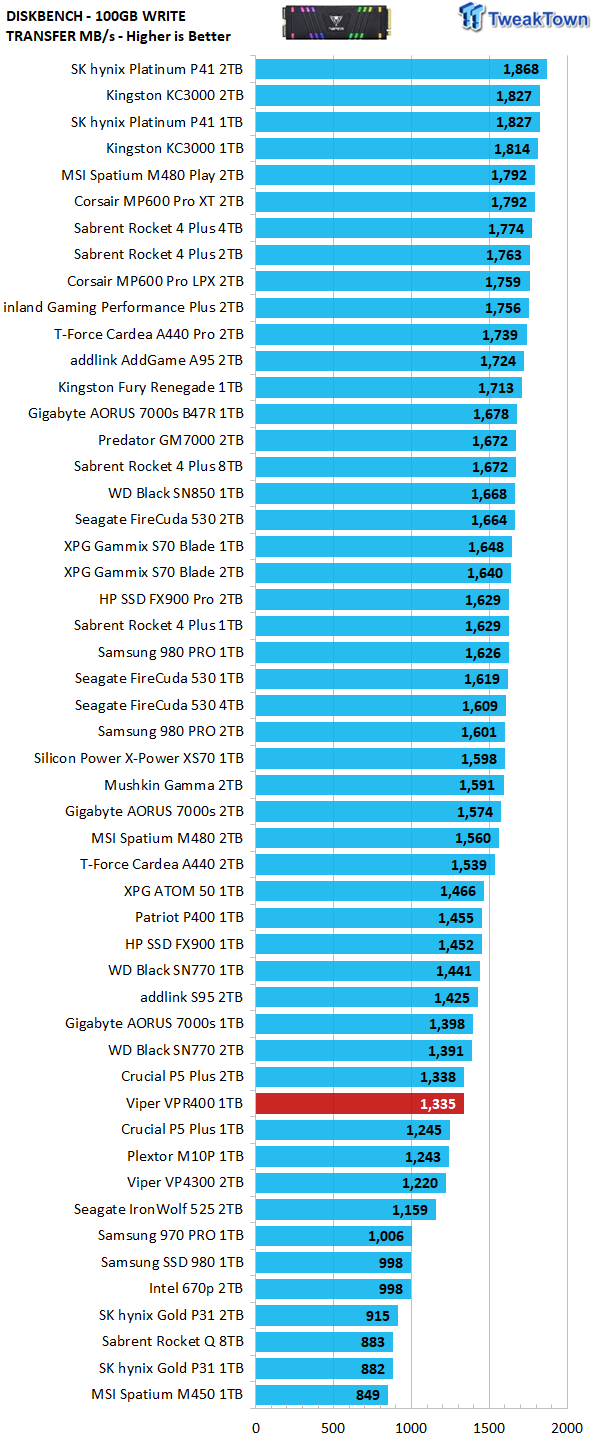 Our 100GB data transfer test is not your ordinary 100GB of data. Ours is a crushing mix composed of more than 62K files. It takes longer to program 1,200MT flash than it does 1,600MT flash. This is exactly what we see here with the VPR400 slotting in well below similarly configured SSDs arrayed with 1,600MT flash. This is our first real clue that leads us to speculate the VPR400 is arrayed with 1,200MT flash.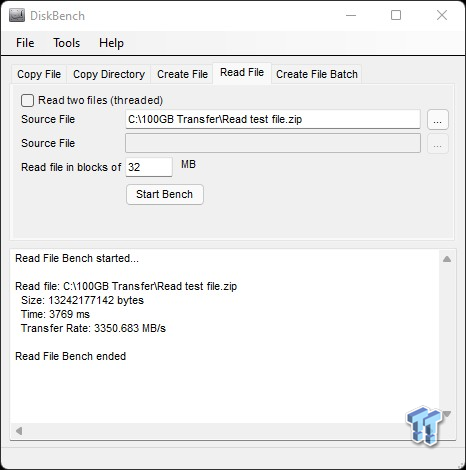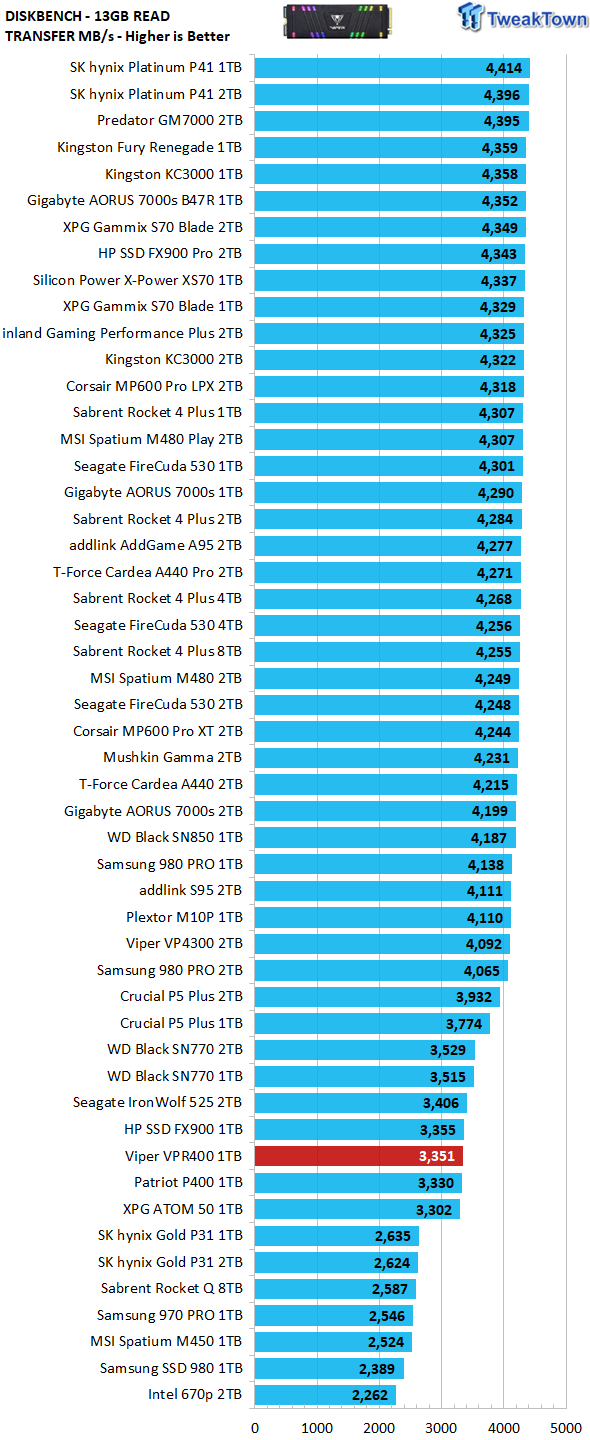 This is actually a very large sequential read, so it's not surprising that VPR400 keeps up with the other IG5220-controlled SSDs, even though we suspect those are arrayed with faster flash. The next three benchmarks are actual workloads, so we should start to see a performance gap between 1,200MT and 1,600MT arrays become clearly defined.
3DMark SSD Gaming Test
UL's newest 3DMark SSD Gaming Test is the most comprehensive SSD gaming test ever devised. We consider it superior to testing against games themselves because, as a trace, it is much more consistent than variations that will occur between runs on the actual game itself. This test is in fact the same as running the actual game, just without the inconsistencies inherent to application testing.
In short, we believe that this is the world's best way to test an SSDs gaming prowess and accurately compare it against competing SSDs. The 3DMark SSD Gaming Test measures and scores the following:
Loading Battlefield V from launch to the main menu.

Loading Call of Duty Black Ops 4 from launch to the main menu.

Loading Overwatch from launch to the main menu.

Recording a 1080p gameplay video at 60 FPS with OBS (Open Broadcaster Software) while playing Overwatch.

Installing The Outer Worlds from the Epic Games Launcher.

Saving game progress in The Outer Worlds.

Copying the Steam folder for Counter-Strike Global Offensive from an external SSD to the system drive.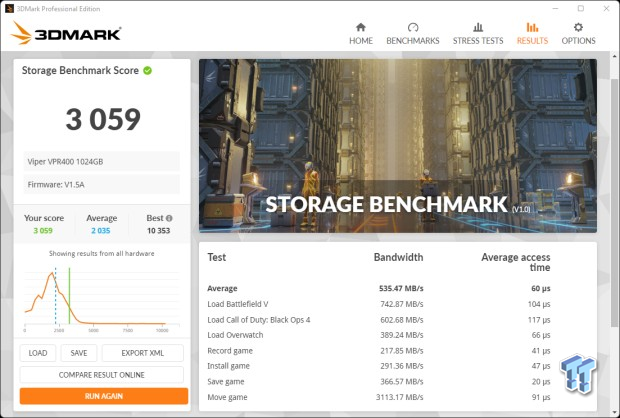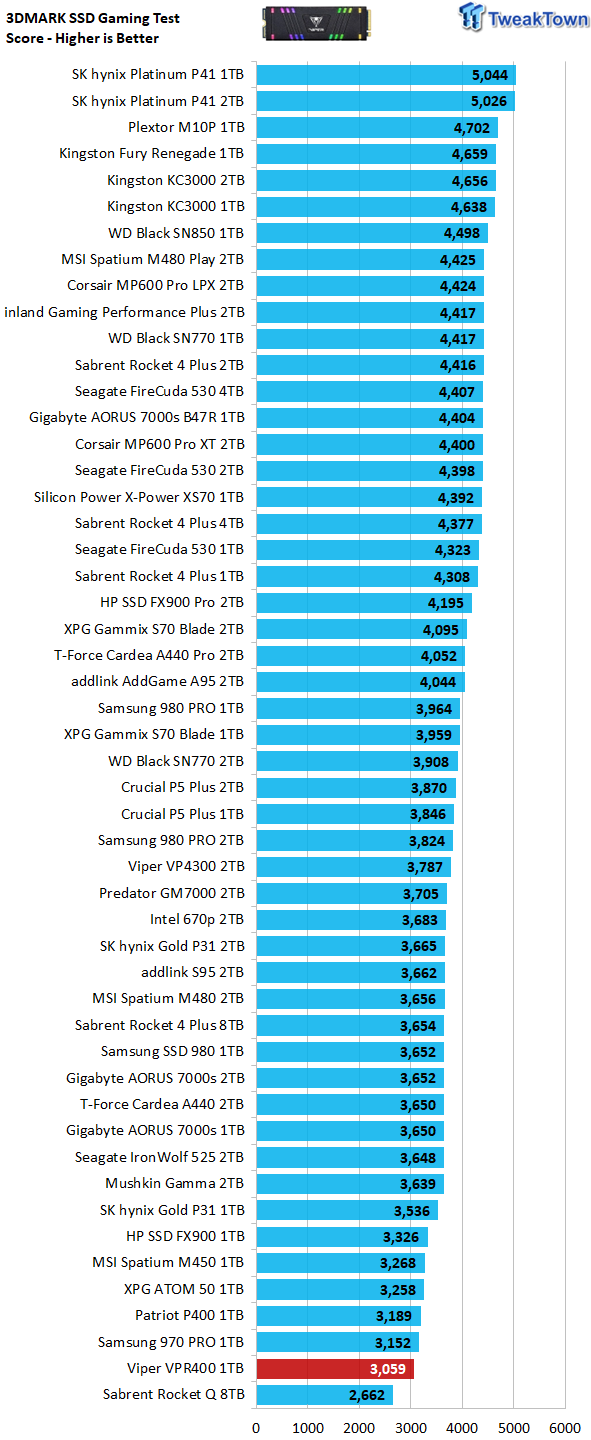 Gaming is a performance metric that matters to the majority of DIY consumers, especially to the enthusiast crowd that TweakTown caters to. Okay, here we have the VPR400 coming in as much as 9.1% lower than similarly configured SSDs sporting faster flash.
PCM10 Storage Tests
PCMark 10 Storage Test is the most advanced and most accurate real-world consumer storage test ever made. There are four different tests you can choose from; we run two of them.
The Full System Drive Benchmark and the Quick System Drive Benchmark. The Full System Drive Benchmark writes 204 GB of data over the duration of the test. The Quick System Drive Benchmark writes 23 GB of data over the duration of the test. These tests directly correlate with mainstream user experience.
PCMark 10 Full System Drive Benchmark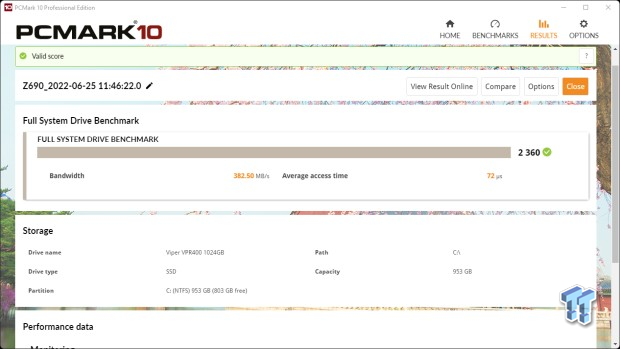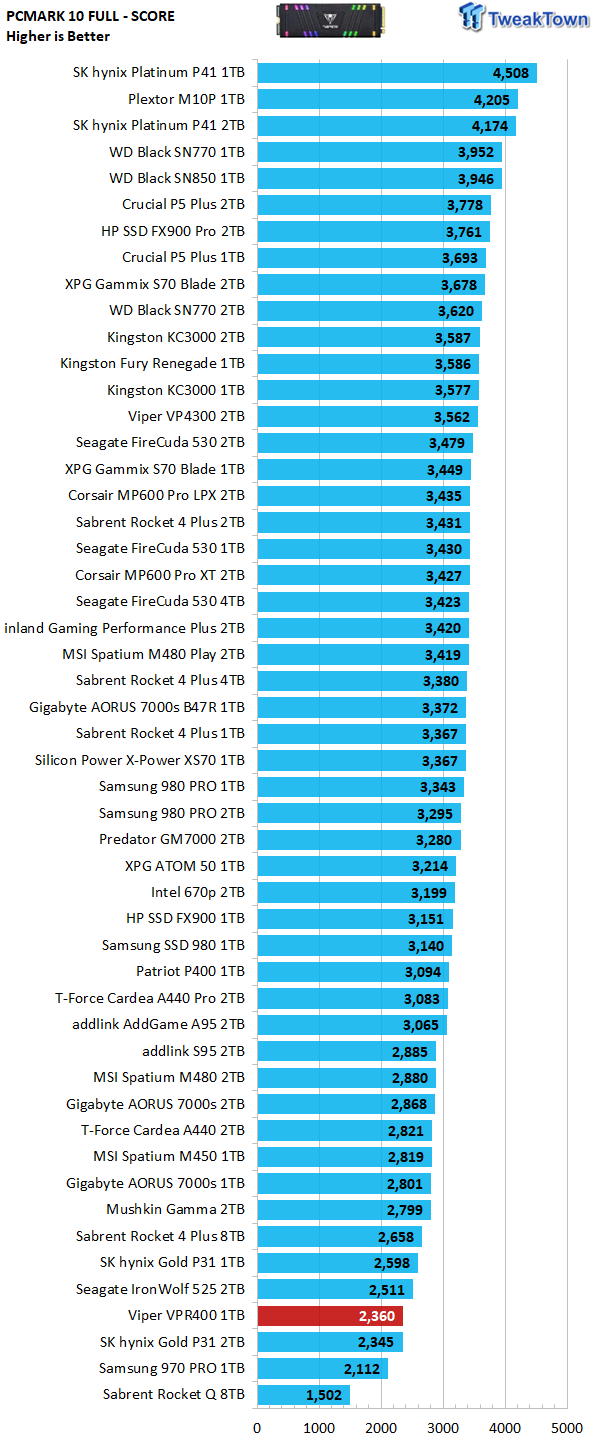 This particular test writes 204GB data and covers a broad range of common consumer tasks, including booting Windows 10, file transfers, Adobe and Office applications, and startup times for games including Battlefield V, COD Black Ops 4, and Overwatch. Unlike synthetic numbers, this is comprehensive real-world data which is why we use it to rank SSDs in terms of user experience.
We consider the outcome of this test to be proof positive that the VPR400 is arrayed with slower 1,200MT B47R flash than the other IG5220-controlled SSDs on our chart. The ATOM 50 scores a whopping 845 points more than the VPR400.
PCMark 10 Quick System Drive Benchmark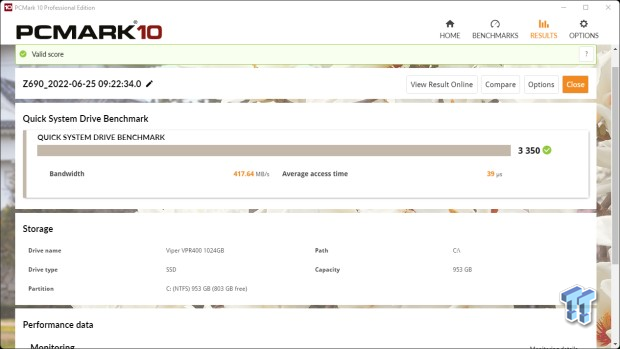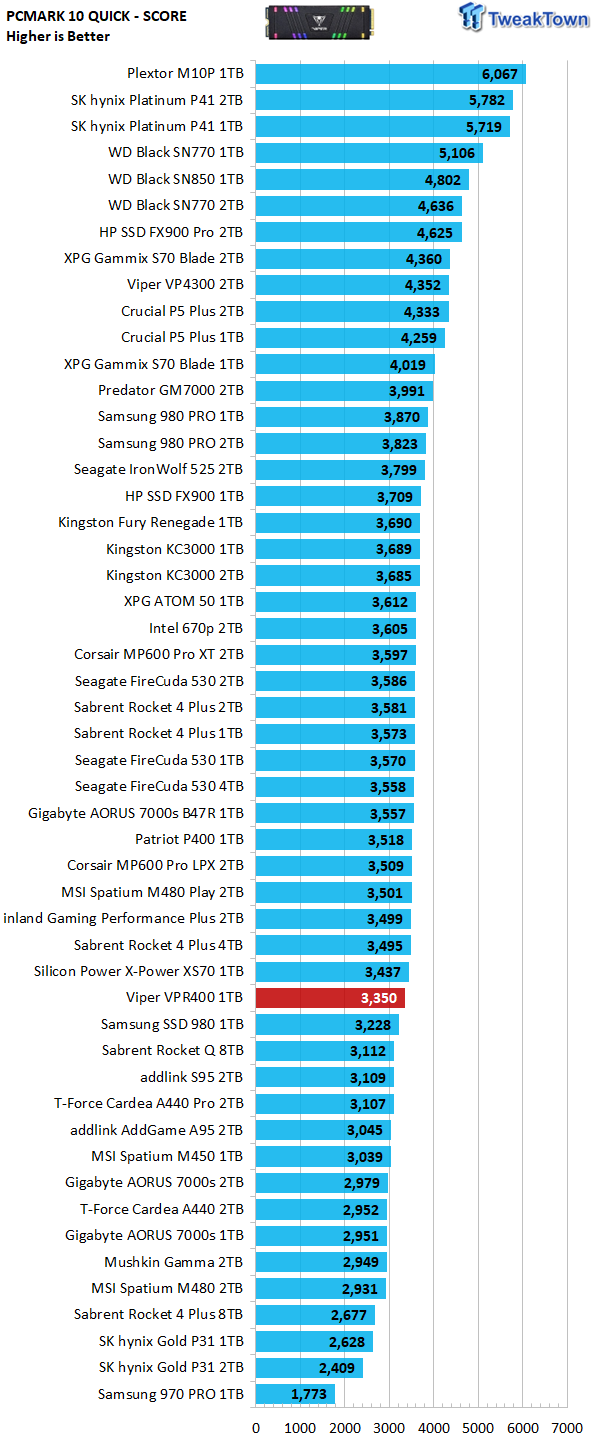 Still significant, but not as much of a gap here, but that is expected because there is far less programming (writing) with this test than the full test.
Final Thoughts
So overall, the VPR400 is the slowest of the IG5220-controlled SSDs we've tested. However, it's still what we would consider an excellent choice for OS duties. Additionally, and our photos don't do it justice, this thing looks awesome with its ARGB lighting pulsing away. In fact, we find the VPR400 so cool looking and unique that we can overlook its performance weaknesses because it's still a reasonably fast SSD while at the same time being a supreme bringer of bling.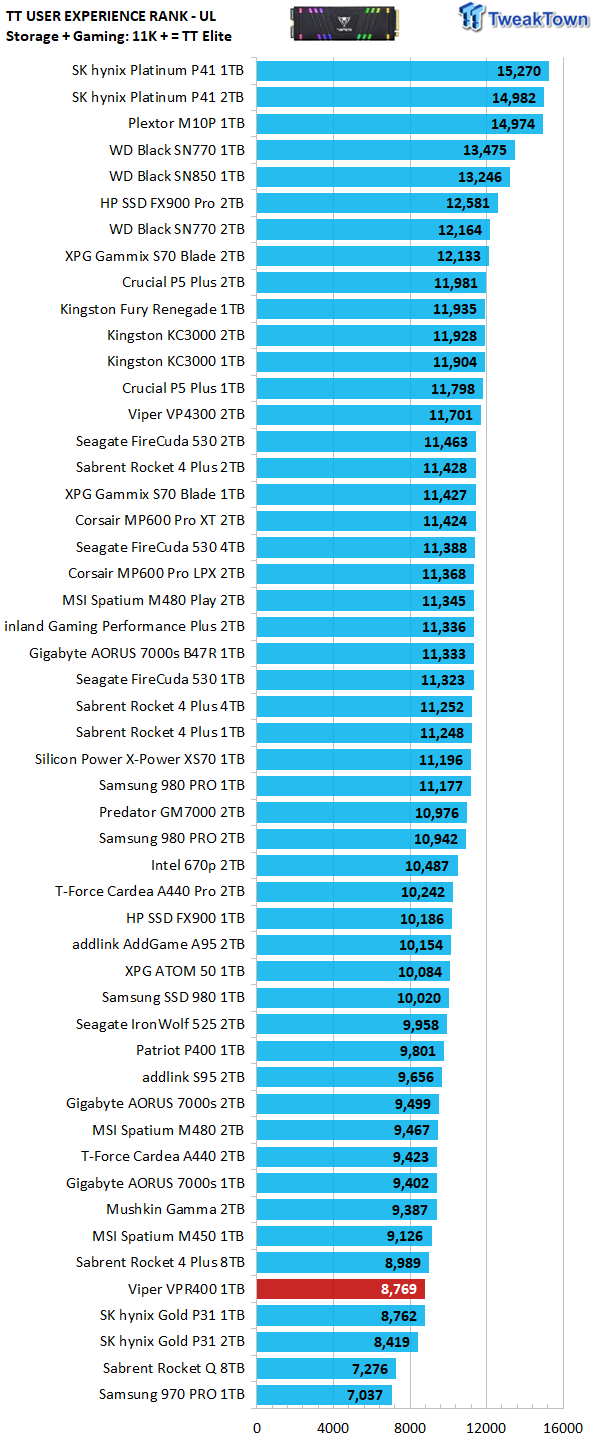 We rank SSDs in terms of overall user experience (performance where it matters most) as expressed by PCMark 10 storage and 3DMark gaming storage tests. We consider a user experience score of 11K or more to verify an SSD as a TweakTown Elite performer. There was never any chance of the VPR400 earning recognition as a TweakTown Elite performer; no IG5220 controlled SSD has come close.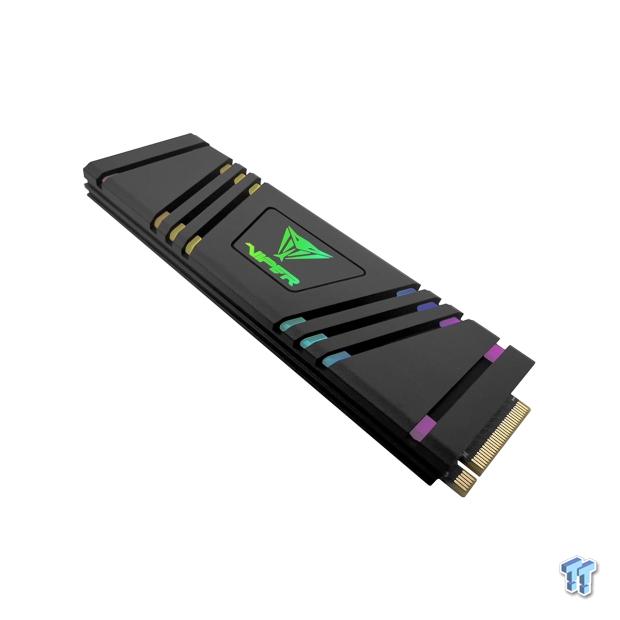 While not the fastest around, it's fast enough and the coolest-looking M.2 SSD on the planet. The Patriot Viper VPR400 is TweakTown approved and worthy of one of our highest awards.
Pros
Cons
| | |
| --- | --- |
| Performance | 80% |
| Quality | 90% |
| Features | 100% |
| Value | 85% |
| Overall | 89% |
The Bottom Line
Coolest looking M.2 SSD on the planet.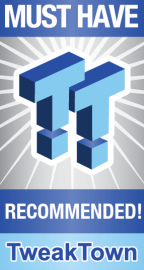 We openly invite the companies who provide us with review samples / who are mentioned or discussed to express their opinion. If any company representative wishes to respond, we will publish the response here. Please contact us if you wish to respond.