Samsung Electronics America, Inc., a leader in digital media and technology, today announced the SE370, the world's first monitor with an integrated wireless charging function for compatible mobile devices. The monitor, available in a 23.6-inch version, aims to declutter work areas by eliminating unnecessary cables for charging mobile devices.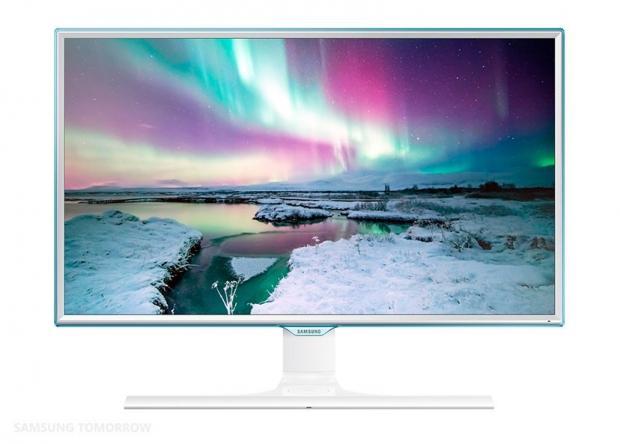 "As a leader in both mobile devices and display technology, Samsung has combined our knowledge of consumer behavior and needs in these areas to create the SE370 wireless charging monitor," said Dave Das, Senior Vice President at Samsung Electronics America, Inc. "With consumers increasingly relying on mobile devices, we are proud to offer them the ability to declutter their workspace and use mobile devices simultaneously. As an industry-first, this monitor transforms the way users see and utilize their workspace, enabling them to work in a smarter and more efficient manner."
Convenient Wireless Mobile Charging
The Samsung SE370 provides users with optimized convenience and multitasking capabilities by consolidating multiple charging ports found in other displays into a circular wireless charging area, integrated in the monitor's stand. Users simply place their mobile device on the stand's charging area for initiation, which is then confirmed by an LED light.
By eliminating the hassle of purchasing and keeping separate charging kits, the SE370 provides an easy solution for cost savings, while also improving workspace utilization.
Superior Picture Quality and Comfortable Viewing
Coupled with superior picture quality, enhanced visual performance and thoughtful design, the monitor seamlessly integrates advanced technologies that offer both professionals and consumers an optimal viewing and usability experience.
Thanks to the monitor's high-performance Plane-to-Line-Switching (PLS) panel, users can experience wide-viewing angles of 178 degrees, ensuring comfort to the eyes from any angle. The brightness level, at 300 cd/m2, creates crystal clear and vibrant imagery across the wide screen.
Designed for extended periods of screen use, Samsung's SE370 makes the viewing experience less strenuous on the eyes. Eye Saver Mode sets the optimum picture quality suitable for eye relaxation based on the content being viewed - ideal for the consumer who is often working behind the computer screen for long hours.
Energy Efficient and Sophisticated Design
In a conscious effort to help the environment, Samsung has recently introduced the Eco Saving Plus function. This reduces screen brightness for increased energy efficiency. In addition to two standard manual settings, an auto-setting reduces energy consumption by approximately 10 percent, which in turn lowers users' electric bills. This function is based on the luminescence of the screen's black sections in auto on-screen display (OSD) mode. To further minimize environmental impact, the monitor's front cover, stand and circuits also are constructed without PVC.
Along with being an eco-friendly device, the SE370 adds a modern aesthetic and pleasing appearance to homes and workspaces. An ultra-narrow bezel and semi-transparent blue finish surround the monitor's white glossy body, making for a sleek look that instantly catches the eye. Featuring Samsung's Touch of Color accents, a T-shaped stand accentuates the monitor's impactful design with a refined and minimal finish.
Enhancing the Experience for the Avid Gamer
Samsung is committed to delivering the most innovative products for gaming enthusiasts. The SE370 delivers a smooth and immersive entertainment experience coupled with embedded picture-enhancing functions, making it perfect for gamers. Supported by AMD FreeSync technology, the monitor synchronizes the screen refresh rate with the frame rate of a user's AMD video card to minimize input latency, as well as to reduce stutter and lag during gaming and video playback. The result is the most seamless gaming experience possible, allowing users to enjoy fast paced games without missing a beat.
Additionally, the SE370 monitor's 4ms response time enables clear and smooth tracking of even the fastest on-screen action without motion blur or ghosting, making it easier to hit crucial shots in FPS games or avoid obstacles in racing games. A unique game mode can also be quickly activated with the touch of a button. This game mode detects changes in scenes and instantly corrects blurry images, enhances colors and alters contrast for improved visibility.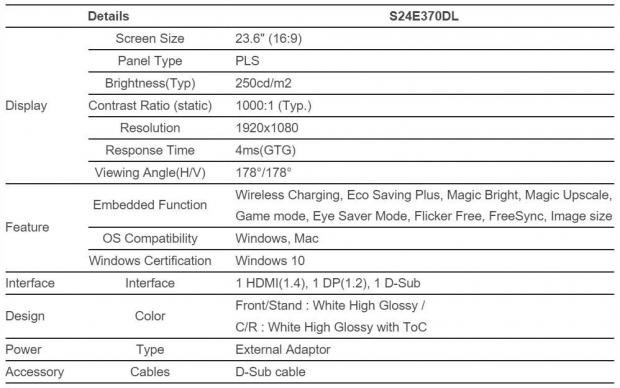 The Samsung SE370 is available for pre-order starting today exclusively on Newegg for an MSRP of $249.99.
Last updated: Apr 7, 2020 at 12:10 pm CDT