Rivet Networks, a leading maker of high performance networking products, today launched the world's most advanced networking detection and prioritization technology for gamers and performance users as part of its all-new Killer E2400 Gigabit Ethernet Controller. The Killer E2400 delivers unprecedented speed, intelligence and control for the ultimate networking experience.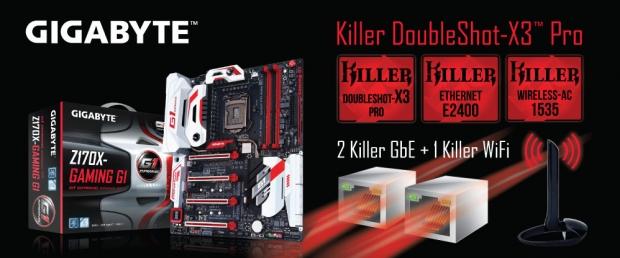 Adding to their arsenal of peak-performance networking products, the Killer E2400 from Rivet introduces Advanced Stream Detect 2.0 to offer the most cutting-edge network data detection and network optimization technology in the PC market today.
The E2400 provides additional intelligence by automatically detecting and prioritizing specific website traffic in addition to networked applications and games. By providing two additional network priority levels, Killer E2400 gives users six levels of prioritization to take full advantage of enhanced application and website detection. The adapter delivers industry-leading latency performance, outperforming the competition by up to 50 percent during single application usage and up to 10x faster when multitasking, offering more powerful network control, improved latency, reduced jitter and virtually eliminates video freezes so users can play, watch and stream games all at the same time.
The Killer E2400 also is able to work together with Killer Wireless products via Killer DoubleShot Pro technology, which uses both Killer Ethernet and Killer Wireless interfaces simultaneously to automatically route high priority traffic to the fastest connection.
For users that want the absolute best performance, DoubleShot-X3 Pro works in systems that have two Killer Gigabit Ethernet Controllers and one Killer Wireless-AC Adapter. DoubleShot-X3 Pro automatically identifies all traffic and sends high priority traffic over the fastest connection, standard traffic over the next fastest connection and bulk traffic over the remaining connection. DoubleShot-X3 combines the speed of two wired Killer Gigabit Ethernet controllers with the flexibility of Killer Wireless to provide max throughput as high as 2.867 Gbps.
The new Killer E2400 is being released in partnership with MSI and GIGABYTE, global leaders in gaming hardware. MSI will feature the E2400 on multiple Z170 motherboards, including the Z170A GAMING M9 ACK with Killer DoubleShot Pro. The MSI X99A GODLIKE GAMING motherboard will support DoubleShot-X3, with dual Killer E2400 controllers and the all new Killer Wireless-AC 1535. GIGABYTE is launching their Z170X-Gaming 7 and Z170X-Gaming GT both with E2400 while support for DoubleShot-X3 will be included in their new top of line Z170X-Gaming G1 motherboard.
"Rivet Networks prides itself on constantly raising the bar for both traffic detection and traffic prioritization to deliver the ultimate online experience", said Michael Cubbage, CEO at Rivet Networks. "GIGABYTE and MSI have both made superior networking performance a priority for their new motherboards and the new Killer E2400 will give their customers the absolute best online experience."
Killer E2400 Features:
Advanced Stream Detect 2.0 offers the most advanced network data detection available in consumer products today. Advanced Stream Detect 2.0 automatically classifies and prioritizes network traffic for online games, HD video and specific websites for better quality and fewer interruptions in a user's online experience

Lag and Latency Reduction Technology designed specifically to reduce latency and improve online gaming and HD video performance

Visual Bandwidth Control shows which applications and websites are monopolizing bandwidth and gives users the control to optimize performance by adjusting priorities and setting bandwidth limits so that low priority traffic doesn't interfere with multimedia applications or favorite websites
The Killer E2400 launch follows the June release of the Killer Wireless-AC 1535, a 2x2 802.11ac wireless adapter with ExtremeRange Technology. It features two external amplifiers plus full MU-MIMO and Transmit Beamforming support that extends intelligence and control while increasing wireless networking speed.
Availability
The Killer E2400 Gigabit Ethernet Controller is available immediately in select GIGABYTE and MSI products.
Last updated: Apr 7, 2020 at 12:09 pm CDT