Toshiba's Business Solutions Division (BSD), a division of Toshiba America Information Systems, Inc., today announced a new laptop designed to meet the varying needs of small to mid-sized businesses. Designed, engineered and manufactured by Toshiba, the Tecra A50 represents the expansion of Toshiba's SMB lineup. The Tecra A50 is Windows 10-ready and offers the performance of an enterprise-class PC and the essential productivity and security features business users need at an affordable price point.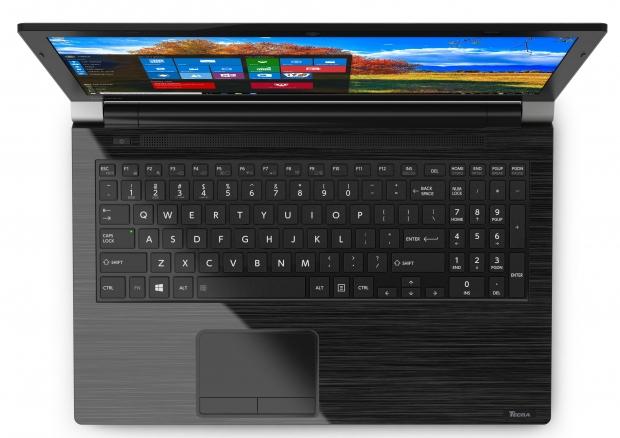 "Small and mid-sized business need more enterprise-class features and performance than ever before, but for a low total cost of ownership," said Carl Pinto, vice president of marketing and engineering, Toshiba America Information Systems, Inc., Business Solutions Division. "Our line of SMB products not only delivers powerful, secure devices that each meet the varying needs of this segment, but are now Windows 10-ready, enabling businesses and IT departments to take advantage of the new platform as soon as they are ready."
Big Performance for Small Business
The Tecra A50 features a 15.6-inch diagonal HD or Full HD display, the latest Intel 5th generation processors, plus a battery life of close to 8 hours to keep business in motion. The laptop also features a built-in DVD Drive and full-size keyboard with a 10-key numeric pad for easily powering through spreadsheets, as well as a user-replaceable battery. The Tecra A50 has docking capability and utilizes the High Speed Port Replicator that is common across the entire Tecra and Portégé line.
To make the process of connecting, syncing, sharing and collaborating easier, the Tecra A50 is equipped with an HD webcam, Bluetooth v4.0, the latest dual-band 802.11ac Wi-Fi, and is wireless display ready. A generous range of essential ports make doing business easier, including two USB 3.0 and one USB 2.0 port, plus full-size HDMI and VGA ports, Gigabit Ethernet and an SD Card reader.
Windows Operating System Flexibility
Because every organization is different when it comes to operating system preferences, with the Tecra A50 laptop, Toshiba will offer a variety of Microsoft operating systems to best suit each organization's IT requirements. Toshiba has an unparalleled understanding of Microsoft with engineers based in Redmond and has featured the company's operating system on its laptop for the past 30 years.
Toshiba Quality Replacement Guarantee
To demonstrate its commitment to quality and reliability, Toshiba is including the Toshiba Quality Replacement Guarantee for Tecra A50 laptops. If the LCD panel, hard drive, memory or system board fails within the first year of ownership, Toshiba will replace the unit with a new Tecra A50.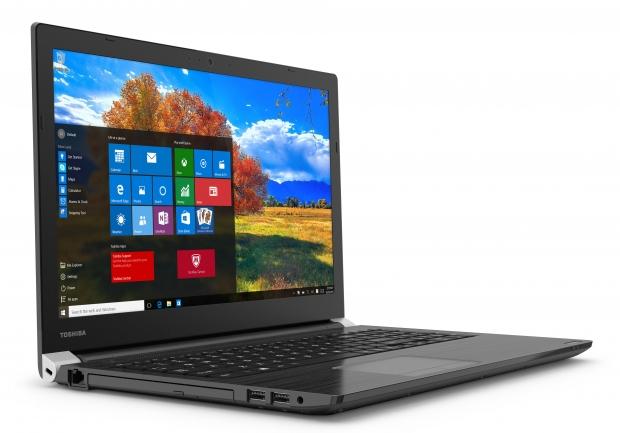 Easy to Manage within Corporate IT Environments
The Tecra A50 is the perfect platform for the Toshiba Cloud Client Manager (TCCM) - a cloud service that allows IT administrators to easily manage end-point devices across a deployment by providing comprehensive tools and patch management to ensure device efficiency and compliance. Using a standard web browser, IT administrators can now oversee and take control of devices online, in real-time, without the need to invest in servers and dedicated management software. The Tecra A50 also has advanced manageability options, supporting Microsoft System Center Configuration Manager (SCCM), Windows Management Instrumentation (WMI) and Toshiba Smart Client Manager 2.0 (TSCM).
Security Features and EasyGuard Technology
To ensure valuable business data is kept safe and secure, the Tecra A50 can be configured with an Intel Core i5 or Intel Core i7 processor and Trusted Platform Module (TPM) v1.2 to provide the extra layers of security business users need for greater peace of mind. For added security, the Tecra A50 can be configured with a Smart Card and Fingerprint Reader. In addition to a spill resistant keyboard designed and tested to save data and shut down, this laptop features Toshiba's innovative EasyGuard Technology, adding multi-tiered security and data protection measures that guard components against accidental bumps. For quality and reliability, the Tecra A50 has been rigorously tested to the stresses of heat, shock, vibration and Highly Accelerated Life Testing (HALT) at Toshiba's facilities.
Reinforced by Toshiba's internally developed BIOS, Tecra laptops deliver unparalleled integration of hardware and software no other PC manufacturer can claim. This foundational BIOS software not only monitors the PC's internal components to maintain stability, it offers system-level security and built-in countermeasures to prevent illegal access.
Pricing and Availability
Available in August through Toshiba Direct and various resellers, the Tecra A50-C1510 will have a MSRP of $729.99, the Tecra A50-C1520 will have a MSRP of $799.99, and the Tecra A50-C1510W10 will have a MSRP of $729.99.
Last updated: Apr 7, 2020 at 12:09 pm CDT