Mushkin Enhanced MFG, an industry-leading designer and manufacturer of high-performance and cost-effective solid state storage products, today announced its latest addition to the ATLAS family of products - the new ATLAS VITAL M.2 2280 Series for Ultrabooks, notebooks, and small form-factor PCs. Atlas Vital is suitable for mobile gamers, professionals, or general end-users looking to take their computing experience to the next level with solid state storage.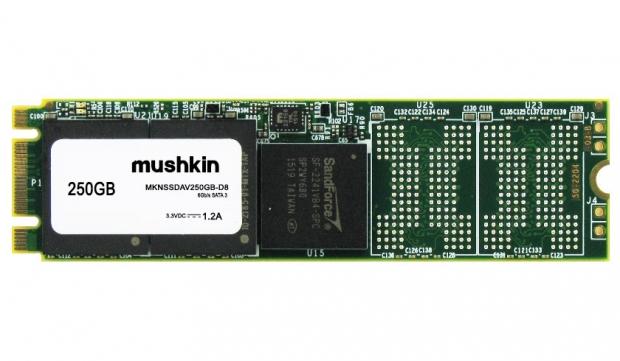 Leveraging Seagate's SandForce SF-2000 series SSD processor with a SATA 3.0 interface, the ATLAS VITAL provides stable performance with sequential read and write speeds up to 550 and 535MB/s respectively and 4KB random transactional performance of up to 86,000 IOPS for low-latency computing and high throughput. With these features, the ATLAS VITAL is an ideal solution for value-minded users looking to improve their systems' response time and greatly reduce their operating system boot and application load times compared to a traditional hard drive.
"With our latest ATLAS VITAL M.2 series, budget-conscious users can now experience Mushkin-enhanced SSDs in their Ultrabooks, notebooks and small form-factor PCs such as the recently-released M.2-compatible Intel NUC," said Brian Flood, Director of Product Development.
The ATLAS VITAL M.2 2280 is being offered in 120 GB, 240 GB, 250 GB, 480 GB and 500 GB capacities - meeting the needs of even the most demanding users. Available today at all Mushkin Authorized retailers.
Part Numbers:
MKNSSDAV120GB-D8: ATLAS VITAL 120 GB M.2 2280

MKNSSDAV240GB-D8: ATLAS VITAL 240 GB M.2 2280

MKNSSDAV250GB-D8: ATLAS VITAL 250 GB M.2 2280

MKNSSDAV480GB-D8: ATLAS VITAL 480 GB M.2 2280

MKNSSDAV500GB-D8: ATLAS VITAL 500 GB M.2 2280
Last updated: Apr 7, 2020 at 12:09 pm CDT