Stealth (a Sparton company), a leader in the industrial computer and peripherals market has released a new 21.5" Panel Mount LCD monitor, featuring a high definition widescreen 16:9 format with 1080p resolution (1920 x 1080). The LCD is environmentally sealed to NEMA 4/IP65 specifications providing maximum protection from dirty, wet and hostile operating environments.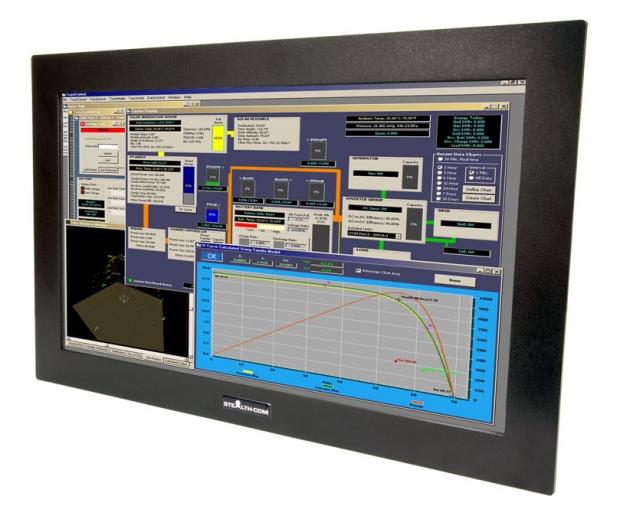 The SV-2150WS-PM 21.5" panel mount monitor is an IPS LCD Panel with LED Backlighting for optimal energy efficiency while delivering up to 250 Nits (Cd/m2) of brightness, a contrast ratio of 1000:1 (25000:1 dynamic) and wide viewing angles of 178°. The SV-2150WS-PM is well equipped with Resistive or Capacitive Touch Screen, VGA, DVI-D, HDMI & DisplayPort video input connectors.
The SV-2150WS-PM panel mount LCD installs easily into new and existing panels, cabinets and consoles without having to drill multiple stud holes. Simply drop the LCD into place and secure with the attached steel brackets.
Stealth's 21.5" LCD monitor can also be turned into a Panel PC with the optional mounting of a LittlePC small form factor computer on the rear of the unit. This option transforms the display into a space saving all-in-one workstation solution that is quick and easy to deploy.
Stealth's rugged LCD monitors are built to withstand the demanding effects of harsh environments typically encountered in industrial, commercial, security and defense markets. Stealth industrial hardened monitors are ideal choices for applications such as, HMI (Human/Machine Interface), Factory Automation, Plant Control, Process Control, Kiosks & Digital Signage.
Stealth's new SV-2150WS-PM 21.5" panelmount LCD monitor is currently shipping with base pricing starting at $1,575.00 USD. Stealth also offers many other panel mount monitors in sizes ranging from 6.5" to 26" as well as sunlight readable, marine/all-weather and panel pc all-in-one configurations.
Last updated: Apr 7, 2020 at 12:09 pm CDT