TUL Corporation, a leading and innovative manufacturer of AMD video cards since 1997, has released a new video card with the High Bandwidth Memory (HBM) from AMD's latest invention. HBM is a new type of memory chip with low power consumption, ultra-wide communication lanes, and a revolutionary new stacked configuration. HBM's vertical stacking and fast information transfer open the door for truly exciting performance in innovative form factors, not to mention that GPU applications are just the start - look for HBM's superior power efficiency and space savings to spark industry-wide innovation. PowerColor R9 Fury X easily handles the most graphically intense games today due to its advanced and innovative GPU to ever create for the beloved PC gaming community. This power comes from AMD-pioneered High Bandwidth Memory (HBM) integrated on-chip that delivers more than 3 times the bandwidth per watt than GDDR5 along with a 4096-bit memory interface for incredible new advances in power and efficiency.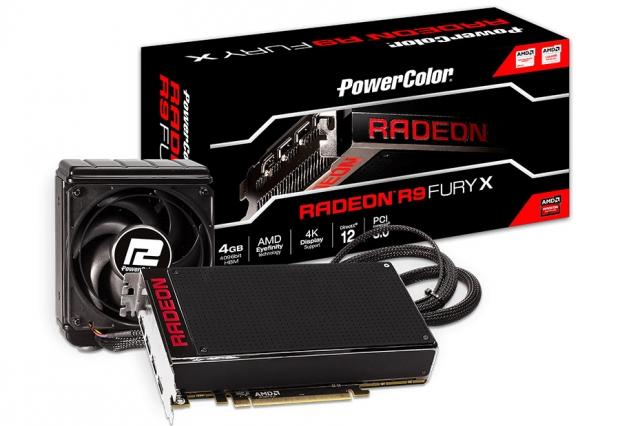 Spiff-up your gaming rig with sleek, envy-inducing design and make a powerful statement. It is packed with unique features, such as industrial styling including black-nickel aluminum exoskeleton and soft-touch aluminum plates, maintenance-free closed-loop liquid cooling, premium 120mm fan, GPU Tach activity indicator, and LED illumination highlight designs that details for that finished luxurious look. Pack that all in a slim and compact 7.5-inch card and you have yourself a stylish yet powerful graphics processing power that you can hold with your hands.
It's all here - and with incredible new levels of design flexibility and scalability, the slim and compact 7.5-inch card packs a performance punch in a smaller space thanks to the HBM on-chip. The AMD Radeon R9 Fury X GPU is transforming the future with HBM on-chip, leading the way to create small and powerful PCs by packing faster and more power efficient memory into 94% less space than GDDR5. Benefit from the cool, quiet, and reliable operation of closed-loop liquid cooling that includes integrated pump and cooling regulator and maintenance-free flexible nylon-braided tubing connecting a premium matte-black radiator unit with a 3000RPM 120mm fan that cools both ASIC and VRM. Connect displays using 3 Display Port and 1 HDMI connector, monitor real-time GPU activity with the eight-LED GPU Tach activity indicator, and select your operational configuration with the two-position BIOS toggle switch. The PowerColor R9 Fury X supports AMD's newest technologies such as Virtual Super Resolution, FreeSync, Liquid VR, and 4K resolution.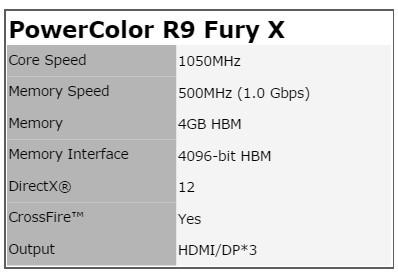 For more information, visit the product page.
Last updated: Apr 7, 2020 at 12:09 pm CDT