VisionTek Products LLC, a leading manufacturer of award-winning, high-performance upgrades and accessories for PCs and Macs, today announced the Radeon Fury X, alongside five other new Radeon R9 300 and R7 300 video cards designed with Advance Micro Devices (AMD) GPUs. The new VisionTek Radeon video cards will feature a new extreme look and are available starting June 24th, 2015.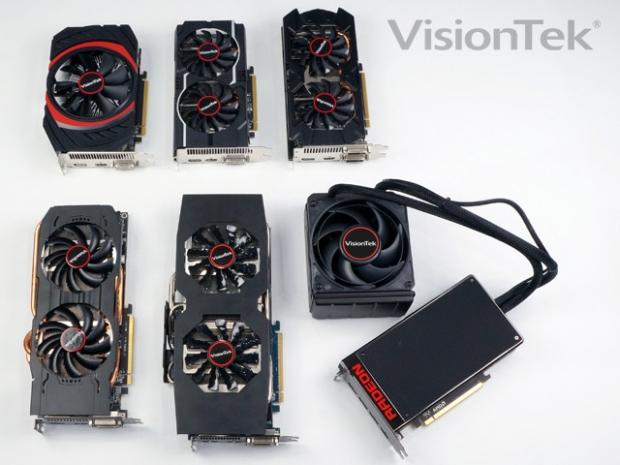 The VisionTek Radeon Fury X opens a whole new dimension of gaming, for an unbelievable alternate reality. It is the world's first video card with AMD-pioneered High Bandwidth Memory (HBM) integrated on-chip, delivering 60% more memory bandwidth over GDDR5. The VisionTek Radeon R9 Fury X features black-nickel aluminum exoskeleton, maintenance-free AIO closed-loop liquid cooling, GPU Tach activity indicator, and red LED "RADEON" illumination along the spine of this wicked beast. The compact 7.5-inch card packs a performance punch, leading the way to create small and powerful PCs by condensing the HBM memory into 94% less space than GDDR5. The VisionTek Fury X was built to enable the next generation of 4K and VR gaming. With this card, PC users won't just upgrade, they will revolutionize.
A full line of video cards meets the needs of every consumer gaming segment.
VisionTek is also releasing their next generation of R9 300 & R7 300 cards for the most immersive 4K gaming experience, now and tomorrow. The new VisionTek line consists of the R9 390X, R9 390, R9 380, R7 370, and R7 360 models to meet the needs of every consumer gaming segment. These new video cards put 4K gaming and Virtual Reality within reach for smooth, true-to-life, stutter-free gameplay with ultra-high performance. The R9 and R7 cards all support AMD Eyefinity for dynamic, panoramic multi-screen gaming experience. Once again, VisionTek captivates the imagination with an extreme new look & feel to awaken the fire in passionate PC gamers.
"We are focused on alignment with PC Gamers and are excited to announce the new features embedded in AMD's Fury X design," said Michael Innes, President of VisionTek. "We believe Virtual Reality will transform the way we experience and interact with our PC. We are embarking on a new universe of entertainment and the new VisionTek AMD powered cards create the required platform for launch."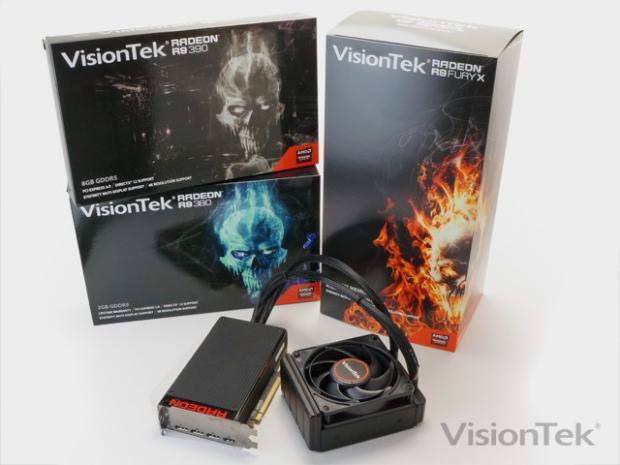 The VisionTek line features the following ground breaking AMD technologies:
AMD LiquidVR Technology: Offers plug-and-play ease for today's evolving VR head-mounted displays and future-ready support for fantastic new VR technologies that will transform tomorrow's gaming and entertainment.

AMD Freesync Technology: Provides liquid-smooth, artifact-free, 4K cinematic experience with the highest performance at virtually any frame rate.

VSR (Virtual Super Resolution): Get quality that rivals 1440p, even on a 1080p display while playing your favorite games thanks to AMD's VSR.
VisionTek Radeon R9 Fury X
Graphics Engine: Radeon R9 Fury X

Core Speed: up to 1050MHz

Video Memory: 4GB HBM

Memory Interface: 4096-bit

Memory Speed: 500MHz
VisionTek Radeon R9 390X
Graphics Engine: Radeon R9 390X

Core Speed: Up to 1050MHz

Video Memory: 8GB GDDR5

Memory Interface: 512-bit

Memory Speed: 1500MHz (6Gb/s)
VisionTek Radeon R9 390
Graphics Engine: Radeon R9 390

Core Speed: Up to 1000MHz

Video Memory: 8GB GDDR5

Memory Interface: 512-bit

Memory Speed: 1500MHz (6Gb/s)
VisionTek Radeon R9 380
Graphics Engine: Radeon R9 380

Core Speed: Up to 970MHz

Video Memory: 2GB GDDR5

Memory Interface: 256-bit

Memory Speed: 1375MHz x4 (5.5Gb/s)
VisionTek Radeon R7 370
Graphics Engine: Radeon R7 370

Core Speed: 975MHz

Video Memory: 2GB GDDR5

Memory Interface: 256-bit

Memory Speed: 1425MHz x4 (5.7Gb/s)
VisionTek Radeon R7 360
Graphics Engine: Radeon R7 360

Core Speed: 1050MHz

Video Memory: 2GB GDDR5

Memory Interface: 128-bit

Memory Speed: 1625MHz x4 (7Gb/s)
Last updated: Apr 7, 2020 at 12:09 pm CDT