As the world's No.1 in GAMING video cards, MSI is pleased to announce the availability of the revolutionary AMD Radeon R9 Fury X. With the MSI R9 Fury X 4G, MSI adds a new high-end video card to its recently introduced and already heavily awarded AMD R9 and R7 300 series range. The MSI R9 Fury X 4G is equipped with 4GB of the groundbreaking High Bandwidth Memory, which is engineered directly onto AMD's Fiji XT GPU for unprecedented performance. The AMD Fury X is built for the future of ultra-high resolution gaming and Virtual Reality, which is available for enthusiasts to explore.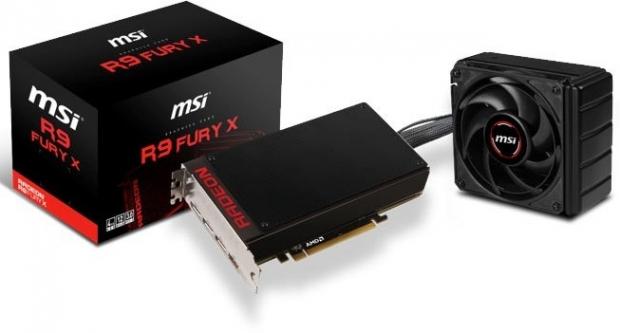 The card is housed in a much smaller form factor than we are used to from a top-level video card, which means that it fits into nearly any case. It is cooled by a closed loop liquid cooling solution which is included in the box which keeps the GPU around 50 degree Celsius during typical gaming sessions. The radiator can be mounted on the inside of the case to blow the heat directly outwards, it uses a single high quality 120mm fan for quiet performance.
Next to all the impressive technical feats, the MSI R9 Fury X 4G also brings the bling with multiple LED lights located on the side of the card. Some just for cool light effects, others to indicate the GPU intensity level.
Performance Control by MSI Afterburner
When used with MSI's exclusive Afterburner overclocking utility, gamers can control the MSI R9 Fury X 4G core clock speeds for better performance in the latest games. The Fury X is also equipped with advanced fanspeed control based on GPU temperature, giving optimal acoustic performance. MSI Afterburner supports the video capturing function Predator and can even be used on smartphones to monitor and control the video card in desktop computers.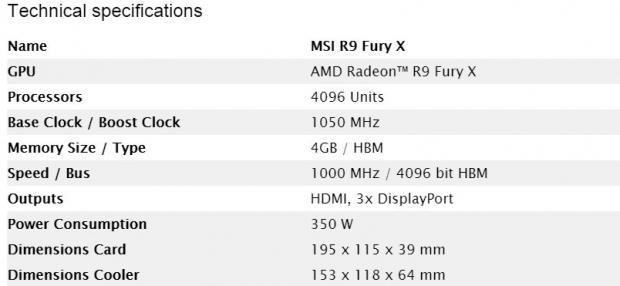 Last updated: Apr 7, 2020 at 12:09 pm CDT