Cloud Backup Robot is a new backup software designed to simplify the procedure to the greatest possible extent. The program backs up files, folders and SQL Server databases to several popular cloud storages including Dropbox, Amazon S3 and Google Drive, and does this in with minimum setup required from a user.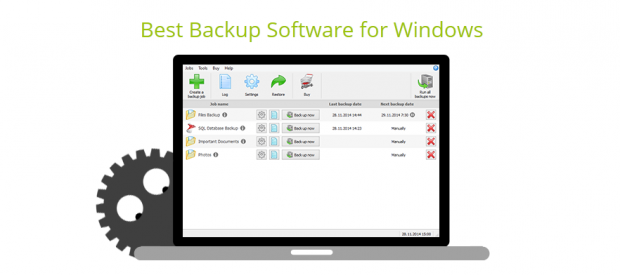 'Cloud' is a popular buzz word today. It seems everything eventually goes to clouds, including backups. At the same time, while there are solutions for cloud backup of files and folders, backup of databases is mostly still on the ground. And the new tool called Cloud Backup Robot aims to fill this niche.
The program, as the name suggests, is an automatic backup solution. Yet the trick is: it backs up not only individual files and folders, but also Microsoft SQL Server and MySQL databases as well. And does this in the same user-friendly way. The backup can be local, network or cloud. Transparent integration of popular cloud storage services such as Google Drive, Dropbox, Amazon S3, Box and OneDrive allows a user to automatically save his or her data to a remote server just as easily as to a local drive. Another useful option Cloud Backup Robot offers is creating a backup on an FTP server.
Cloud Backup Robot is made with a focus on simplicity and intuitiveness of the backing up process. At the same time, a user easily finds a convenient scheduler, a secure encryption of backups and an option to pack data to a zip archive in the program. With such an instrument in the toolbox, a system administrator can bring safety of the data to a whole new level. That plus very affordable price of the app makes Cloud Backup Robot a decent option to consider.
Pricing and availability
Cloud Backup Robot is available in three editions: Lite, Standard and Professional for, correspondingly, $29.95, $59.95 and $179.95. The program supports Windows XP or higher, and Windows 2003 Server or higher.
Last updated: Jul 27, 2022 at 03:42 am CDT