Samsung Electronics America, Inc. today unveiled its 2015 monitor lineup, a series of premium products that offer outstanding viewing experiences for consumers and professionals alike. The new consumer models include the SE790C Curved Monitor, which provides an unparalleled, immersive experience as the world's first 3000R curved monitor with Ultra-Wide QHD resolution (3440x1440) and the UE590, a UHD monitor with an HDMI 2.0 port and extraordinary color detail perfect for editing and consuming multimedia and ideal for 60Hz PC gaming. Samsung is also launching the UE850 UHD and ECO-Friendly PLS SE650 monitors for creative and enterprise users. The new monitors will be on display at the International Consumer Electronics Show (CES) in Samsung's booth, 11906 in Central Hall, from January 6-9, 2015.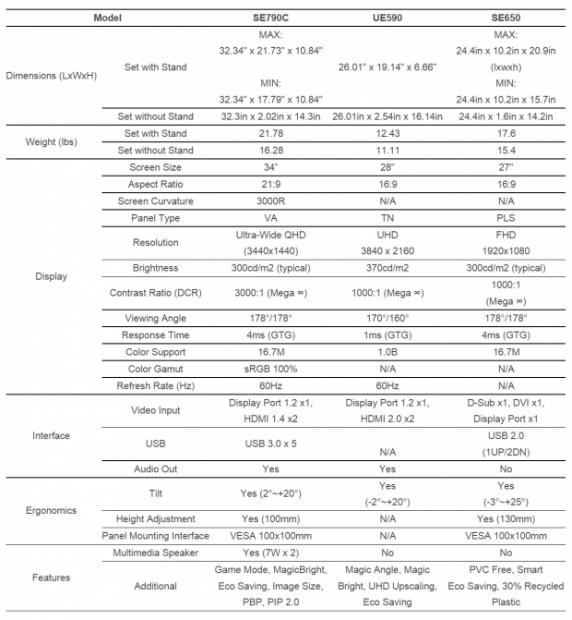 "Samsung is a longstanding leader in display technology, constantly innovating to create exceptional desktop viewing experiences," said Ron Gazzola, vice president of marketing at Samsung Electronics America. "We're proud to continue that legacy of innovation with the 2015 monitor line which offers truly remarkable and immersive visual experiences for all types of users."
Samsung SE790C Curved Monitor
As the world's first 3000R curved monitor with Ultra-Wide QHD resolution, the SE790C offers a truly immersive experience made even more realistic through a 3000:1 contrast ratio that displays deep blacks, bright whites and brilliant colors. The sophisticatedly engineered, 3000R curvature widens the field of view and increases users' depth perception, truly making them feel a part of games and videos. Additionally, the monitor's curved screen edges more closely match the natural curve of a viewer's eyes, resulting in a comfortable viewing experience.
The experience is furthered by the slim depth and thin bezel, which support a seamless multi-display environment. The ability to easily connect several monitors makes the SE790C perfect for gamers, entertainment enthusiasts and professionals looking to be more productive across multiple screens. A 21:9 aspect ratio and wide viewing angles (178°/178°) make it possible to fit even more content on the screen, and view it from anywhere in the room.
The monitor is equipped with Samsung Game Boost technology, which optimizes the picture to make games come alive. Game Boost's dynamic gamma setting adjusts color and contrast image-by-image, based on the scene's brightness for a richer experience. It improves brightness and contrast in dark scenes by stretching the gamma, allowing gamers to see all of the action. This makes players more effective by enabling them to see greater detail in dark scenes.
The SE790C features 7W stereo speakers that adjust to authentic sound, meaning the most important game noises like car horns in a racing game, explosions in an action game, or character sounds in a role playing game will stand out over background music. In addition, in a multi-monitor setup, users can select "left sound" for the left located monitor and "right sound" for the right located monitor to enjoy true stereo surround sound.
The SE790C curved monitor will be available beginning January 6, 2015 for an MSRP of $1,199.99.
Samsung UE590 UHD Monitor
The Samsung UE590 is a premium UHD monitor with rich contrast and rapid response times. With an HDMI 2.0 port and incredibly vivid picture quality, the display is ideal for photo enthusiasts and gamers alike.
The UE590 supports the full Digital Cinema Initiatives (DCI) color space, a range of color support defined by content creators and display manufacturers. This ensures consumers get the optimal at-home viewing experience, complete with the colors exactly as the director intended. The result is a greater range of deeper, richer colors, as well as more robust, lifelike picture quality. This makes the UE590 perfect for consuming multimedia ranging from the hottest Hollywood movies to home photos.
DCI support coupled with up to a 1 millisecond response rate allows the UE590 to keep up with even the fastest moving movies and games. As video is increasingly found in everything ranging from social media to advertisements, rapid response rate is crucial for keeping up.
The UE590 monitor will be available beginning March 2015 for an MSRP of $599.99.
Samsung UE850 UHD Monitor
The UE850 is part of Samsung's expanding line of UHD desktop monitors. Ideal for professionals requiring accurate image reproduction, such as command and control, mapping and simulation, programming, engineering and more, the monitor features a height adjustable stand among other features. The UE850 lineup includes 24-, 28- and 32-inch models and will be available in Q1 2015.
Samsung SE650 ECO-Friendly PLS Monitor
The Samsung SE650 ECO-Friendly PLS monitor offers an unparalleled user experience while having minimal impact on the environment. Designed with the Earth and eco-friendly consumers in mind, the SE650 features a 30 percent recycled plastic, PVC-free body. It reduces power consumption to 0.00W in stand-by mode, lower than the average monitor which uses 0.3 W to 0.5W, saving energy, resources and money.
The recycled plastic, PVC-free body offers health and environmental benefits throughout its lifecycle, beginning with production, where it reduces the emission of harmful pollutants. During use, it keeps PVC-related toxins out of the user's home, school or office. Finally, when correctly disposed, the SE650 monitor prevents PVC from leaking into soil, crops and water supplies.
The SE650 features a 6.6mm bezel, slim enough to seamlessly double the screen size with the addition of a second side-by-side monitor and a glare resistant glass screen that allows users to work comfortably in any type of lighting. The monitor also has two USB inputs, which are perfect for connecting to multiple devices at once.
The SE650 monitor will be available beginning Q1 2015.
Last updated: Apr 7, 2020 at 12:08 pm CDT