TRENDnet, a best-in-class wired and wireless networking hardware brand, today announces the AC2600 Dual Band Wireless Router, model TEW-827DRU, a next generation Wi-Fi router which marks a new AC2600 speed threshold.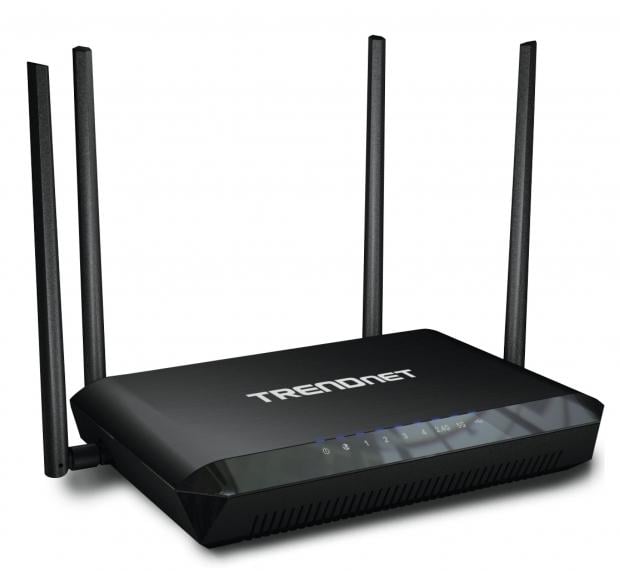 This next generation dual band Wi-Fi router features two concurrent wireless networks -- an ultra-performance 1,733 Mbps Wi-Fi AC network and an extreme performance 800 Mbps Wi-Fi N network. Quad-Stream architecture, on both the Wi-Fi AC and Wi-Fi N bands, produces the record breaking AC2600 category rating.
Multiple-User MIMO (MU-MIMO) antenna technology (Qualcomm MU/EFX platform) enables the router to serve multiple devices simultaneously, instead of processing device traffic in a queue one at a time. MU-MIMO greatly improves performance in today's busy connected home which averages almost ten Wi-Fi connected devices.
The TEW-827DRU sports four high performance dual band external detachable antennas, all Gigabit network ports, and two SuperSpeed USB 3.0 share ports. Wi-Fi amplifiers maximize Wi-Fi signal output and targeted Beamforming technology increases real-time performance by directing stronger wireless signals to each connected device's specific location. Content sharing opportunities are expanded with Samba client support, an iTunes music server, and a BitTorrent download client.
For added protection, the router's Wi-Fi bands are pre-encrypted with their own unique eight character password. Thereby, eliminating the common hack of accessing a router using a default password (such as 'admin'). Furthermore, users can created guest networks which only allow internet access.
"We are excited about the TEW-827DRU's record breaking performance," stated Zak Wood, global marketing director of TRENDnet. "When two TEW-827DRU's are bridged together, we expect new Wi-Fi throughput records will be documented from independent reviewers, for both of the Wi-Fi AC and Wi-Fi N bands."
TEW-827DRU AC2600 Dual Band Wireless Router
AC2600: 1,733 Mbps Wi-Fi AC + 800 Mbps Wi-Fi N bands

Quad-Stream architecture produces the record breaking Wi-Fi AC and Wi-Fi N speeds

MU-MIMO (Multi-User MIMO) technology enables the router to serve multiple devices simultaneously thereby greatly improving performance in a connected home

Beamforming technology increases real-time performance by directing stronger wireless signals to each connected device's specific location

Extreme performance processor

High performance detachable 4.5 dBi 5GHz/3.5 dBi 2.4GHz antennas

Pre-encrypted Wi-Fi for your protection

All Gigabit wired ports

Two SuperSpeed USB 3.0 share ports

Samba file sharing support

iTunes music server

BitTorrent download client

Create isolated guest networks

IPv6 support
TEW-827DRU Warranty: 3 year limited
TEW-827DRU Availability: Available from retailers and other TRENDnet partners this May 2015
TEW-827DRU MSRP: USD 279.99
Last updated: Apr 7, 2020 at 12:08 pm CDT