MSI, world leading in motherboard technology, is proud to announce its X99S SLI Krait Edition motherboard. Introducing a newly designed fully black and white motherboard perfect for anyone looking for something different. The new MSI X99S SLI Krait Edition isn't just a good looking black & white motherboard, it also presents an arsenal of features and improvements. Offering reliable and fast Intel Gigabit LAN together with NVIDIA SLI and AMD CrossFire support for enthusiasts looking to pair up multiple video cards.
Reward your ears with Audio Boost and all of its audio enhancing features. On-board Turbo M.2 with speeds up to 32 Gb/s makes sure users can enjoy blazing fast system boot up and loading of applications and games. A SATA Express port is also available. Guard-Pro and Military Class 4 provide all the stability you need through carefully selected and thoroughly tested components and materials.
The X99S SLI Krait Edition motherboard perfectly caters to those looking for something different in terms of design but desire nothing but the best in terms of features and power.
Audio Boost, enhanced audio quality
Audio Boost meets Krait. Audio Boost delivers the highest audio quality so users can enjoy crystal clear sound and the best possible sound experience while gaming. Because the complete audio circuitry is isolated from other features, enjoy less interference and more stability. The built-in 600Ω headphone amplifier is perfectly suited to the use of studio-grade headgear to get the most amazing sound quality out of your PC. Also featuring golden audio jacks for pure audio signals, an EMI shielded audio codec, high quality audio capacitors and Illuminated audio PCB separation, rest assured the best possible audio experience is available with Audio Boost.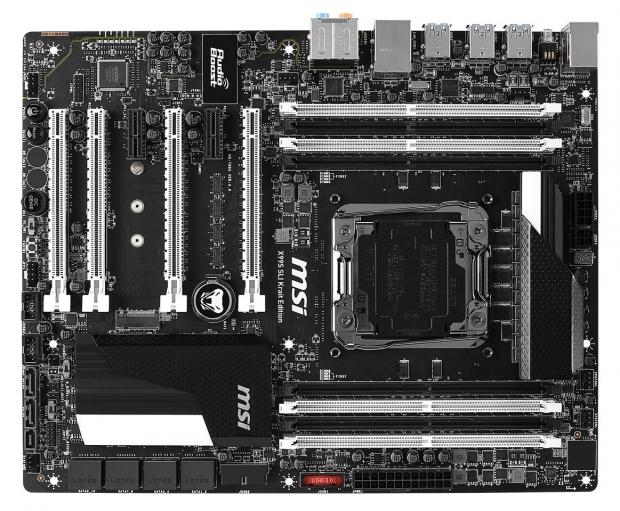 Optimized for multiple video cards
The MSI X99S SLI Krait Edition motherboard support Quad SLI and features four PCI Express 3.0slots perfectly aligned and with enough space for an optimal airflow when using multiple video cards. That way, there is no need to worry about an overheating PC, while enjoying the best graphics jumping off from your monitor when running an NVIDIA SLI or AMD CrossFire gaming setup.
Next generation storage, SATA Express & Turbo M.2
Enjoy a blazing fast system boot up and insanely fast loading of your operating system, applications and games with MSI X99 motherboards, offering the next generation of high speed storage support through Turbo M.2 and SATA Express. Turbo M.2 is the successor to M.2 10 Gb/s, offering 3 times more performance up to 32 Gb/s using Gen3 x4. M.2 is packed in a small form factor and is compatible with 3 different sizes to fit most storage solutions. All latest generation Intel based MSI motherboards feature Turbo M.2 storage.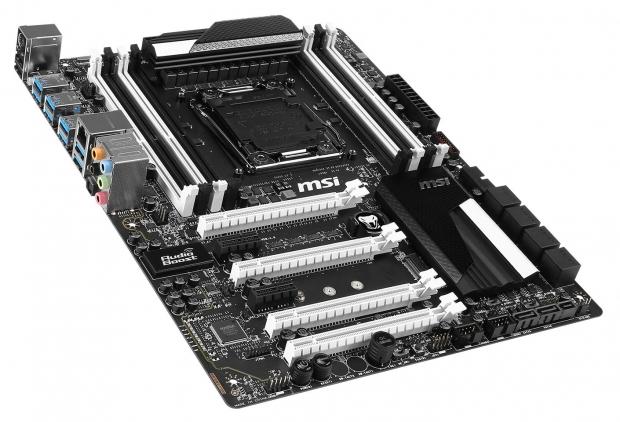 Where raw power meets class
The Z97S SLI Krait Edition motherboard already gained fame amongst case modders around the world. The X99S SLI Krait Edition motherboard is continuing the black & white bloodline with an even more impressive and massive appearance. Now presenting even more black & white highlights, more features, powered by a 12 phase PWM design covered by bigger heat sinks, the X99S SLI Krait Edition motherboard is the perfect example where raw power meets class. All of this makes the X99S SLI Krait Edition motherboard another excellent addition to the case modding domain.
Stable and highly efficient with Military Class 4 and Guard-Pro
MSI Guard-Pro is the next step in motherboard stability with advanced levels of protection and reduced power consumption characteristics. ECO power reduces power consumption of your motherboard up to 29%, circuit protection, ESD protection and EMI protection all reduce interference and disruptions of surface by increasing the protection of on-board components. Humidity and high temperature protection bring the level of PCB quality up to the Military Class 4 standard where Dark Caps, SFC and Dark chokes provide higher energy efficiency and thanks to its Military Grade certification also much better stability in extreme circumstances.
Last updated: Apr 7, 2020 at 12:08 pm CDT