ASUS today announced exciting new additions to its commercial ASUSPRO PC range, with the launch of the ET1620 all-in-one PC, EeeBox EB1036 and EB1037 space-saving desktop PCs, and the ultra-small form factor (USFF) BT1AD and BT1AE desktop PCs.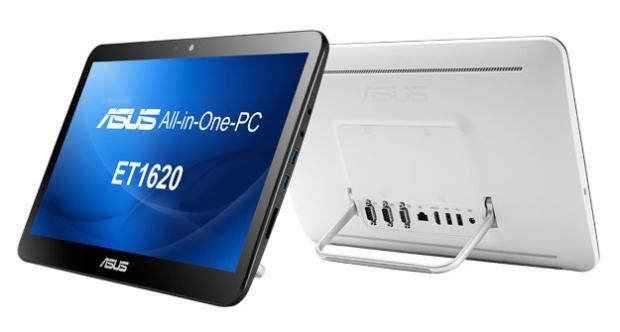 All models feature the very latest Intel processors for optimum performance and power efficiency. Designed for small-to-medium businesses, public sector and enterprise customers, these new ASUSPRO PCs offer enhanced productivity, space-saving design, and advanced management and security features - including the new and exclusive ASUS Business Manager - tailored to enhance productivity with minimal impact on operating and maintenance costs.
ASUSPRO for advanced management and security
All the new ASUSPRO models include special hardware and software features designed to make them secure yet easy to manage.
ASUS Business Manager is a set of software tools that simplifies routine maintenance and optimization tasks such as software and system updates, physical and password security, backup and recovery, plus power management configuration.
Configuration and monitoring of system management features such as hard disk password protection, I/O port locking and asset tagging is made easier with the intuitive mouse-controlled UEFI BIOS.
ASUS commercial desktops and all-in-one PCs also feature a Kensington Lock slot that provides added physical anti-theft protection in sensitive or public-facing environments.
An additional security option for ASUSPRO desktop models is a Trusted Platform Model (TPM) chip, which ensures that sensitive information like keys, passwords, and digital certificates remain safe from external attacks, physical theft, and other types of intrusion.
ET1620 - the flexible and secure all-in-one for your business
Designed to meet the needs of applications such as point-of-sale (POS), self-service machines, educational or digital signage, the ET1620 is an all-in-one PC with a 15.6-inch capacitive 10-point multi-touch display. It is powered by a next-generation Intel Celeron quad-core processor that is significantly faster than previous generations for smooth multitasking performance. With its multiple I/O ports - including two serial ports, two USB 3.0 ports, two USB 2.0 ports - ET1620 is the perfect partner for a wide range of business uses, allowing the attachment of a wide range of business peripherals such as barcode scanners, credit card terminals, printers or document scanners. Its dual video outputs (HDMI and VGA) allow ET1620 to be connected to any external monitor or large-screen TV if necessary. Additionally, an optional NFC (Near Field Communication) module can be installed for even more flexibility, allowing customers to develop their own applications based around ET1620, such as retail POS solutions.
ET1620's slim and stylish space-saving design, with an attractively slim 1.3 cm bezel, make it ideal for public-facing use or where space is at a premium, and its light 2 kg weight mean it's easily transportable. ET1620 can even be wall-mounted, thanks to its VESA-mount-compatible design, making it an excellent choice for digital signage, information point or kiosk applications.
EeeBox EB1036 and EB1037 - the smart space savers
EB1036 and EB1037 are the latest additions to the successful ASUSPRO EeeBox range of ultra-compact PCs, a product family ideally suited for use in thin client and digital signage applications. Despite their tiny one-liter volume, 0.7 kg weight and low power consumption, the EB1036 and EB1037 can easily handle even the most demanding multitasking applications, thanks to the significantly increased performance and power efficiency of their next-generation Intel Celeron processors. Featuring both HDMI and VGA video outputs, EB1036 and EB1037 support dual simultaneous displays for increased productivity and outstanding flexibility. EB1036 additionally features a built-in serial (COM) port that allows the easy connection of versatile business peripherals such as barcode scanners, serial printers and LED text displays.
Consuming up to 70% less power than a standard desktop PC, the energy-efficient EB1036 and EB1037 can help to reduce operating costs while protecting the environment. They meet some of the industry's highest environmental standards, including EPA ENERGY STAR and EPEAT Gold level certification.
BT1AD and BT1AE - built for business
Businesses requiring outstanding manageability and security in an ultra-small form factor desktop PC need look no further than the new ASUSPRO BT1AD and BT1AE, a new addition to the comprehensive ASUSPRO desktop PC family. Designed around supremely powerful 4th-generation Intel Core processors, BT1AE also incorporates Intel vPro technology and an embedded TPM chip to provide hardware-based malware protection, data security and remote manageability. As with all ASUSPRO desktop PCs, BT1AE has the option to include ASUS Inventory and Out-of-Band Management, which helps reduce the cost of identifying and managing hardware and software throughout the enterprise, and throughout the product lifecycle.
With DVI, HDMI, DisplayPort and VGA video outputs, BT1AE has the remarkable ability to run up to three independent external displays simultaneously without the need for extra hardware, making it an ideal solution for multi-screen applications or to enhance productivity in the workplace. BT1AE has a modular, tool-free design that ensures easy maintenance, and its extensive range of I/O ports - including USB 2.0, USB 3.0, plus optional serial and parallel ports - make it highly expandable, allowing it to grow with your business.
For customers requiring a budget-friendly version of BT1AE that maintains its excellent performance, space-saving design and expandability, ASUS recommends the companion BT1AD model.
ASUS desktops - leading in satisfaction with reliability
ASUS computers reflect a tradition of the finest quality, innovation and longevity. Based on the PC World USA 2012 reader survey of tech satisfaction, reliability, and service, users ranked ASUS as a leading choice for desktop PCs, citing high satisfaction with their value, connectivity, ease of use and reliability. The survey also found ASUS desktop PCs were one of the most likely to be recommended to others. Additionally, PC Mag has recognized ASUS as the leading brand of choice with its Reader's Choice award.
Last updated: Apr 7, 2020 at 12:08 pm CDT