AMD today announced global availability of its new AM1 platform featuring quad-core and dual-core variants of the AMD APU codenamed "Kabini" into the component channel for system builders. The AM1 platform, branded with the AMD Athlon and AMD Sempron APU brands, will deliver award-winning Graphics Core Next (GCN) architecture and "Jaguar" CPU cores on motherboards from the leading manufacturers. AMD Athlon 5150/5350 and AMD Sempron 2650/3850 APUs provide consumers a balanced computing experience on a socketed upgradable platform.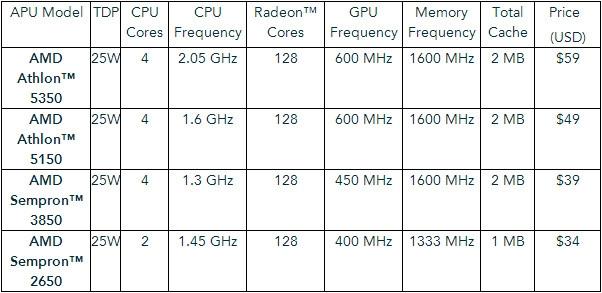 "AMD consistently builds on its industry leading technology by continuing to offer a diversified product stack which is proven today with the availability of the AM1 platform with 'socketed' AMD Sempron and AMD Athlon APUs designed for the mainstream market," said Bernd Lienhard, corporate vice president and general manager, Client Business Unit, AMD. "With quad-core performance and AMD Radeon graphics the AM1 platform is an affordable solution that provides great flexibility due to an infrastructure built to deliver a multitude of options to our end users and system builders."
AMD Athlon and AMD Sempron APUs deliver a quad-core solution to consumers that includes two SATA 6 Gbps ports, two USB 3.0 ports, eight USB 2.0 ports, PCIe 2.0 lanes for video card upgrades, and a trio of video outputs (DisplayPort, HDMI, and VGA) starting at under $40 USD. The AMD AM1 platform provides up to 3x more compute performance than its competitors, as well as balanced computing with DirectX 11.2 and Windows 8.1 support to mainstream markets.
"The new 'socketed' Sempron and Athlon products from AMD provide our customers outstanding value and performance at low power that was previously unavailable for buyers in emerging markets looking to build systems at home," said Patrick Choy, Director of CPU Product Management, Newegg. "We're thrilled to see the large number of motherboard manufacturers supporting the platform using the FS1b socket and the flexibility it provides with microATX and MiniITX motherboards for sleek and power-efficient small form factor PCs."
The new AMD AM1 platform will be available from the following e-tail and retails outlets in North America:
Last updated: Apr 7, 2020 at 12:08 pm CDT