PROMISE Technology today announced three new Thunderbolt 2 and shared storage devices engineered for creative professionals. These new solutions will be showcased at the National Association of Broadcasters Convention (NAB) in booth SL#5329.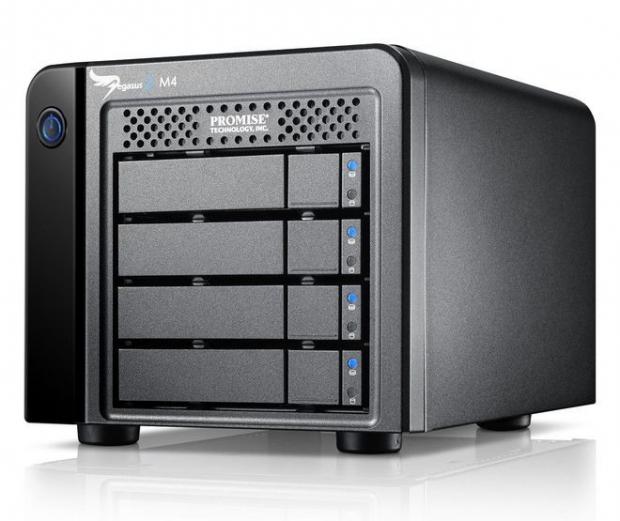 Pegasus2 M4 builds on the success of Pegasus2, the world's first Thunderbolt 2 hardware RAID storage solution, by delivering performance and capacity in a new, portable form factor with 2.5" drives. Featuring an innovative and compact design, the 2.5" HDD/SSD Thunderbolt 2 Pegasus2 M4 external RAID solution works with the new Mac Pro and is an ideal solution for professionals working both offsite and in-studio. The Pegasus2 M4 will also be featured as part of a workflow process at the Intel Zone in the StudioXperience booth at NAB (SU#621D1). The Pegasus2 family supports OS X Mavericks and will add support for Windows-based Thunderbolt hosts in Q2.
"For professionals and enthusiasts alike, Thunderbolt 2 creates many exciting possibilities for media creation and 4K workflows," said Jason Ziller, marketing director for Thunderbolt at Intel. "Flexibility and simplicity are core benefits of Thunderbolt 2, and the portability and performance of the Pegasus2 M4 makes it an ideal storage solution for content creators who need better ways to work."
As unstructured data continues to grow, creative professionals will require access to unified storage. The VTrak G1100 NAS Gateway provides 10Gb Ethernet access to the VTrak A3800 shared storage appliance, allowing multiple users to simultaneously edit video for post-production and broadcasting. The VTrak G1100 NAS Gateway is a 1U file server with 8Gb FC front end and 10GbE dual port back end connectivity, which provides simplicity by utilizing the same single storage management software as the VTrak A3800.
The SANLink2 10G is a Thunderbolt 2 10GBase-T bridge adapter that connects a Mac Pro or any Thunderbolt 2 enabled Mac to high performance 10Gb Ethernet networks. Not only does this provide versatility for mobile use when offsite, but also simpler deployment and a more cost efficient infrastructure for direct Ethernet access from Thunderbolt 2.
At NAB, PROMISE's Thunderbolt 2 and shared storage solutions will be shown with the new Mac Pro running Final Cut Pro X and with the HP Z820 Thunderbolt 2 enabled workstation, featuring AJA, Blackmagic and Adobe.
"Working with high resolution video means fast, high capacity storage is essential," said James Lee, CEO, PROMISE Technology. "Our line of solutions for the media and entertainment industry offer extreme versatility in any setting -- be it a video editor working remotely with a laptop or a large enterprise requiring shared storage for multiple users to edit at the same time."
"The AJA Io 4K, Pegasus2 and SANLink2, together with the new Mac Pro with Thunderbolt 2 technology, deliver a powerful end-to-end solution for simplified 4K video production -- giving pro customers time to focus on being creative rather than struggle with workflow issues," said Nick Rashby, president, AJA Video Systems.
"Our tools are optimized to take advantage of the latest technology trends such as 4K and beyond," said Simon Williams, director of strategic relations at Adobe. "Our customers want to create amazing content and they want to do that efficiently and easily. PROMISE's VTrak and Pegasus solutions play beautifully with Adobe Premiere Pro CC, giving our customers the tools they need to focus on making brilliant content."
Availability
The Pegasus2 M4, VTrak G-Class NAS Gateway and SANLink2 Thunderbolt 2 to 10GBase-T Ethernet bridge will be available starting in Q2 through the PROMISE global network of distributors and value added resellers.
Last updated: Apr 7, 2020 at 12:08 pm CDT