GX Gaming, the gaming series of peripheral maker, Genius, today introduces the White Edition of the GX Gaming DeathTaker, Imperator Pro and GX-Speed to North America. This special collection by GX Gaming has arrived just in time for the holiday season. The new DeathTaker, Imperator Pro, and GX-Speed in white create a zone of cool around any gamer, and serve as an excellent complement to any white themed gaming setup.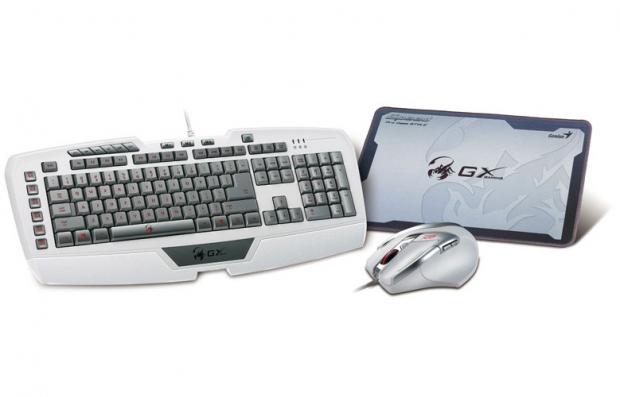 DeathTaker White Edition is a nine button precision gaming mouse with up to 5700 dpi. It has X/Y axis independent dpi adjustments that enable more flexible, in battle, modifications. The weight adjustment system enhances mouse control at high speed.

Imperator Pro White Edition has 17 NKRO to prevent missed key presses. There are six independent macro keys as well as two USB ports so gamers don't lose connectivity. The white body and cable highlight the grey keycaps and red lettering.

GX Speed White Edition is a new soft gaming mouse pad specifically designed for the DeathTaker White Edition. It is thinner, larger, and white themed. The natural rubber base gives a stronger surface grip that will not slip.
Both the DeathTaker and Imperator Pro White Edition are equipped with a full speed CPU and built-in memory to prevent macro settings from being blocked in-game. This gives gamers a 1ms boost in response time, or about 8 times quicker than without. They come with a pure white no tangle braided cable with gold-plated USB connector. The white theme is made even more distinctive by the 16 million RGB backlight system. Each unit can be programmed to your unique color needs, matching or contrasting your case and components precisely.
With MMO/RTS game orientation, comfortable design and outstanding performance in all games, the White Edition of the GX Gaming DeathTaker, Imperator Pro and GX-Speed Mousepad is the ideal choice for game addicts.
For more information, visit the product pages of GX Gaming White Edition DeathTaker, Imperator Pro, and GX Speed.
Last updated: Apr 7, 2020 at 12:08 pm CDT