Microsoft Corp. today announced revenue of $18.53 billion for the quarter ended September 30, 2013. Gross margin, operating income, net income, and diluted earnings per share for the quarter were $13.42 billion, $6.33 billion, $5.24 billion, and $0.62 per share.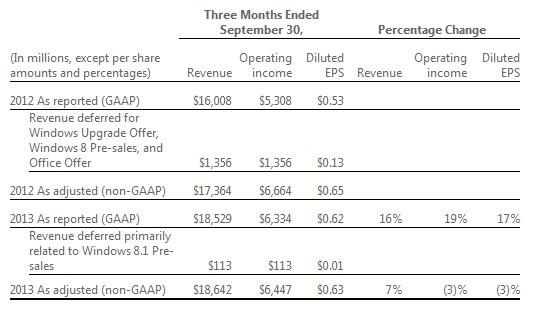 These financial results reflect the deferral of $113 million of revenue primarily related to Windows 8.1 Pre-sales. All growth comparisons in the press release relate to the corresponding period in the last fiscal year, unless otherwise noted.
The following table reconciles these financial results reported in accordance with generally accepted accounting principles (GAAP) to non-GAAP financial results. We have provided this non-GAAP financial information to aid investors in better understanding the company's performance.
"Our devices and services transformation is progressing and we are launching a wide range of compelling products and experiences this fall for both business and consumers," said Steve Ballmer, chief executive officer at Microsoft. "Our new commercial services will help us continue to outgrow the enterprise market, and we are seeing lots of consumer excitement for Xbox One, Surface 2 and Surface Pro 2, and the full spectrum of Windows 8.1 and Windows Phone devices."
"We saw strong focus across our teams, generating record first-quarter revenue even as we navigate a fundamental business transition. Our enterprise renewals were very healthy and our devices and consumer business continued to improve," said Amy Hood, chief financial officer at Microsoft. "We are making strategic investments in areas like technological innovation, supply chain management, and global cloud operations to build for the future and create long-term shareholder value."
Devices and Consumer revenue grew 4% to $7.46 billion.
Windows OEM revenue declined 7%; Windows Pro revenue grew for the second consecutive quarter.

Surface revenue grew to $400 million with sequential growth in revenue and units sold over the prior quarter.

Search advertising revenue grew 47% driven by an increase in revenue per search and volume.
Commercial revenue grew 10% to $11.20 billion.
SQL Server revenue grew double-digits, with SQL Server Premium revenue growing more than 30%.

Lync, SharePoint, and Exchange, our productivity server offerings, collectively grew double-digits.

Commercial cloud revenue grew 103%.
"We continue to execute well across our businesses and we are seeing robust demand for our enterprise products and cloud services. Strong customer adoption of Office 365, Azure, and Dynamics CRM Online is accelerating our business transition to the cloud," said Kevin Turner, chief operating officer at Microsoft. "Our investments in SQL database platform, Hyper-V, System Center, and Lync are driving market share gains as these comprehensive solutions enable customers to increase their insight and efficiency."
Last updated: Apr 7, 2020 at 12:08 pm CDT