Transcend Information, Inc. (Transcend), a worldwide leader in storage and multimedia products, today announced the arrival of its 8 GB DDR3L-1600 Low Voltage 1.35V RDIMM memory module. Aimed at improving high performance data mining and big data analytics, the DDR3 Low Voltage RDIMM allows enterprises to address the challenges of server memory density, performance, and power consumption.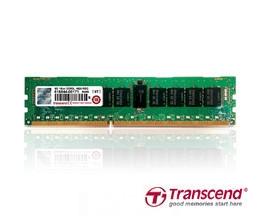 Strong demand for data center services continues to grow as more organizations are taking advantage of the huge and highly available computing and storage resources of cloud and virtualization systems. However, the success of implementing these technologies rests on the ability to quickly load applications and easily process information.
"Server memory is the need of the hour as companies strive to better manage their virtual and cloud-based platforms, and grow their business," said Angus Wu, head of DRAM Research and Development at Transcend. "Transcend looked at the factors driving server memory demand and created a cost effective solution that helps maximize capacity and increase performance."
Designed specifically with the needs of cloud computing and virtualization in mind, Transcend's DDR3 Low Voltage RDIMMs are fully equipped to handle high volumes of information and memory-intensive applications. Transcend has added the 8 GB DDR3L-1600 Low Voltage RDIMM to its server memory lineup to assist its customers in becoming greener as well. The reduction in operating voltage from the standard 1.5V to just 1.35V reduces electrical load on the memory controller, which can lower system temperature and provide energy savings of up to 20%. Moreover, besides greater expandability options, installing a single 8 GB module can cut power consumption by a further 50% compared with using two 4 GB modules.
Transcend's DDR3 Low Voltage modules feature high capacity, clock frequency of 1600 MHz, and an onboard thermal sensor, offering support for increased memory space, higher data frequencies, and energy efficiency. With the flexibility to expand memory density, enterprises have new opportunities to enhance performance and therefore extract the highest value from big data.
Backed by a limited lifetime warranty, Transcend memory modules are recognized worldwide for their reliable high quality, outstanding performance, excellent compatibility and stable operation.

Last updated: Apr 7, 2020 at 12:08 pm CDT