HighPoint, an industry leading Storage HBA and solutions manufacturer, has launched the industry's most versatile 4-Port Storage HBA - the RocketU 1144E.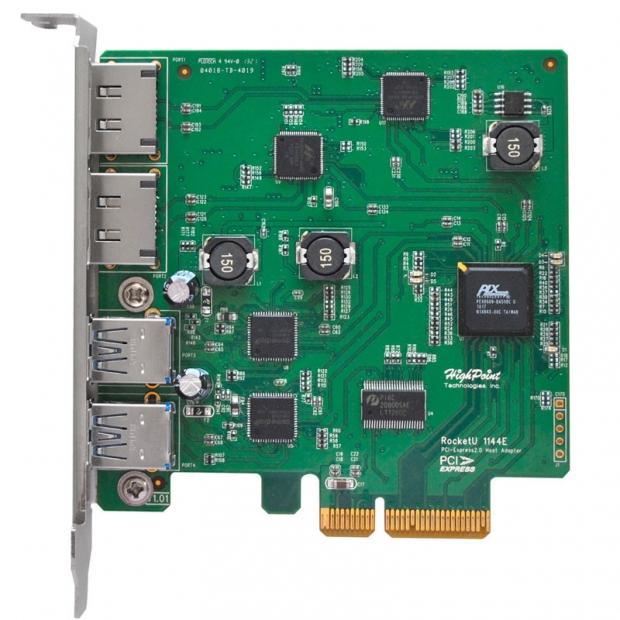 Featuring USB 3.0 and 6Gb/s eSATA connectivity, and uncompromised per-port performance architecture, the RocketU 1144E is designed for PC and Mac platforms, and is well suited for external eSATA and USB 3.0 storage, and Thunderbolt Expansion chassis solutions. The RocketU 1144E maximizes the performance potential of USB 3.0 and 6Gb/s SATA storage devices. The dual 5Gb/s USB 3.0 ports support all industry standard USB 3.0 devices while the dual 6Gb/s eSATA ports are optimized for today's fastest SATA SSD's and high-capacity hard drives.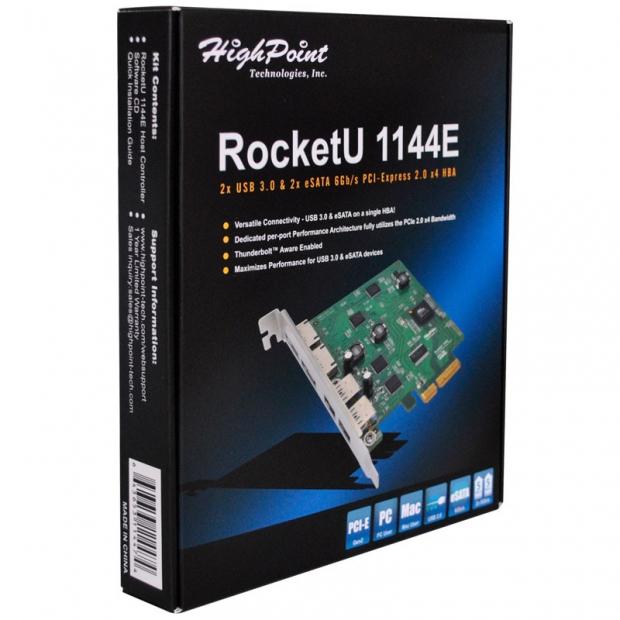 Like all other 4-Port RocketU series HBA's, the RocketU 1144E benefits from HighPoint's innovative per-port performance architecture. Each device port is fully independent, and powered by a dedicated 5Gb/s USB 3.0 or 6Gb/s SATA controller. This revolutionary design ensures maximum performance for all USB 3.0 and 6Gb/s SATA storage devices, and allows them to take full advantage of the HBA's PCI-Express 2.0 x4 host interface.
Uncompromised Storage Expansion for PC & Mac Platforms
The RocketU 1144E supports represents the industry's most versatile 4-port HBA, and is capable of supporting all industry standard USB and SATA storage devices. The uncompromised performance and dual-USB 3.0 /6Gb/s port configuration is an ideal match for HighPoint's RocketStor Storage docks.
The RocketU 1144E can be easily installed into any PCI-E 2.0 x4, x8 or x16 slot, and is fully compatible with PC and Mac computing platforms. Device drivers are readily available for Windows Server 2012, Windows 8, 7, Linux Distributions, & Mac OS X 10.8.3 and later
UAS Performance Boost: Maximizing the Performance Capability of USB 3.0 devices
UAS (USB Attached SCSI) is a computer protocol that is used to transfer data to and from USB storage devices. UAS offers maximized bandwidth utilization, and can handle multiple data transfer requests simultaneously, unlike the slower queue system of BOT (Bulk Only Transport), which only provides single-task commands - each task must complete before the next begins. USB 3.0 connections working in UASP mode result in higher transfer speeds and lower CPU utilization.
Thunderbolt Aware Enabled
The RocketU 1144E is a Thunderbolt Aware HBA, and is designed for use with Thunderbolt PCI-Express expansion devices and storage enclosures.
Last updated: Apr 7, 2020 at 12:08 pm CDT