EVGA extended the Rise of the Triad Bundle to select GeForce GTX 700 series products. Bigger, better and more ludicrous than ever before, the EVGA exclusive Rise of the Triad bundle has just launched! Now for a limited time when you purchase an EVGA GeForce GTX 770, 760, 690, 680, 670, 660 Ti, 660, 650 Ti BOOST, 650 Ti, 650, on or after July 19th, 2013, you will get Rise of the Triad absolutely free! This will be a Steam code that will allow you to redeem the game.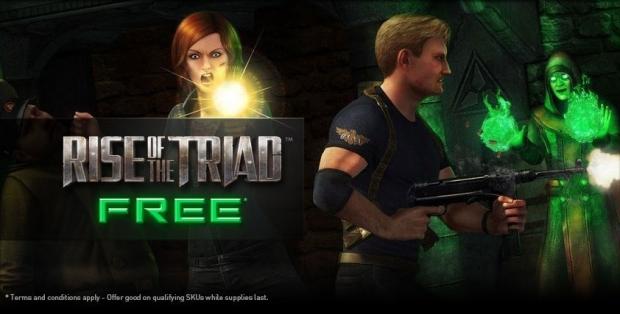 Apogee Software and Interceptor Entertainment proudly present the rebirth of the cult-classic first-person shooter, "Rise of the Triad". Bigger, better and more ludicrous than ever before. The H.U.N.T returns with a full single-player campaign, a fully featured multiplayer experience and so much more.
Step into the shoes of the H.U.N.T. (High-Risk United Nations Taskforce) with five unique characters, each with different play styles

Blast through over 20 of levels of explosive single-player action

Unique online multiplayer maps bring back all the fun and excitement of classic ROTT

The full arsenal of over-the top weapons is back, including the Flamewall, Firebomb, Split Missile, Drunk Missile and, of course, the Excalibat!

The maniacal modes return, with God mode, Elasto mode, Mercury mode, Shrooms mode and everyone's favorite, Dog mode
For more information, visit this page.
Last updated: Apr 7, 2020 at 12:08 pm CDT