Samsung Electronics America, Inc. is exhibiting its latest virtualization products and solutions at VMworld 2013, an annual conference for IT professionals focusing on virtualization and cloud computing. Samsung will be showcasing a number of virtualization products for the first time in the U.S. at VMworld, booth #1729, from August 25-29. These include the new NB-NH Cloud Stand, the all-new 21.5" NC221 and the rest of Samsung's 2013 NC Series zero client lineup of cloud displays, equipped with the new 2nd generation Teradici chipset (Tera2) processor for lower energy costs and greater power efficiency.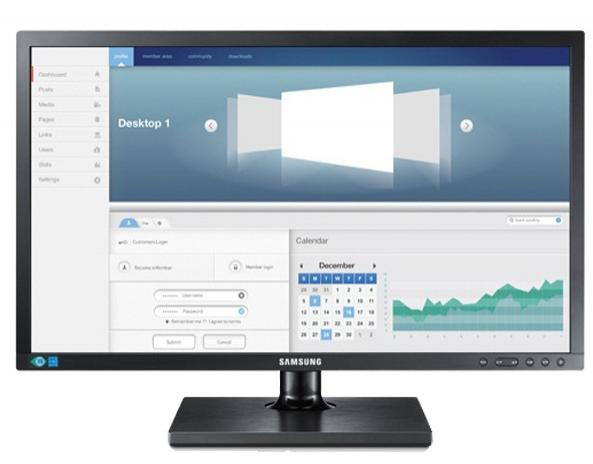 "Samsung is dedicated to supporting enterprise customers with products that offer businesses across vertical markets such as education, federal government, corporate, banking/financial and healthcare with secure and efficient ways to embrace cloud computing," said Tod Pike, senior vice president at Samsung's Enterprise Business Division. "Samsung continues to drive technology leadership in virtualization and cloud display by providing solutions like the NB-NH Cloud Stand that enable businesses to more easily deploy, maintain and manage user environments that are less vulnerable to security risks, while also freeing up valuable desktop real estate."
NB-NH Cloud Stand - Built for Performance, Adaptability and Affordability
Samsung's NB-NH is the world's first Tera2 zero client cloud display, enabling users to transform business monitors into a VDI access device by integrating the latest VDI endpoint technology into the base of the monitor stand. With VDI intelligence and I/O built into the monitor stand, users can free their working environments of bulky workstations and modular desktop appliances.
With an embedded Tera2 chipset, the NB-NH requires no external hard drive or chipset for cloud computing, while also helping users achieve higher performance with greater efficiency. This state-of-the-art zero client technology has been improved to deliver up to 5 times the VDI pixel performance over the previous generation, lower power consumption which reduces energy costs, stronger security with AES 256-bit encryption and less bandwidth usage via client-side caching and enhanced compression.
Built-in PCoIP technology allows users to seamlessly connect to their organization's business cloud, making user environments easier to deploy, maintain and manage, while being less vulnerable to security risks. This makes the NB-NH ideal for business IT environments delivering VDI to the desktop from a hosted business cloud, including education (K-12 and university), public sector, federal government, corporate, banking/finance and healthcare environments.
The NB-NH Cloud Stand enables businesses to simplify and secure their network endpoints with desktop intelligence baked in to the design. SoC (System on Chip) technology is used to reduce the desktop attack surface while almost eliminating the need for client-side administration. Since most software is remote, and critical data is centralized, time and money spent on managing the user environment is vastly reduced.
Samsung's NB-NH Cloud Stand also provides the I/O connections today's business users need. With four integrated USB 2.0 ports, users can connect a wide range of modern USB peripheral devices such as printers, scanners, web cams, smart card or CAC readers, wireless keyboard/mouse and headsets. Integrated stereo speakers offer a more complete, out-of-the-box multimedia experience while preventing unplanned costs for clunky aftermarket sound products.
It is designed to hold virtually any VESA-compatible monitor with dimensions up to 27-inches and weighing up to 14.3 lbs. Industry standard 75mm and 100mm VESA mounting options offer users the modularity required to support their existing monitors or upgrade to a 21.5-inch, 23.6-inch or 27-inch panel.
NC Series Zero Client Cloud Displays - Featuring Tera2 Chipset
Samsung's NC Series zero client lineup is a class of professional-grade monitors specially designed for desktop virtualization and cloud computing. These highly-advanced cloud displays provide integrated connectivity to business clouds via desktop virtualization technology, therefore eliminating the need for a bulky PC with excessive IT administration costs. As sensitive information is centralized and secured in a business cloud, the user environment is easier to deploy, maintain and manage while minimizing exposure to security risks.
Certified for optimal use with VMware ViewTM (VDI Connection Broker), the NC Series cloud displays combine the latest Tera2 chipset with an LED-backlit LCD screen for business-class performance and state-of-the-art picture quality in a highly efficient package.
Benefits of the new Tera2 chipset include:
Lower energy costs with greater power efficiency

Up to 5 times the VDI pixel performance over the previous generation chipset

USB synchronization for webcam support

Reduction in bandwidth via client-side caching and enhanced compression

Stronger security with AES 256-bit Encryption for PCoIP communication
The all new NC221 completes Samsung's transition to the latest VDI access technology which leverages the Tera2 (Tera2321) chipset. With an integrated 21.5" display panel, it's ideal for most knowledge workers. Like all other NC series cloud displays, the NC221 includes a digital display output for driving a secondary monitor, allowing users to span their UI for greater productivity and a more satisfying work experience.
Price and Availability
The new NB-NH Cloud Stand and Samsung's 2013 NC Series lineup of zero client products (including the NC191-T, NC221 and NC241-T) can be ordered today. The NB-NH Cloud Stand is priced just under $299 and prices for the 2013 NC Series start at $477.
Last updated: Apr 7, 2020 at 12:08 pm CDT