Galaxy Microsystems, a leading graphics card manufacturer and innovator, announced today the GeForce GTX 780 HOF Edition-the fastest air-cooled GTX 780 on earth. GTX 780 HOF GPUs are hand picked allowing for an incredible factory boost clock of 1058Mhz. As a result, the Galaxy GTX 780 HOF is as much as 20% faster than the standard GTX 780-even faster than the GeForce GTX Titan.
The HOF edition's signature white PCB gives the card a sleek design completely unlike any other card on the market. Almost every aspect of the GTX 780 PCB has been completely redesigned with a new layout and ultra-premium components. Most notable of these are the CHiL CHL8318 top-of-the-line VR11.1 compliant digital PWM and IR3550 PowIRstage DrMOS 4.0 compliant chipset, which together create a powerful 8 + 2 phase circuit with 90% efficiency capable of delivering an awe inspiring 480 amps of current to the GPU. Other additions include high quality POSCAP capacitors with 2X longer lifespan and high current Coiltronics inductors. The PCB itself is a custom white substrate with 10 layers for optimum signal routing.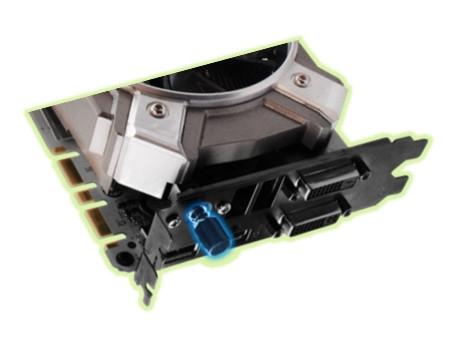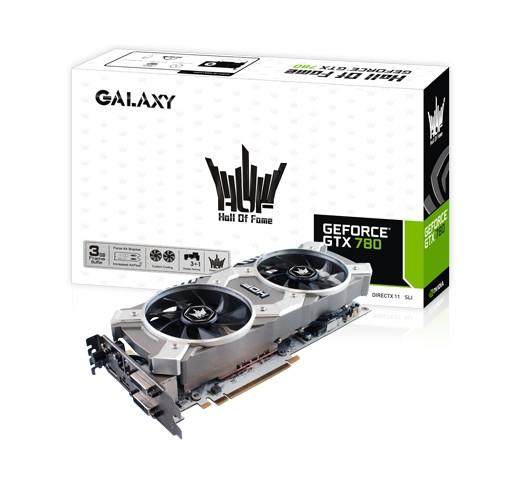 A card with such monstrous power needs an equally impressive cooling solution, and Galaxy has delivered the greatest cooling solution they have designed to date.. The Galaxy HOF edition is the first GTX 780 to use Hybrid Vapor Chamber Heat Pipe (HVCP) cooling, a new technology with heat transfer efficiency roughly 30X higher than copper. Twin 90mm fans with special grooved blades reduce noise while increasing cooling efficiency. The housing is a combination of fire-resistant polycarbonate, anodized metal, and die-cast aluminum alloy.
The most exciting new feature of the GTX 780 HOF is Hyper Boost, a Galaxy exclusive technology that acts as a hardware supercharger enabling core clocks never before possible with software overclocking alone. Pressing the Hyper Boost button on the bracket engages special circuitry and internal optimizations, pushing clock speeds into overdrive and raising fan speed accordingly. Hyper Boost increases core clocks by up to 8% beyond GPU Boost 2.0's dynamic overclocking function and users' custom OC settings. Multiple world record 3D benchmark scores have been broken already as a result.
Last updated: Apr 7, 2020 at 12:08 pm CDT