Cooler Master, a leading creator, innovator and manufacturer of desktop components and more, today announced the unveiling of a high-performance, long-lasting LED fan, the JetFlo 120. It enters the market as the first premium quality LED fan.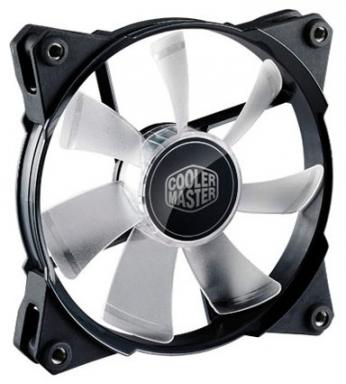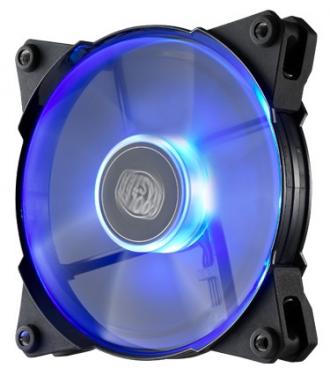 High Quality Design
JetFlo 120 was created to be a single, no compromise solution to cooling computer systems. Designers and engineers focused on "Performance", "Style", and "Silence" as core principles that should be tuned and brought to the forefront of the JetFlo 120 experience.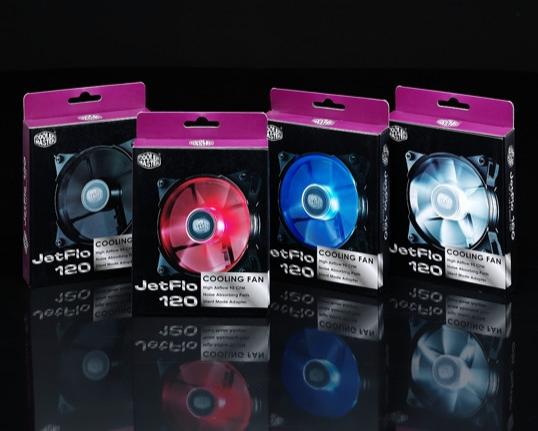 Performance
JetFlo 120 fans each contain ultra-thin, yet surprisingly strong fan blades that minimize resistance and maximize performance. These advanced fan blades cut through the air at speeds ranging between 800 - 2000 RPM and produce up to 95 CFM when operating at full power.
Power is nothing without a strong foundation. Fortunately, JetFlo 120 is built to last far longer than traditional case fans. It features a high-efficiency motor with a low starting voltage. The motor is even protected by a Smart Jam Protection design that automatically stops operation when obstructions are present. The fan motor auto-starts when these obstructions have been cleared. The JetFlo 120 motor is even protected against reverse polarity.
Utilizing exclusive Cooler Master POM bearing technology, JetFlo 120 is nearly dustproof and will last up to 160,000 hours. This extended lifespan is owed to POM bearings being self-lubricating and experiencing little friction during operation.
Style
JetFlo 120 fans come equipped with high quality LED lighting that spreads evenly from the motor, creating a more clean and consistent ambiance. Models will be available in Red, White, and Blue. Those with more discrete tastes will be able to procure a stealth black fan blade model with no LEDs.
Silence
Despite producing up to 95 CFM, JetFlo 120 still only registers in at 36 dBa. This is attributed to a completely re-imagined mounting system and the exclusive POM bearing. The mounting corners are now constructed of a durable rubber that contains threaded steel inserts. These corners assist in absorbing much of the vibrations and noise produced by the fan. The POM bearings low friction operation means that less vibrations and noise will be produced overall. All JetFlo 120 fans fully support BIOS or software control of fan speed via PWM functions. Should users not want to hassle with software, two silent mode adapters are included to lock the fan speed at 1600 RPM and 1200 RPM, respectively.
The JetFlo 120 will be available from the middle of July for a price of around €14,95 / £10,95.
Last updated: Apr 7, 2020 at 12:08 pm CDT