SteelSeries, the industry leader in competitive gaming peripherals today announced the newest edition of the iconic Siberia headset, the Siberia v2 Heat Orange Edition is now available in North America. The new edition headset glows with orange LED lights on the outside of each ear cup that can be customized to exact user specifications via the SteelSeries Engine. The headset is equipped with large, premium driver units for the loudest and clearest sound while the circumaural earcups are wrapped in soft leather for comfort and increased passive noise reduction. The Siberia v2 Headset is used by competitive players from around the globe, because of the superior audio performance and SteelSeries' signature over-the-head suspension system, which provides an unmatched lightweight, comfort for long game sessions.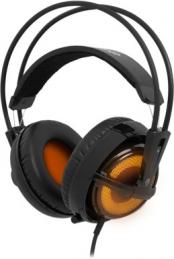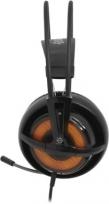 "Our Siberia v2 is one of the top-rated, most used and recognized headsets in the video game peripherals market," said Bruce Hawver, SteelSeries CEO. "We believe in products that provide users with the best in-class technology with features intelligently designed for both form and function. Features like our noise-cancelling microphone and its ability to retract into the earcup when not in use, to the illumination and customization via our SteelSeries Engine software."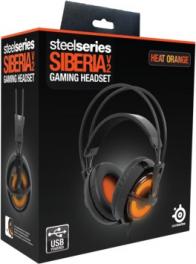 The SteelSeries Siberia v2 Heat Orange Edition - $119.99
Awarded for its unique design and superior sound quality, the Siberia v2 Heat Orange Headset combines the classic Siberia style with illumination, control, and features including:
HEAT ORANGE ILLUMINATION: Super-bright, orange LED lights that glow through the outer mesh grill on each earcup. The illumination offers 6 different modes and can be assigned to behavior and game specific profiles through the SteelSeries Engine, including: Active Mode (responsive pulsing to sound effects, music, and/or voice), Slow Pulse, Fast Pulse, High Bright, Low Bright and Off.

SUPERIOR SOUND & COMFORT: It has an incredibly lightweight, over-the-head SteelSeries suspension design with an active noise-cancelling microphone and circumaural earcups that feature large, premium driver units, covered by black leather cushions for comfort and passive-noise reduction.

NOISE-CANCELLING MICROPHONE & CONTROLS: The Siberia v2 Heat Orange features an active noise cancelling microphone system. The microphone processor reduces the "noise" and focuses on the sound that is closer to the mic, your voice. It can also retract into the left earcup when not in use. The headsets in-line volume and mute controls are found on a durable cord with a USB connector.
Featured at $119.99 the Siberia v2 Heat Orange Limited Edition headset is available to purchase via the SteelSeries web store.
Last updated: Apr 7, 2020 at 12:08 pm CDT