Today AVADirect, a leading custom computer builder, announced they are now selling the new Nvidia GTX 770 & 760 graphic processing units. Using a similar die design to the GTX 780, the GTX 770 & 760 graphics processing units utilize the next generation SMX streaming multiprocessor, built from a tantalizingly-new GPU die design, to provide an efficient level of mid-range graphics card performance that was once quite pricey, but now considerable an substantial value. Considering NVIDIA's drive to develop and provide a multilevel of graphics processing units, the GTX 770 & 760 are the product of efficient graphics component manufacturing that will become a asset to gaming/graphics design.
Based on the ongoing trend, the release of new NVIDIA graphics processing units continues to improve performance, as well as efficiency; all offered in one, tight-nit graphics solution...easily leaving your technological pallet salivating. Here, you can view the specifications for the NVIDIA reference design for the GTX 770 & 760.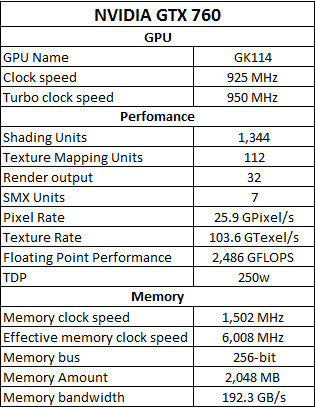 The GTX 760 has the most improvements overall. From what we see here, the majority of improvements have to do with the clock/turbo speed of the GTX 760, and overall performance numbers. The main differences to note, are the improved memory bus and memory bandwidth of the graphics card. NVIDIA took a step with power consumption. The NVIDIA GTX 760 will consume a maximum of 250w, rather than the previous GTX 660 which consumed a maximum of 150w of power. Consider where desktop users are headed, and the overall efficiency of power supplies. this difference should not be big enough to make or break a build. However, this may be problematic for those considering mATX/mini-ITX boxes with little room for larger power supplies. Overall, the NVIDIA GTX 760 appears to be a welcomed improvement over it's older brother.
Amongst all previous NVIDIA graphics processing unit releases, AVADirect stands to take complete advantage of what they have to offer. Any computer builder can provide complete solutions to it's customers, but it takes a nice custom computer builder, with a unique ability to identify the needs of clients, provide high-quality builds, and create an affordable solution that makes sense. AVADirect is the one unique custom computer builder that welcomes the latest NVIDIA graphics processing units with open PCI-E slots, and will continue to expands it's offerings as NVIDIA continues to bring the cool, energy-merciful graphics processing units to the table.
All respected configurations will not carry the NVIDIA GTX 760 graphics processing unit as a option, offered by various manufacturers of NVIDIA graphics processing units models.
Last updated: Apr 7, 2020 at 12:08 pm CDT