LSI Corporation today announced it has expanded the LSI Nytro product portfolio of PCIe flash adapters with a new, high-capacity 3.2TB Nytro WarpDrive accelerator card, and expanded capacity, connectivity and software capabilities across the Nytro MegaRAID product family. The new offerings extend the industry's broadest portfolio of PCIe flash adapter products, allowing customers to choose the optimal solution to uniquely address their challenges across a wide range of enterprise applications and datacenter workloads.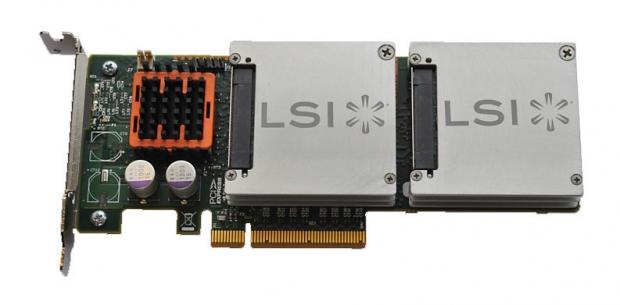 LSI Nytro products are being deployed to deliver the ultra-low latency and high-bandwidth performance required for Big Data applications, hyperscale web and cloud datacenters, financial services, and virtual desktop and server workloads. The products also help customers shrink their overall storage footprint and power requirements, leading to increased datacenter efficiency and lower IT costs.
New Nytro products include:
Nytro WarpDrive BFH8-3200: a full-height Nytro WarpDrive accelerator card with 3.2TB of flash capacity. The industry's first PCIe flash card with a PCIe 3.0 interface for sustained throughput performance over 4.0 GB/s. Offering twice the flash capacity of low-profile, small form factor Nytro WarpDrive models, the card meets the needs of some customers for higher-density flash-based server designs that extend server performance with fewer flash cards or a significantly fewer number of SSDs.

Nytro MegaRAID 8110-4e: uniquely integrates 200GB of onboard flash capacity with intelligent caching software and LSI leading dual-core RAID-on-Chip (ROC) technology. With four external 6Gb/s SAS+SATA ports supporting connectivity up to 128 end devices, the product delivers intelligent application acceleration, flexible flash storage and enterprise-level data protection for direct-attached storage and external rack-mounted disk enclosure configurations.

Nytro MegaRAID 8120-4e: a high-capacity Nytro MegaRAID card combining 800GB of onboard flash with intelligent caching software and 4 external ports, providing connectivity and MegaRAID data protection for up to 128 SATA or SAS devices.
New Nytro MegaRAID software features include:
Nytro Boot - provides the flexibility to partition onboard flash capacity as a boot volume. This unique ability to move the boot function to the Nytro MegaRAID card eliminates cost associated with dedicating hard disk drives (HDDs) for operating system boot. This is ideally suited for environments that dedicate two mirrored HDDs on each server for booting, such as Big Data applications, web servers and databases. Having boot volumes reside on flash frees up the additional HDD drive slots for expanding system storage capacity.

Elastic Cache - extends the effective capacity of onboard flash with evolved algorithms that more efficiently distribute "hot read" data for improved flash utilization and read workload performance. By more efficiently managing hot read data blocks, the effective cache size increases, allowing for higher performance with existing hardware.

Flexible Flash - new configuration support provides the flexibility to utilize a portion of the Nytro MegaRAID onboard flash capacity as a data volume, allowing latency-sensitive I/O to be stored and accessed from performance-optimized flash. Use cases include storing the TempDB in a SQL database in flash, allowing faster access to this global resource for all users, and improving overall database performance.
"We are able to greatly improve datacenter performance with Nytro flash acceleration solutions, and as a result we are seeing strong adoption and LSI has established itself as the fastest-growing supplier worldwide," said Gary Smerdon, senior vice president and general manager, Accelerated Solutions Division, LSI. "Working closely with our customers, we developed these new product additions and enhanced features to drive greater performance in a smaller footprint and to increase the flexibility and use cases Nytro cards offer customers."
For more information, visit the product pages of WarpDrive BFH8-3200, MegaRAID NMR 8110-4e, and MegaRAID NMR 8120-4e.
Last updated: Apr 7, 2020 at 12:08 pm CDT