FREMONT, California - May 30, 2013 - Corsair, a worldwide designer of high-perform­­­­­­ance components to the PC hardware market, is teaming up with Intel to host the Computex OC Main Event on June 3rd in Taipei, Taiwan. The event will bring the world's best overclockers together to compete in setting the first speed records with 4th generation Intel Core processors and Corsair's soon-to-be-announced new line of highly overclockable memory.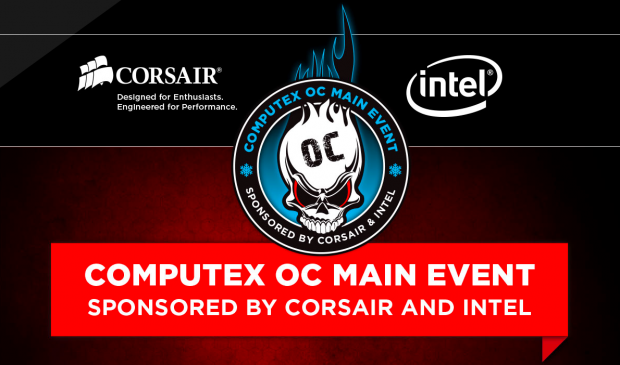 Overclocking is a way of boosting the computer performance by increasing the clock frequency settings of components such as the CPU, memory, and motherboards. Popular with PC enthusiasts, overclocking has grown from being a hobby to a professional technical sport with competitions held in countries around the world.
At this year's Computex OC Main Event, elite overclockers from around the world will be vying for $20,000 USD in cash prizes. Competitors at the event will include some of the finest overclockers in the world including 8-Pack, Andre, Coldest, Coolice, Der8auer, Dinos22, Elmor, Hazzan, HiCookie, Lin222, lucky_n00b, Mad222, Nick Shih, Pt1t, Slamms, Smoke, Splave, tor_za, ZoLKoRn, and Zzolio. The live event broadcast by Overclocking-TV will be available at corsair.com/OCMainEvent on June 3rd from 13:00 - 18:00 GMT +8.
In addition to the overclocking competition, the event will feature presentations by Intel and Corsair, including a PC building master class and a demonstration of the Intel Extreme Tuning Utility. Attendees will also be among the first to see Corsair's new line of products that are designed for use with the 4th Generation Intel Core processor.
"We are excited to be hosting the premier overclocking event of Computex 2013 with our friends at Intel," said Thi La, Senior VP and GM of Memory and Enthusiast Component Products at Corsair. "Together we'll be unleashing the world's top overclockers for the first time on the latest Intel processors and our new line of Corsair memory. With the sheer level of overclocking talent and the capabilities of the new hardware, I anticipate seeing groundbreaking levels of performance."
"Our upcoming 4th Gen Intel Core processors will deliver amazing new levels of performance to the enthusiast community," said Zane Ball, Intel Vice President, Global Ecosystem Development. "We are excited to sponsor the world's top overclockers at this year's Computex OC Main Event."
Time and Location:
The Computex OC Main Event
Marquee Restaurant & Lounge
1F., No. 16-1, Sec. 5, Hsin-Yi Road
Taipei, Taiwan, R.O.C.
Monday, June 3rd, 13:00 - 18:00 GMT +8
The event is invitation-only to members of the press and industry partners. For inquiries please visit the event registration page: http://ocmainevent.eventbrite.com.
For coverage of the event visit corsair.com/OCMainEvent.
Last updated: Apr 7, 2020 at 12:08 pm CDT