PQI Highlights the World with the Latest Technologies at Computex 2013 Announcing New Products for New Lifestyles
May 23, 2013 6:42 PM CDT
May 23, 2013
Computex Taipei 2013, the largest annual ICT exhibition in Asia and second largest of the world, is coming up from June 4 to June 8 at the TWTC Nangang Exhibition Hall in Taipei. PQI, a global leader in wireless storage solutions, will be on the first floor of the exhibition at Booth I1109a. The five major product lines will be on display - PQI Storage, PQI Air, PQI Power, PQI Audio, and PQI Mobility - along with products exclusively from PQI and a wide range of the latest electronics technology from the company. The booth is designed to be simple and bright with product kiosks to demonstrate a real user environment. Stage events will interact with showgoers and showcase the charm of PQI products!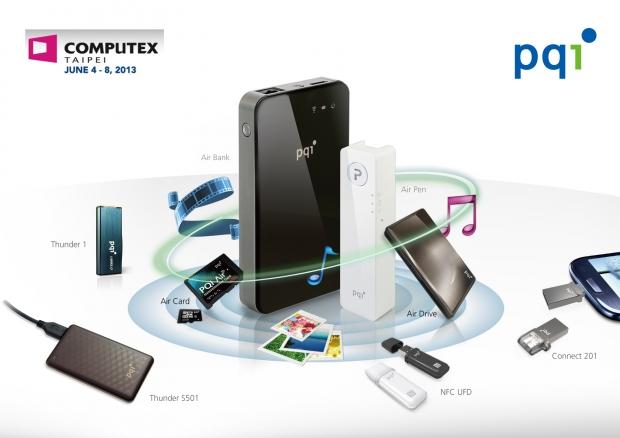 On the upcoming exhibition, Mr. Alan Chang, CEO of Global Operations at PQI, mentioned: A recent New York Times article pointed out the lack of "innovation" in the electronics industry of Taiwan; this is a huge and most challenging aspect for a company. For many years, PQI has been investing and combining resources within the corporate group, as well as more than 15 R&D and manufacturing centers from around the world. PQI's persistence shall be rewarded at this exhibition with exceedingly high expectations!
Industry Leading Technologies:
PQI Connect is the Best Storage Solution for Smart Phones and Tablet Computers
Dual Micro-USB and USB connectors
The Connect features the PQI exclusive patented COB3.0 (Chip-on-Board 3.0) technology to enable the world's smallest storage solution for smart phones and tablet computers. Its "lightweight and thin" design is just the size of a penny but features both the micro-USB and USB dual connectors. Simply plug the micro-USB connector directly into the smart phone to transfer files without the need for additional cables. The file system is automatically categorized for syncing and sharing to Facebook with your photo, video, and music files. The USB connector can be directly to any USB port on the notebook or personal computer just as any USB thumb drive. The small design sits flush with the Ultrabook and MacBook Air to become one with the ultraportable devices.
PQI Thunder with Extreme Speeds
Unmatched Capacity and Performance
PQI Thunder 1 is the smallest bootable thumb drive in the industry. Its SSD controller technology supports USB3.0 and Windows 8 for high performance and low latency file access.
PQI Thunder S501 is the Credit Card-Sized SSD with Upgraded Capacity. No more bulky SSD drives, the PQI Thunder S501 is a credit card-sized drive encased in metallic gold. It is a sophisticated and distinguished design offered up to 1TB capacity. The side-access USB3.0 connector is designed for the portability and convenience of an external SSD drive. It is reliable, shock-proof, and has low power consumption while operating.
PQI NFC (Near Field Communication) Thumb Drive
Protects Your Most Secure Data
This NFC-enabled thumb drive provides a deeper layer of protection for your personal information and industry trade secrets. Simply plug the thumb drive into a USB port and use an NFC-equipped smart phone in close proximity to engage the encryption mechanism and access files stored on the thumb drive. Your personal files are safeguarded from prying eyes with the highest level of protection.
PQI Air for a Wireless Lifestyle
PQI's Air series features Wi-Fi technology to get rid of transfer cables for instant sharing and storage solutions. It features the "Communication-enabled expandable storage device" and "Communication-enabled card reader" technology patents to bring true wireless access to the products and consumer lifestyles.
Power, Audio, Mobility to Diversify the Product Lineup
PQI will be expanding and diversifying the PQI Power, PQI Audio, and PQI Mobility brands into the agent markets starting in 2013. Portable, modern, simple, and practical products from millions of brands worldwide will be hand picked by PQI for the consumers. Brands to be showcased at this exhibition includes BlueAnt, Kross Precision, Mujjo, PhotoFast, Verbatim, @Muse, iKit, Joy Factory, Puregear, AproLink, PGL+, and Soundmatters. These are the global brands with leading products in protection, power, Bluetooth, and Hi-Fi stereo to fully complement your unique lifestyle. We welcome you to come to our booth and experience a new world of personal gadgets that will rock your senses!
Last updated: Apr 7, 2020 at 12:08 pm CDT
PRICING: You can find products similar to this one for sale below.

United States: Find other tech and computer products like this over at Amazon.com

United Kingdom: Find other tech and computer products like this over at Amazon.co.uk

Australia: Find other tech and computer products like this over at Amazon.com.au

Canada: Find other tech and computer products like this over at Amazon.ca

Deutschland: Finde andere Technik- und Computerprodukte wie dieses auf Amazon.de
Related Tags