Worldwide PC shipments totaled 76.3 million units in the first quarter of 2013 (1Q13), down -13.9% compared to the same quarter in 2012 and worse than the forecast decline of -7.7%, according to the International Data Corporation (IDC) Worldwide Quarterly PC Tracker. The extent of the year-on-year contraction marked the worst quarter since IDC began tracking the PC market quarterly in 1994. The results also marked the fourth consecutive quarter of year-on-year shipment declines.
Despite some mild improvement in the economic environment and some new PC models offering Windows 8, PC shipments were down significantly across all regions compared to a year ago. Fading Mini Notebook shipments have taken a big chunk out of the low-end market while tablets and smartphones continue to divert consumer spending. PC industry efforts to offer touch capabilities and ultraslim systems have been hampered by traditional barriers of price and component supply, as well as a weak reception for Windows 8. The PC industry is struggling to identify innovations that differentiate PCs from other products and inspire consumers to buy, and instead is meeting significant resistance to changes perceived as cumbersome or costly.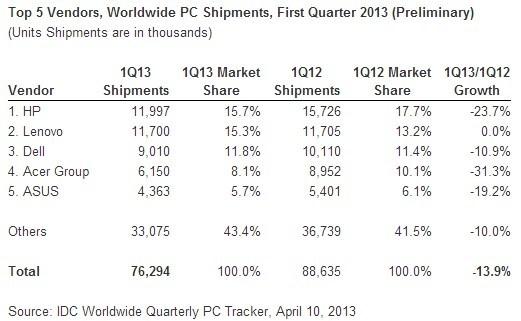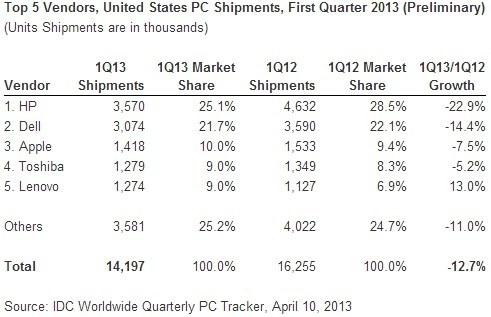 "At this point, unfortunately, it seems clear that the Windows 8 launch not only failed to provide a positive boost to the PC market, but appears to have slowed the market," said Bob O'Donnell, IDC Program Vice President, Clients and Displays. "While some consumers appreciate the new form factors and touch capabilities of Windows 8, the radical changes to the UI, removal of the familiar Start button, and the costs associated with touch have made PCs a less attractive alternative to dedicated tablets and other competitive devices. Microsoft will have to make some very tough decisions moving forward if it wants to help reinvigorate the PC market."
The impact of slow demand has been magnified by the restructuring and reorganizing efforts impacting HP and Dell. Lenovo remains a notable exception as it continues to execute on a solid "attack" strategy. Mid- and bottom-tier vendors are also struggling to identify growth markets within the U.S. Among the most vulnerable group of vendors are the whitebox system builders, which are undergoing consolidation that is affecting shipments as well as the distribution sector.
"Although the reduction in shipments was not a surprise, the magnitude of the contraction is both surprising and worrisome," said David Daoud, IDC Research Director, Personal Computing. "The industry is going through a critical crossroads, and strategic choices will have to be made as to how to compete with the proliferation of alternative devices and remain relevant to the consumer. Vendors will have to revisit their organizational structures and go to market strategies, as well as their supply chain, distribution, and product portfolios in the face of shrinking demand and looming consolidation."
Regional Highlights
United States - The U.S. market had another dismal quarter in 1Q13, contracting -12.7% year on year, with a drop of -18.3% compared to the fourth quarter of 2012. With total volume falling to 14.2 million, quarterly shipments reached their lowest level since the first quarter of 2006. With this latest figure, the U.S. is now in its tenth consecutive quarter of year-on-year contraction (excluding a brief moment of growth - less than 2% year on year - in 3Q11).

EMEA - As expected, Europe, Middle East and Africa (EMEA) remained constrained, posting a stronger double-digit decline than anticipated in the first quarter of 2013. Results fell short of expectations in the consumer segment as softness in demand persisted amid a continued shift to tablets and ongoing budget pressures. Meanwhile, the market response to Windows 8 and touch-enabled devices remained slow, leading to cautious sell-in from most vendors. Shipments in the commercial market remained constrained as predicted, following continued economic pressure and lack of major IT renewals.

Japan - PC shipments were in line with expectations in the first quarter. Some economic improvement is helping to support commercial replacement demand ahead of the scheduled end of support for Windows XP next year. However, consumer shipments remained very weak.

Asia/Pacific (excluding Japan) (APeJ) - PC shipments in APeJ declined sharply, dropping a record -12.7% year on year, the first time the region has experienced a double-digit decline. Although much of the earlier Windows 7 stock had cleared, a lukewarm reception toward Windows 8 hampered new shipments. China's inactivity contributed heavily to the decline, as public sector spending continued to be constrained.
Vendor Highlights
HP remained the top vendor, but posted a substantial double-digit decline in shipments after an aggressive fourth quarter kept growth flat during the holidays. HP's worldwide shipments fell more than -23% year on year in 1Q13, with significant declines across all regions, as internal restructuring continued to affect commercial sales. Although HP maintained its leadership position in the United States, the company saw U.S. shipments fall -22.9% from a year ago.

Lenovo remained second in global shipments and nearly closed the gap with HP. Lenovo continued to outpace the market, notably expanding shipments with its attack strategy. In the United States, Lenovo outperformed the market with double digit year-on-year growth compared to the market's double-digit contraction. Shipments in Asia/Pacific declined, however, keeping Lenovo's overall growth flat.

Dell saw shipments decline by more than -10% globally and -14% in the United States. The vendor continued to face tough competition and struggled with customer uncertainty about the direction of its restructuring. Nevertheless, the decline in shipments was smaller than the past few quarters, and its sales to Asia/Pacific returned to positive growth.

Acer Group continued to see substantial declines in shipments across regions. As the leader in Mini Notebook shipments, the vendor has been particularly exposed to the decline in these systems. Slow consumer and SMB growth has also taken a toll. In a sequential comparison, Acer's market share rose slightly to 8.1% in 1Q12 from 8.0% in 4Q12, halting its market share decline.

ASUS managed some growth in the United States, but saw a substantial decline in EMEA and Asia/Pacific. The company's substantial surge in Americas shipments in the second half of 2012 gave way to limited growth as demand weakened.

Apple fared better than the overall U.S. market, but still saw shipments decline as its own PCs also face competition from iPads.

Toshiba also saw shipments decline in the United States, but fared better than the overall market, benefitting somewhat from the restructuring of market leaders HP and Dell.
Last updated: Apr 7, 2020 at 12:08 pm CDT