Genius today announces the ideal toolset for professional gamers - KMH 100 - is now available in the US and Canada. This 3 in 1 GX Gaming Series combo brings together some of the elite products of the GX Gaming Series: Maurus Black gaming mouse, Imperator gaming keyboard and Lychas gaming headset.
Featuring numerous customizable features, Maurus gaming mouse gives gamers a personalized experience. The Scorpion UI (User Interface) lets you set up and save to 21 macros, giving you a competitive edge in the heat of battle. Maurus' buttons, with default settings of left, right, middle with scroll, next page, and last page, are programmable giving gamers even more customizable control. Additionally, the over-clocking SG Core i engine lets gamers adjust the dpi to four different levels (450/900/1800/3500) directly from the mouse.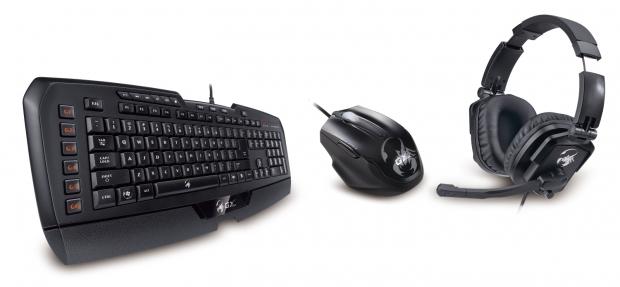 Maurus gaming mouse not only gives you personalized control when hunting down your foes, but also provides a smooth, stable connection with a comfortable design. The non-slick rubber coating ensures a firm grip when moving the mouse violently back and forth.
With 6 programmable keys under 3 game profiles, Imperator gaming keyboard allows gamers to assign up to 18 macros. The included UI makes it easy to manage and customize your macros. Once programmed, gamers can cast spells or execute specialized commands in a single keystroke.
When not gaming, users can take advantage of the seven easy access media keys including instant mute for simple control of movies, videos, and audio. Imperator gaming keyboard has an optimal 3.8mm key travel distance resulting in perfect elasticity. During long gaming sessions, the palm rest support helps gamers stay comfortable.
Ideal for LAN parties and competitions because of its individual ear cup volume control, Lychas gaming headset is easy to carry around with its the swivel ear cups and foldable design. When both of the ear cups' volume is turned up, this GX Gaming headset not only provides clear and accurate audio for a tactical advantage in any combat situation, but the large 50mm drivers also prevent distraction from background noises.
The in-line control box lets gamers easily tweak the master volume and mute the microphone in-game. Mounted on the left ear piece, the omni-directional microphone can be simply rotated out of view when not in use. And the adjustable headband fits comfortably on any gamer.
Individual components' highlights:
Imperator Gaming Keyboard
Full speed professional gaming keyboard for MMO/RTS gamers

Up to 18 macro keys assignment, anti-ghost keys and easy access media keys

On-board memory to prevent APM (actions per minute) loss
Maurus Black Gaming Mouse
Designed for FPS/RTS gamers

Programmable buttons, on-board memory and adjustable dpi

Rubber coating finish for non-slip grip
Lychas Gaming Headset
Portable and foldable design with swivel ear cups with 50mm drivers

Individual ear volume control as well as in-line master volume control and microphone mute function

Rotational omni-directional microphone
The KMH 100, 3 in 1 GX Gaming Series Combo, is now available in the US and Canada for the suggested retail price of $129.99.
Last updated: Apr 7, 2020 at 12:07 pm CDT