NVIDIA (NASDAQ: NVDA) today reported revenue for fiscal 2013 ended Jan. 27, 2013, of a record $4.28 billion, up 7.1 percent from $4.00 billion in fiscal 2012. GAAP earnings per share for the year were $0.90 per diluted share, a decrease of 4.3 percent from $0.94 in fiscal 2012. Non-GAAP earnings per diluted share were $1.17, down 1.7 percent from $1.19 in fiscal 2012.
During the quarter, NVIDIA repurchased $100.0 million of stock and paid a dividend of $0.075 per share, equivalent to $46.9 million. "This year we did the best work in our company's history," said Jen-Hsun Huang, president and chief executive officer of NVIDIA. "We achieved record revenues, margins and cash, despite significant market headwinds.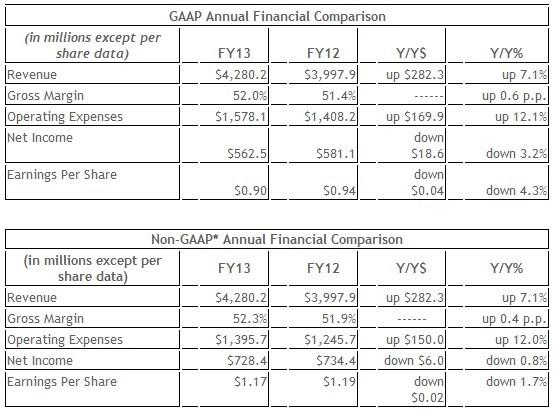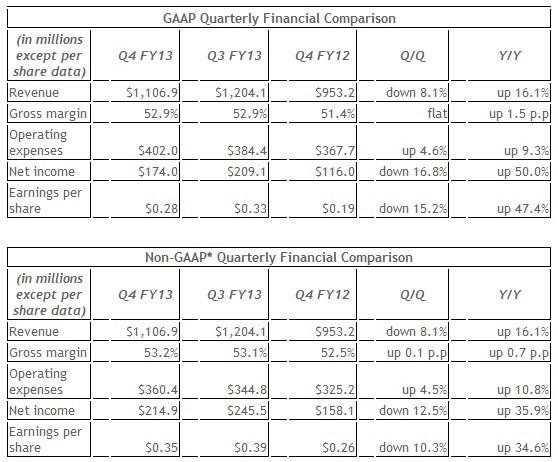 "We grew our GPU and Tegra Processor businesses. We are sampling production silicon of the Tegra 4 platform which includes our 4G LTE modem. And we created new pillars for long term growth with Project SHIELD and NVIDIA GRID -- first-of-their-kind devices that will extend our leadership in visual computing into mobile and the cloud."
Our outlook for the first quarter of fiscal 2014 is as follows:
Revenue is expected to be $940 million, plus or minus two percent.

GAAP and non-GAAP gross margins are expected to be flat relative to the prior quarter, at 52.9 percent and 53.2 percent, respectively.

GAAP operating expenses are expected to be approximately $430 million; non-GAAP operating expenses are expected to be approximately $395 million.

GAAP and non-GAAP tax rates for the first quarter and annual fiscal 2014 are both expected to be 16 percent, plus or minus one percentage point. This estimate excludes any discrete tax events that may occur during a quarter which, if realized, may increase or decrease our actual effective tax rates in such quarter.
We estimate depreciation and amortization for the first quarter to be approximately $59 million to $61 million. Capital expenditures are expected to be in the range of $55 million to $65 million.
Diluted shares for the first quarter are expected to be approximately 619 million.
Fourth Quarter Fiscal 2013 Highlights:
NVIDIA's customers brought three Windows RT devices to market -- Asus VivoTab RT, IdeaPad Yoga 11 from Lenovo, and Microsoft Surface RT

NVIDIA announced Project SHIELD, a unique Android gaming device that will ship in the second quarter of fiscal 2014

NVIDIA launched Tegra 4, the world's fastest mobile SOC and the first quad-core A15 SOC

NVIDIA continued to drive the streaming of gaming from the cloud by signing deals with six middleware providers that will supply GRID gaming technology to service operators worldwide

NVIDIA officially launched the Tesla K20 family of GPU accelerators, making the technology behind the world's fastest supercomputer, Titan, available to all
Dividend
NVIDIA will pay its next quarterly cash dividend of $0.075 cents per share on March 21, 2013 to all stockholders of record on February 28, 2013.
Reporting Segments
During the fourth quarter of fiscal 2013, NVIDIA began reporting two primary financial reporting segments -- GPU and Tegra Processor. This change reflects the way NVIDIA is now managing its businesses internally. More information on this change is in NVIDIA's CFO Commentary.
CFO Commentary and Earnings Presentation
Commentary on the quarter by Karen Burns, NVIDIA interim chief financial officer, and a presentation, are available at www.nvidia.com/ir.
Last updated: Apr 7, 2020 at 12:07 pm CDT