FREMONT, Calif. - February 19, 2013 - Digital Storm, the predominant name in computer system integration and engineering, is excited to announce it will offer a Titan Edition of its award winning Bolt - the slimmest gaming computer ever. The new NVIDIA GTX Titan is the world's fastest graphics card, and utilizes the same technology that powers Oak Ridge National Laboratory's Titan, the world's fastest supercomputer.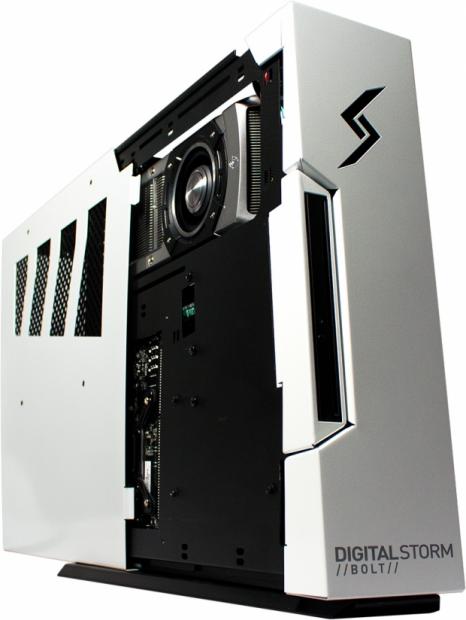 The Bolt's unique ventilation system differentiates it from all other small form factor PCs, making it one of the only systems in its class able to handle the powerful GTX Titan. The custom designed chassis features vents near each critical component, large top and rear vents to eliminate any stagnant air inside of the system, and a dedicated air channel created by a slotted side vent to cool the power supply. The design delivers industry leading thermals and ultraquiet operation.
The Digital Storm team benchmarked the new Titan Edition Bolt against a Bolt Level 4 configuration with a GTX 680, running the Unigine Heaven benchmark at a massive 5760x1080 resolution and all visual settings maxed - settings that would bring almost any PC to its knees. The GTX 680 had a score of 452 and suffered from jittery lag. By comparison, the GTX Titan delivered a score of 719 (159% faster), demonstrating the sheer horsepower of the new Titan under extreme benchmark conditions.
The Titan powered Bolt performed exceptionally when running Steam Big Picture, Valve's popular games distribution platform optimized for big screen TV's. The Bolt's unmatched balance of explosive power and size, just 3.6" wide, make it an ideal console replacement and destined to make the move from the home office or bedroom into the living room. The Digital Storm Bolt Titan Edition is available now at www.digitalstormonline.com and starts at $2,499.
Technical Specifications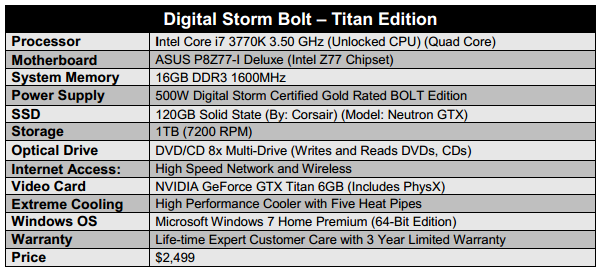 Last updated: Apr 7, 2020 at 12:07 pm CDT