Taipei, Taiwan, January 29th 2013 - GIGABYTE is proud to announce two new models of workstation motherboards and one new model dedicated to mission critical server applications. All of them being based on the Intel Xeon processors E5-2600 product family, these new models are designed to answer demanding needs for computing resources across various usage models, form factors and scales. While these products have been naturally thought for scenarios requiring heavy computing power through GPUs or GPGPU / co-processors cards, from CAD/CAE to rendering, simulation and modeling, their most notable advantage relies in their unique memory performance capability:

Achieved through GIGABYTE's capabilities in design, PCB layout and BIOS fine-tuning, this feature will be most appreciated in the many workstation applications where improvements in memory frequency result in speeding up the user's productivity and in all the industries relying on server applications where each incremental improvement in memory performance results in significant benefits, such as in finance.
Also, these three models are built with GIGABYTE's digital PWM controllers, guaranteeing a dynamic power supply to the processor(s) and memory with an ultra-fast response time. Built with advanced calibration tools, they offer the purest and most efficient electrical supply to date. When the CPU workload varies in function of the applications running, the Intel Turbo Boost Technology will do a dynamic overclock of the CPU cores, where the digital PWMs outshine the previous analog solutions. This way the CPU operations are much more stable, and the overall reliability of the system is greatly improved.
Super Workstation Board
The GA-7PESH3 gives nothing less than the possibility to build a full-blown super workstation within a standard full tower desktop case. With up to 16 cores, 32 threads, 4 double slot GPU/co-processors, and connections for a storage array of up to 13 drives, the user's workflow can be accelerated with many Teraflops of pure computing power. The ultimate workstation board dedicated to CAD/CAE, simulation and modeling.
Supports 4-Way SLI & CrossFireX
In order to deliver the biggest computing acceleration possible to advanced workstation applications, the GA-7PESH3 can be equipped with up to four NVIDIA Tesla and Intel Xeon Phi co-processing cards, or with up to four NVIDIA Quadro or AMD FirePro cards working together in SLI/CrossFire modes.
SAS 6Gbs Onboard
The GA-7PESH3 is built with the LSI 2008 controller, which provides SAS support for up to eight SAS 6Gbs drives. Improved performance and long-term stability make SAS drives ideal for 24/7 intensive workstation and mission critical applications:
Faster read and writes - up 15,000rpm

Faster data seek times - more responsive

Better long term stability - up to 2 million hours MTBF

Available in 3.5" and compact 2.5" form factors

SCSI protocol offers improved data integrity
Unique Memory Configuration
Thanks to the unique memory capability described above, the GA-7PESH3 can receive 128GB of DDR3 RDIMM ECC memory running at 1600MHz.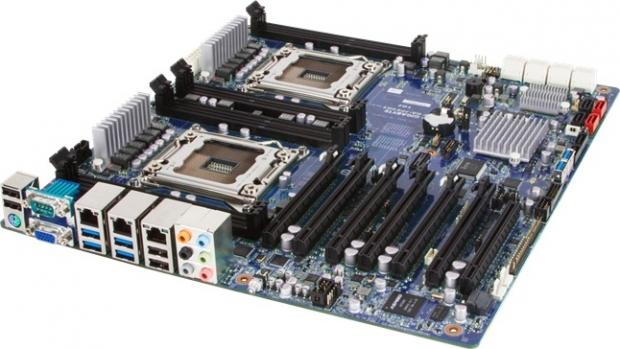 Rock-Solid Backbone for Critical Server Applications
Designed to over perform in all kind of mission critical applications, whether they are computing or memory intensive, highly parallel, relying on storage or depending on expansions, the GA-7PESH4 is a versatile and highly reliable base for business grade server applications.
High End Quad GbE LAN Solution
Built with the latest generation of network controller, optimized for virtualization, iSCSI and management related traffic, the GA-7PESH4 is designed to free the processors as much as possible from the network transfer loadings. Intense transfers will typically occupy up to 30% less computing resources compared to traditional LAN solutions. Also consumes less energy thanks to EEE and DMA coordination. Supports OS2BMC and MCTP.
Unique Memory Configuration
Thanks to the unique memory capability described above, the GA-7PESH4 can receive 256GB of DDR3 RDIMM ECC memory running at 1600MHz.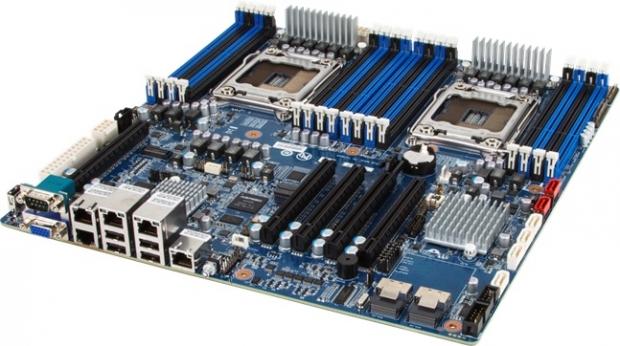 For Workstations in Virtualized Environments
Although this ATX model is suitable for tower workstation builds, the placement of its components and its airflow design has been optimized for rack integration. The critical computing resources of CAD/CAE teams within a large organization can be centralized in a way where maintenance and management can be scaled and made more convenient. With a quad LAN solution and a remote management controller, the GA-6PXSV4 is ready for computing intensive applications in virtualized environments.
Supports 3-Way SLI & CrossFireX
With three PCI-Express x16 Generation 3.0 slots supporting 3-way NVIDIA SLI and AMD CrossFireX modes, this motherboard can receive a trio of GPUs working together to deliver ultra-smooth and accelerated utilization of CAD/CAE and content creation applications. The GA-6PXSV4 can therefore deliver improved workflow, speed-up production, and ultimately strengthen the increasingly pressured capability of design houses to deliver their work in short periods of time.
Unique Memory Configuration
Thanks to the unique memory capability described above, the GA-7PESH3 can receive 128GB of DDR3 RDIMM ECC memory running at 1600MHz.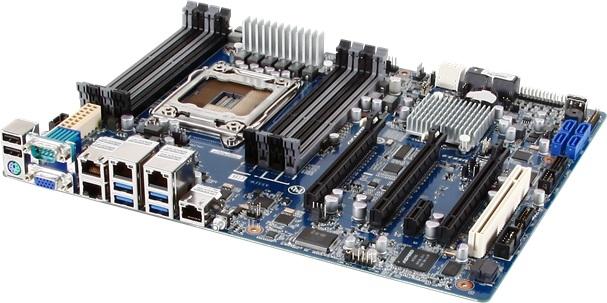 Last updated: Apr 7, 2020 at 12:07 pm CDT