Panasonic, a provider of professional document imaging solutions, today announced the new Panaboard UB-T880 Series of interactive whiteboards with an embedded PC. The integrated Intel i5 2520M processor embedded in the whiteboard provides simplicity, versatility and interactive message delivery, making it ideal for applications such as lectures and presentations in classrooms or corporate boardroom environments.
As part of the Panaboard UB-T880 Series of interactive whiteboards, the new models with embedded PC come in two sizes - a widescreen 86-inch diagonal viewing surface and a 77-inch surface with 3:4 aspect ratio. The embedded PC includes HD audio, HDMI and Ethernet outputs, and features Wi-Fi capabilities and MS Windows 7. Because the UB-T880 Series whiteboards with embedded PCs have their own IP address, presenters can email content directly to the board, further minimizing setup time and maximizing collaboration time.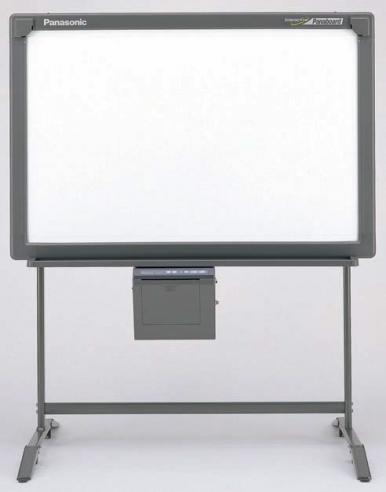 "We're constantly looking for ways to simplify technology for our customers. For classrooms or meeting rooms that don't already have personal computers, the UB-T880 Series with embedded PC offers the functionality of a PC while reducing the expense of purchasing one for every location," said Joseph Odore, Product Manager for Imaging Products at Panasonic System Communications Company of North America. "For instances when end users already have a laptop or personal computer, the Panaboard with embedded PC frees up the use of their computer during group presentations or lectures to take notes or provide real-time student assessment."
With the ability to deploy software prior to delivery, the Panaboards are the ultimate plug-and-play solution, offering fewer wires and a simple setup. The Panaboard UB-T880 Series with embedded PC offers additional versatility benefits, as the optional mobile cart allows users to roll the board into the next room and the PC moves with it, eliminating the need to unplug and carry a separate computer or install software on multiple PCs.
Interactive for Collaboration
As with all Panasonic interactive Panaboards, the UB-T880 Series whiteboards with embedded PC feature a multi-touch surface and simultaneous operation to promote collaboration. Dynamic image control allows users to easily move, scale and rotate content on the board, and the Presenter Pen allows users to switch between four marker and three highlighter colors, use the eraser tool, as well as advance slides on a presentation from anywhere in the room. Additionally, the Panaboards come with built-in stereo speakers, offering presenters the ability to share audio along with their presentations.
The UB-T880 Series with embedded PC will be available through authorized Panasonic retailers beginning February 1, 2013.

Last updated: Apr 7, 2020 at 12:07 pm CDT