Twinsburg, OH - January 25th, 2013
AVADirect, a leading custom notebook provider, is now offering the world's first X79 gaming notebook.
Almost one year ago, AVADirect began to accept pre-orders on what was to be the world's first X79 desktop replacement, the Clevo P270WM. After many complications, production was halted and release delayed. One year later, Clevo has scrapped the design of what was to be the first X79-based gaming notebook and is now ready to release the true X79 desktop replacement, the Clevo P570WM. The result is nothing short of spectacular, and AVADirect is embracing its availability with open, anxious arms to upgrade their arsenal of custom gaming notebook.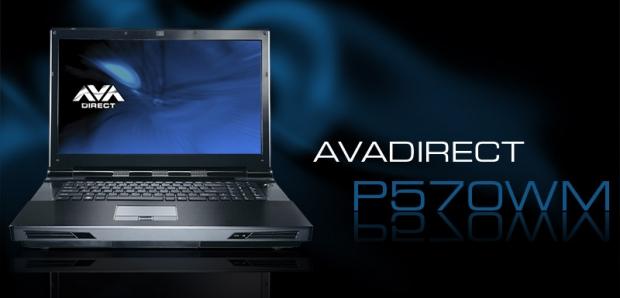 The specifications packed tactfully in the AVADirect Clevo X79 P570WM is nothing to trifle with. Being the first desktop replacement available, since the two-year old X7201, extreme desktop-replacement performance has returned with a vengeance. Offering socket 2011 Extreme Core i7 processors, GTX 680M graphics cards in 2-way SLI, NVIDIA's Quadro K5000, three 2.5" drive bays (including a separate optical drive bay. that can be converted to support a fourth 2.5" drive), RAID 0/1/5 support, and 54/34 express card slot. The Quadro K5000 mobile GPU deserves an article on its own. Never before have video, audio, and CAD professionals had the ability to harness such focused graphics power in a mobile platform, without having to consider a Mini PC option. With improved CUDA core technology, the K5000 mobile graphics unit promises to deliver a new and exciting experience to hard-working professionals. New to Clevo's latest line of custom notebooks, the X79 P570WM offers a back-lit, color-integrated keyboard that offers color-changing zones programmed to any end-user's preference. Many would easily say AVADirect's Clevo P570WM is fully loaded with bells and whistles.
It's no secret that enthusiast and professionals were ecstatic, following the news of the first X79-designed desktop replacement, manufactured by Clevo, and provided by AVADirect. Desktop replacements have become a growing demand based on their ability to provide the most robust performance available in a mobile platform. The X79 Clevo P570WM sets out to raise industry standards, for mobile solutions, through its performance-driven ability to handle a majority of requirements existing with today's demanding software. These key components are the core of AVADirect's partnership with Clevo and their combined goal to bring the latest and most innovative mobile products to end-users that can expand their abilities, skill set, entertainment experience, and quality of life. AVADirect's Clevo P570WM represents everything that the custom builder stands for. Raw, uncompromisable performance presented with high-quality standards; designed by end-users that refuse to accept anything less than a reliable, high-end quality product.
Last updated: Apr 7, 2020 at 12:07 pm CDT