In advance of the Open Compute Summit today, Fusion-io (NYSE: FIO) announced its newest product line, Fusion ioScale. Previously exclusive to Fusion-io customers outfitting thousands of servers, ioScale is now available for hyperscale and cloud companies in minimum order quantities of only one hundred units. Each ioScale provides up to 3.2 terabytes of reliable Fusion ioMemory capacity that is performance tuned for the unique needs of webscale environments. With prices starting at $3.89 USD per gigabyte with increasing discounts based on volume, ioScale now makes it practical to architect an all-flash datacenter at scale.
"By making ioScale available to growing webscale and emerging cloud companies, Fusion-io is at the forefront of the transition to the all-flash hyperscale datacenter, powered by open software defined solutions," said David Flynn, Fusion-io CEO and Chairman. "Hyperscale companies are an entirely different market with different needs compared to enterprise organizations. Fusion ioScale has been specifically designed with the input of existing hyperscale market leaders to maximize the simplicity of the all-flash datacenter and meet the unique needs of webscale customers. Fusion-io is pleased to now be able to offer this technology to emerging market leaders to help them redefine what's possible when it comes to cost effectively delivering rich data services to millions of people around the world."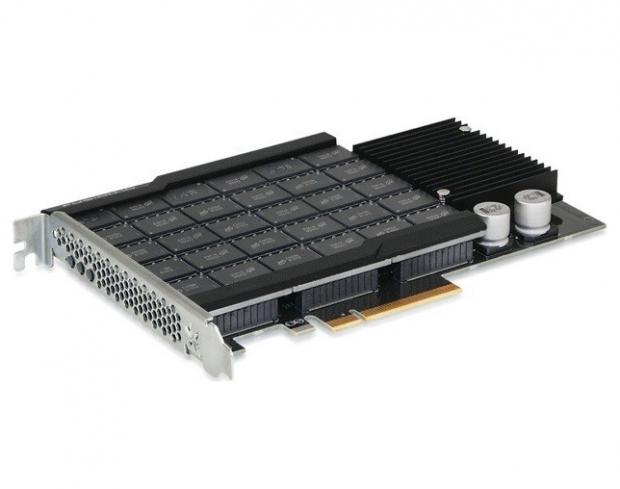 By leveraging involvement with its strategic partners, Fusion ioScale evolved from the high volume Fusion ioFX workstation acceleration products. Fusion ioScale delivers on the unique needs of webscale and emerging cloud companies, meeting their requirements for price, maximum rack density and trusted Fusion-io reliability. As the industry shifts to open software defined datacenters, solutions like ioScale are powerful I/O engines that dramatically improve the performance and efficiency of hyperscale infrastructure.
"We're thrilled to see Fusion-io launching ioScale in conjunction with the Open Compute Summit and making this high-performance, low-power technology more broadly available," said Frank Frankovsky, Chairman of the Open Compute Foundation and Vice President of Hardware Design and Supply Chain at Facebook. "We've been involved in all stages of the product's research and development, and we're excited by this technology's potential to help the industry meet its rapidly growing storage demands."
Simplified, higher density and more reliable servers make the hyperscale all-flash datacenter more efficient than datacenters based on solid state disk and hard disk systems. The reduced floor space requirements, lower power consumption, and the tolerance of wider temperature and humidity ranges dramatically reduce operational costs and environmental impact through an all-flash hyperscale datacenter.
"Hyperscale companies architect their infrastructure with bare bones servers and open source software that scales-out cost-effectively in the hundreds and thousands," said David Floyer, Wikibon Chief Technology Officer. "These organizations focus on capital expenses; this is very different from the operating expense focus seen at traditional enterprises that implement feature-rich infrastructure with long lifespans. The data requirements of these hyperscale companies are growing astronomically fast, much faster than the enterprise market. The design of the ioScale flash memory products will enable Fusion-io to reach a broader range of webscale and cloud companies, including the emerging hyperscale leaders who will power the services consumers will enjoy in an always-connected world."
Key benefits of Fusion ioScale include:
Up to 3.2 TB of capacity on a single half length PCIe slot, with a single controller, enabling a small form factor server to reliably scale to 12.8 TB or more, delivering maximum rack density and reducing the need for antiquated disk drive bays

Hyperscale servers supporting UEFI can boot from Fusion ioScale, further eliminating the need for RAID controllers or disk infrastructure in spartan webscale servers with limited space

Best-in-class Fusion-io endurance in all capacities, empowering caching, write-heavy databases and large scale applications

Enterprise reliability with the Self-Healing, Wear Management, and Predictive Monitoring capabilities of Fusion ioMemory, ensuring customers can easily meet even the highest service level requirements

Compatibility with the Fusion ioMemory software development kit (SDK) to leverage application programming interfaces (APIs) like Atomic Writes and directFS permitting applications to run natively on flash
Fusion ioScale will be showcased at the Open Compute Summit in Santa Clara, California on January 16 and 17, 2013, in Fusion-io booth #A4, where it will be featured in Facebook servers. Fusion-io CEO David Flynn will present at the Open Compute Summit on the displacement of disk in the datacenter at 1:00 pm Pacific Time today, January 16, 2013.
Last updated: Apr 7, 2020 at 12:07 pm CDT