Drobo, makers of award-winning data storage products for businesses and professionals, today announced the general availability and shipping of its fastest and most technologically advanced networked storage, the new Drobo 5N.
The Drobo 5N further expands Drobo's new line of professional storage products, which includes the recently released Drobo 5D and the Drobo Mini, by leveraging the company's patent-pending SSD and tiering technology for the first time with networked storage. These, combined with Drobo's unique ease-of-use and flexibility, enable the Drobo 5N to provide an unprecedented package of simplicity, affordability and performance for home users, small offices and creative professionals. The 5N also utilizes Drobo's new, enhanced data protection capabilities, typically only found in more expensive enterprise storage systems.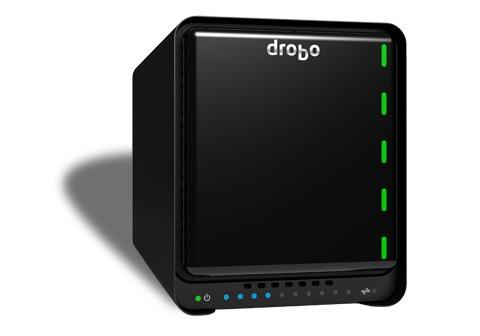 "Drobo continues to add truly impressive modern storage capabilities that are perfect for professionals and small businesses," stated Mark Peters, senior analyst at Enterprise Strategy Group. "Drobo stands alone in delivering its comprehensive range of advanced capabilities -- automated tiering, SSD performance and hard drive capacity, plus enterprise-grade reliability features -- in this price category for the networked home office and small office customer. By also maintaining its renowned ease-of-use, Drobo ensures it delivers both financial and operational value."
Easier, Faster, Safer
Like all Drobos, the 5N utilizes Drobo's patented ease-of-use technologies, including "traffic light" management; the ability to automatically keep data in a protected state, even withstanding disk drive failures; mix-and-match disk drive support and expansion of system capacity by adding or hot-swapping drives on-the-fly with zero downtime.
The Drobo 5N adds a significant performance boost via a brand-new hardware design and the use of Drobo's patent-pending Data-Aware Tiering technology. The increased horsepower and ability to support SSD technology in addition to hard drives accelerates the overall performance of the storage array, allowing faster access to data from applications such as Adobe Lightroom and Apple iPhoto or iTunes, without compromising overall system capacity.
In addition, the Drobo 5N provides an advanced data protection feature often found on enterprise-grade storage that automatically protects user and system data in the event of a spontaneous or unexpected power failure. The system utilizes intelligent software and battery technology that allows all critical data to be written to non-volatile storage, ensuring all important information is kept safe, even in the event of unexpected power loss.
Instant Upgrades
The Drobo 5N replaces the Drobo FS, one of Drobo's most popular products ever, as an entry-level networked storage solution that supports both Apple and PC platforms; the 5N also provides an easy-to-use interface for Apple's popular Time Machine. Existing customers of Drobo FS can easily upgrade by either copying their data to a new 5N or simply moving their Drobo FS disk drives to the Drobo 5N, thereby gaining access to the greater performance and data protection features of the 5N within minutes.
Perfect for Media, Networked Homes and Small Offices
For media enthusiasts looking to share and back up video, photo and music files, the Drobo 5N provides a reliable plug-and-play storage solution with the real-world performance to seamlessly run rich media libraries such as iTunes and iPhoto as well as to safely store and back up personal data. With Drobo's automated data protection, the 5N makes storing and protecting valuable data very simple, with enough storage for more than 90,000 16 Megapixel raw photos, 650 Blu-ray discs, and up to 5,000 hours of 1080p HD video.
In addition, home and small office users who need an easy and affordable solution for network backups, file sharing and future expandability in Apple, PC or mixed environments will appreciate the affordable but advanced features of the new Drobo 5N, including its compatibility with a wide range of local and cloud backup solutions to deliver remote access and off-premises data protection.
Pricing and Availability
Pricing for the Drobo 5N begins at $599 (U.S. MSRP), and the new system is available almost everywhere technology products are sold, including Amazon, B&H Photo Video, CDW and the online Drobo store at www.drobo.com.
Last updated: Apr 7, 2020 at 12:07 pm CDT