Other World Computing (OWC) a leading zero emissions Mac and PC technology company, announced today the Mercury Viper Solid State Drive, the next generation of high performance OWC Mercury brand SSDs. Designed for professional users and gamers who require uncompromised workflow performance, Mercury Viper is the industry's fastest 3.5 inch 6G Solid State Drive with speeds that nearly eclipse the fastest internal data interface - SATA 3.0 6Gb/s - offered in today's Mac and PC computers.
OWC will highlight the Mercury Viper along with its broad line of award-winning SSDs in its booth #5812 in the LVCC North Hall during the Consumer Electronics Show (CES), which begins Tuesday in Las Vegas, Nevada.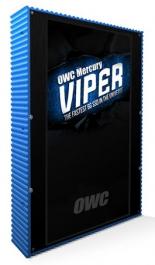 Capacities for Any Need
In addition to offering data rate performance up to 600 MB/s, the Mercury Viper is available in capacities from 240 GB to a massive 2 TB (1920 GB) to handle any user's data storage needs. Pricing and shipping dates for the Mercury Viper SSD models will be announced in the next sixty days.
"The introduction of the Mercury Viper spotlights OWC's continued leadership role in the evolution of Solid State Drives," said Larry O'Connor, Founder and CEO, Other World Computing. "Offering up to 600 MB/s speed and capacity up to 2.0 TB, Viper truly is a performance beast that will more than satisfy the most demanding Mac and PC user who seeks nothing but the best."
Last updated: Apr 7, 2020 at 12:07 pm CDT