From the gridiron to the Consumer Electronics Show, Tim Tebow hits the Las Vegas strip with SOUL Electronics to unveil his limited edition headphone signature series, the SL300, and his new athletic line of headphones the Combat+ line. Handpicked and inspired by the football great, the SL300 is a game-changer in the personal audio industry.
"Tim Tebow exemplifies strength and perseverance. We [SOUL] wanted to capture these qualities in his signature headphones, and develop a world-class headphone inspired by a world-class athlete," says Lan Kennedy-Davis, CEO of SOUL Electronics USA. "This series goes beyond great music... for us; it's about achieving greatness, and Tim Tebow stands for greatness."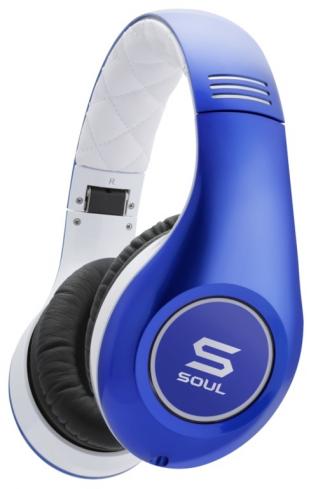 For many athletes, like Tebow, music is an escape from the daily grind and the pressures of a big game. Great music can put these athletes in the 'zone' guiding them to a place of focus and preparedness. The SL300 couples Tebow's headphone desires with SOUL's core values, which include superior sound in an attractive design.
Tebow handpicked the blue and white colors in his signature series. The exterior is a sleek monocoque design with no exposed hinges, giving the headphones the look and feel of a futuristic racing car. The SOUL badge on the ear cups illuminate. These are two features among others unique to SOUL's SL300.
Stellar noise-cancellation technology creates a unique, fully isolating audio experience blocking out the extraneous, unwanted noise of the surrounding world. Developed by a military engineer, who holds patents on noise-cancellation technology, the noise cancellation feature is second to none, and leaves listeners with only pristine, balanced and clear music. The SL300 are the only headphones on the market that will continue to work in a passive mode if the battery runs out of juice.
Advanced driver and circuitry design ensures superb bass, clear mids and highs to create high precision audio balance. Full ear cup articulation ensures the best and most comfortable fit every time for a longer listening experience.
The SL300 by Tim Tebow includes a tangle-free audio cable with an Apple in-line controller that will not short out because it is sweat resistant. A standard tangle-free audio cable is also included in the package. The headphones can be folded for easy storage and portability.
The SL300 by Tim Tebow retails for $299.95. It is currently available exclusively at SOUL Electronics' online store at www.soulelectronics.com at a special introductory price and only available for limited release.
Last updated: Apr 7, 2020 at 12:07 pm CDT