Taipei, Taiwan, January 8, 2013 - At the International CES 2013 opening today, QNAP , Inc. showcased its newly launched Turbo NAS TS-x70 series and its complete NAS lineup, presented its latest version of NAS firmware 3.8 with various enhanced business and home applications, and displayed the new VioStor NVR VS-x100 Pro+ series and powerful surveillance Central Management System , the CMS-2000. Visitors could experience the full-spectrum of Turbo NAS series and VioStor NVR series at CES 2013.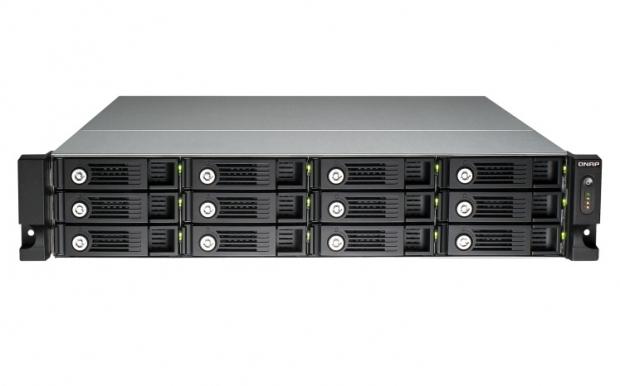 New affordable 10GbE NAS solution
The newly launched business-class, 2U rackmount TS-x70 series Turbo NAS, including the 12-bay TS-1270U-RP and the 8-bay TS-870U-RP, are designed to offer the SMBs superb high-performance yet budget-friendly NAS solutions to smooth daily file operations with low total cost of ownership. Powered by a high performance Dual-core Intel 2.4GHz processor, the TS-x70 series deliver exceptional performance at an exceptional price.
The TS-x70 series are 10GbE ready to fulfill various business applications including iSCSI IP-SAN, server virtualization, high speed backup, video storage, and centralized shared storage. The TS-x70 series provide dual Gigabit Ethernet ports, which can be expanded up to six Gigabit Ethernet ports, or four 10 Gigabit Ethernet ports plus two Gigabit Ethernet ports, boosting the overall network performance. "The TS-x70 series are proficient to fulfill mission-critical storage needs of small and medium-sized businesses with maximum system uptime," said David Tsao, product manager of QNAP. "The network expansion options can easily satisfy high-speed data transmission required in the business environment," added Tsao.
New NAS firmware 3.8
QNAP also demonstrated the latest 3.8.1 NAS management firmware. Among the many new features available in the 3.8.1 firmware is the new Surveillance Station Pro which supports 1,400+ IP camera models along with flexible camera access control, multi-server monitoring and VMobile app for iOS and Androidâ"¢. The new firmware also provides highly anticipated features such as fresh new interface, new DJ Station, new Video Station, new TV Station, upgraded Photo Station and Music Station 3.
New high performance NVR
QNAP firstly unveiled its new tower VS-x100 Pro+ series NVR, available in 2, 4 and 6 bays. Designed for the SMB segment with the features of robust performance, solid reliability and high-definition quality delivery, the VS-x100 Pro+ series are capable of high megapixel recording as well as built in full-HD decoders. The new VioStor NVR firmware 4.0.0, revamped with a completely new user interface, drag-and-drop control panel, cross-browser support, real-time system alert and much more, was presented for users to enjoy smooth experience with the management of VioStor NVRs.
Central Management System (CMS-2000)
Introducing the long awaited Central Management System (CMS-2000) from QNAP, a Linux-embedded, highly reliable turnkey solution built on top of QNAP's existing VioStor NVR product range. It's an integrated system combining robust hardware and user-friendly client software that runs on PC's, most suitable for 24x7 operations. Through CMS-2000, system integrators now have the ability to conveniently manage up to 1024 channels. It also offers a complete privilege management scheme for user access supervision, allowing different authority level setup to multi-monitoring and video playback. An informative dashboard provides practical, useful information of overall system status at a glance.
Digital Signage Player
The QNAP digital signage player includes its own embedded software allowing easy content design and control for content placement. The software allows the freedom to schedule message delivery and the flexibility to manage multiple signage players over the network. The latest digital signage series iS-1500, iS-1600 and iS-1620 are available in the exhibition for users to experience.
"Our design engineers really pushed the envelope in our surveillance product line to make sure all facets are covered for our security customers and integrators," noted Ivan Hsu, product marketing director of QNAP, Inc. "We also realize that recurring monthly revenue (RMR) is an important part of business for the system installers and integrators, and digital signage solution is the ideal product that opens up new application and opportunities in the market," added Hsu. "Compared to other signage players on the market, we provide high quality hardware with a complete software package. Users could adapt an entire signage solution without any additional software."
Availability
The new TS-1270U-RP and TS-870U-RP Turbo NAS are currently available. Learn more about the new models and the rest of the QNAP Turbo NAS lineup, including where to buy, atwww.qnap.com.
The availability of QNAP VioStor NVR VS-x100 Pro+ series and CMS-2000 will be announced separately.
Last updated: Apr 7, 2020 at 12:07 pm CDT