Fremont, CA (January 7, 2013) - ASUS ROG presents the fastest and most powerful graphics card currently available with the limited edition ARES II. Its dual Radeonâ"¢ HD 7970 GHz Edition GPUs and 6GB GDDR5 memory support provide the ultimate PC gaming experience in a space-saving 2-slot design. The ARES II features exclusive ASUS DIGI+ VRM and Super Alloy Power technologies for greater stability and product longevity. The bundled ROG Edition GPU Tweak utility allows customers direct access to graphics card overclocking and tuning options via a user-friendly interface.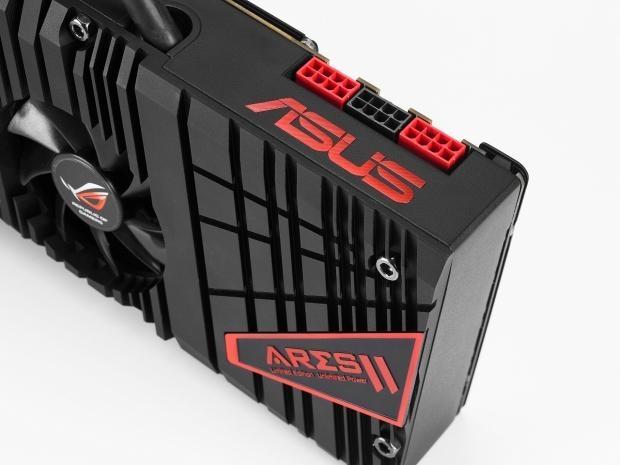 Continuing the ARES legacy with collectible hardware for enthusiasts
Launched in the summer of 2010, the original ROG ARES provided a new milestone in graphics power that soon became an in-demand commodity among hardware enthusiasts and collectors. ARES II likewise debuts as a limited edition product, with only 1000 units produced. It ships in a special ROG-themed case, with each card featuring a laser-etched serial number on the aluminum backplate to denote its collectible status.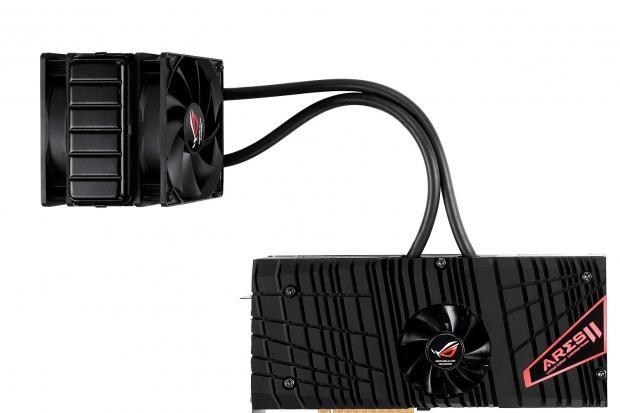 New thermal cooling design enables maximum performance
ARES II provides a custom cooler that utilizes liquid and air cooling to achieve drastically improved heat dissipation over reference design cards. The hybrid design consists of a closed-cycle liquid system with dual 120mm fans and a radiator block that easily fits in most PC cases. The card itself includes an 80mm dust-proof fan to enable additional cooling for critical components such as video memory and power delivery components. The new design assures continuous stability even under full load, and achieves up to 31C cooler operation compared to a reference GTX 690. ARES II features a 2-slot height design, making it accessible to most PC cases on the market.
DIGI+ VRM, Super Alloy Power, and GPU Tweak provide unparalleled power
Exclusive ASUS DIGI+ digital voltage regulation technology provides precise power delivery to bolster graphics card stability and help increase overclocking flexibility. The 20-phase Super Alloy Power architecture, consisting of heavy duty solid state capacitors, high quality chokes and MOSFETs can withstand higher temperatures and stress loads than typical designs while providing a much longer lifespan.
Users can modify card parameters including core and memory speeds, fan performance, and voltages using the bundled ROG Edition GPU Tweak utility, all via a user-friendly interface. Multiple profiles for individual games and applications can also be set up, and GPU Tweak doubles as a monitoring program for keeping an eye on ARES II temperatures and power consumption levels.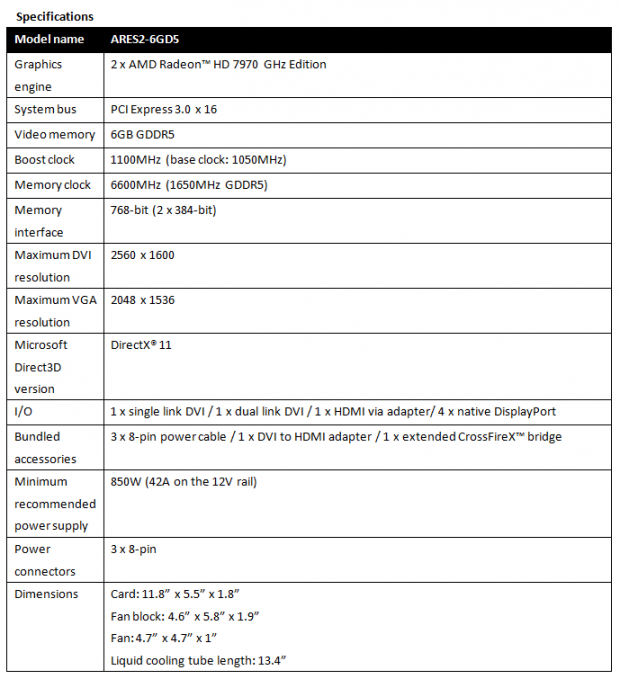 Availability and pricing
To be announced near product launch and may vary by market. Product specifications and features may change without prior notice. Check usa.asus.com or rog.asus.com for further details.
Last updated: Apr 7, 2020 at 12:07 pm CDT