International Consumer Electronics Show (CES 2013), Las Vegas, January 7, 2013 - G-Technology, a leading developer of innovative storage solutions engineered specifically to meet the needs of the content creation and Apple Mac communities, today announced that it is now shipping its popular G-Technology G-DRIVE mini and G-RAID mini external storage solutions with new high-quality, 1TB, 2.5-inch 7,200RPM hard disk drives from HGST.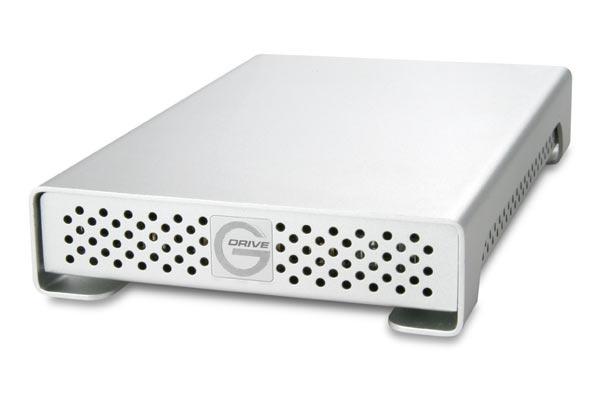 "Today, new kinds of devices and media formats require considerably more interface bandwidth, capacity and higher transfer rates to move, store and edit data quickly. The new Travelstar drive is the first and only 7,200 RPM, 1TB, 9.5mm 2.5-inch drive, and delivers the highest 7,200 RPM performance in PCMark Vantage testing," said Mike Williams, vice president and general manager, G-Technology/HGST Branded Business. "Now incorporated into our well-known G-RAID mini and G-DRIVE mini solutions, consumers and content creators can continue to receive unmatched performance, style and reliability in their G-Technology storage solutions."
G-Technology G-DRIVE mini
Delivering up to 136MB/s performance, the G-Technology G-DRIVE mini is perfect for users demanding high performance and high capacity from their portable storage device. The G-DRIVE mini features a sleek compact and durable all-aluminum enclosure and storage capacities up to 1TB using HGST Travelstar 7,200 RPM drives. The G-DRIVE mini offers both USB 3.0 and FireWire 800 connectivity for fast data transfers and has an integrated heat-sink for superior cooling and silent operation. Preformatted for Mac users, the drive works with Apple computer systems right out of the box and is Time Machine ready. A simple initialization is all it takes to prepare the G-DRIVE mini for use with Windows systems. The G-DRIVE mini solution is perfect for storing important documents, music, digital video and photo files. The new 1TB G-Technology G-DRIVE mini is now available for a suggested retail price of 149.99 pounds for 1TB.
G-Technology G-RAID mini
The G-Technology G-RAID mini is the companion for video and still shooters or editors working on location. Out of the box, the G-RAID mini solution is set up in RAID 0 (performance mode), with its two 7,200 RPM drives working together for the performance needed to edit the most popular compressed HD formats. The drive supports simultaneous playback of multiple layers of HDV, DVCPRO HD, XDCAM HD and ProRes 422 HQ with leading video editing applications including Final Cut Proâ"¢, Adobe Premiere and many more. Using the included software utility, the G-RAID mini can be configured in RAID 1 (protected mode), giving users the peace of mind that their digital content is protected while on the road. The G-RAID mini is FireWire bus powered - even when using USB 3.0 for data transfer. The G-RAID mini's soft-touch On/Off switch and thermo-regulated "smart" fan keeps the drive reliable, cool and quiet in the editing suite. Shipping in early Q1, the 2TB G-RAID mini solution will have a MSRP of 339.99 pounds.
Stay connected with G-Technology:
G-Technology storage solutions are engineered specifically to meet the needs of the content creation and Apple Mac communities, including heavy users of multimedia content, Final Cut Pro and Adobe Premiere Pro audio/video specialists, and other pre/post production professionals. From portable drives to ultra-fast, multi-drive RAID storage, G-Technology's USB, FireWire, eSATA, SAS and wireless storage solutions support virtually all levels of A/V production and can be found in post-production facilities worldwide.
Keep updated with G-Technology by connecting to G-Technology's social network channels:
Tumblr: DrivenCreativity
Facebook: G-TechnologyEurope
Twitter: @GTechEurope
YouTube: GTechStorage
Last updated: Apr 7, 2020 at 12:07 pm CDT