Taipei, Taiwanー 4th Jan, 2013ー G.SKILL International Co. Ltd., manufacturer of high performance memory and solid-state storage, is proud to announce G.SKILL's TridentX Series DDR3 Memory is nominated for the world's fastest DDR3 memory frequency achieved - DDR3 3,900MHz by Edison Award!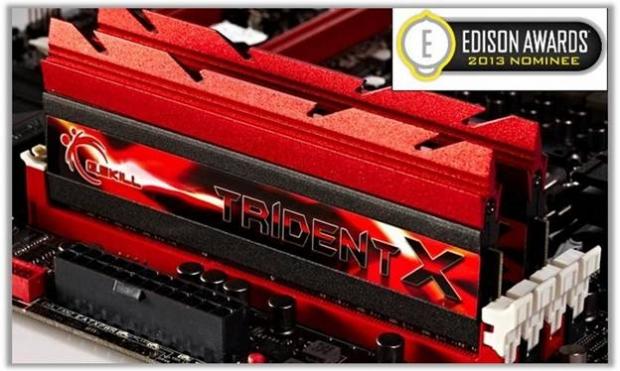 Edison Award
Since 1987, the Edison Awardsâ"¢ have recognized and honored some of the most innovative new products, services and business leaders in America. The Awards are named after Thomas Alva Edison (1847-1931) whose extraordinary new product and market development methods garnered him 1,093 U.S. patents and made him a household name across the world. The Edison Awards symbolize the persistence and excellence personified by Thomas Edison, while also strengthening the human drive for innovation, creativity and ingenuity.
G.SKILL TridentX Series DDR3 Memory - World's Fastest Memory Frequency - Link :http://hwbot.org/submission/2328217_
This world record again proves that G.SKILL 's exclusive product development technology offers distinctive advantages over our competitors, offering the best quality & performance memory solution that no other vendors can, differentiating from rest of the pack which ultimately leads G.SKILL's TridentX becoming the world's fastest DDR3 RAM in the market.
Last updated: Apr 7, 2020 at 12:07 pm CDT