WD, a Western Digital company, and a world leader in external storage and solutions for today's connected life, today unveils the new My Net AC1300 HD Dual-Band Router and My Net AC Bridge as the latest additions to the acclaimed My Net family of HD dual-band routers. These products combine next-generation 802.11ac wireless technology with WD's exclusive FasTrack technology for automatically prioritizing high-bandwidth entertainment services like Netflix, YouTube, online games and Skype, to provide maximum streaming performance inside the home.
A leading product testing and analysis organization, The Tolly Group, conducted performance testing of the My Net AC1300 router and My Net Bridge amongst comparable products on the market today. Results show that the My Net AC1300 router is faster than leading competitive products averaged across ranges of 30 to 75 feet, demonstrating the strongest performance in providing stable wireless speeds over long distances, and cutting out buffering and lag times to provide a smooth HD entertainment streaming experience throughout the home.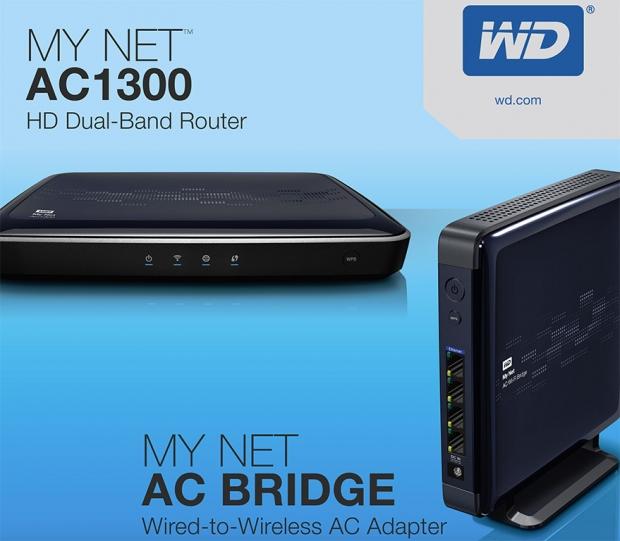 "The recent introduction of our My Net family of routers brought several new breakthroughs to the market, including our acclaimed FasTrack prioritization technology, amazingly simple setup and the My Net N900 Central router with storage," states Scott Vouri, general manager for WD's connected life solutions group. "The My Net AC1300 and My Net AC WiFi Bridge build on those breakthroughs, setting a new standard for wireless speeds and delivering maximum HD streaming performance for our customers, while driving multiple devices on the home network at the same time."
WD's exclusive FasTrack prioritization technology and next-generation AC Wi-Fi work together in the My Net AC1300 router to deliver crystal-clear high-definition streaming content to gaming consoles, media players, smart TVs, tablets, smartphones, computers and other Wi-Fi connected devices at speeds up to 3 times faster and with more reliable coverage, than wireless-N Wi-Fi. With dual-band performance up to 450 + 1300 Megabits per second (Mbps) and FasTrack technology, the My Net AC1300 features 802.11n wireless technology on the 2.4 GHz band and 802.11ac wireless technology on the 5 GHz band. Both bands work simultaneously to significantly reduce streaming delays and interference with the multitude of Wi-Fi devices connected to the network. The My Net AC1300 achieves its blazing throughput and exceptional signal quality via a unique horizontal 3x3 antenna array design.
The acclaimed simple setup process of the first generation of My Net routers is even easier on the new My Net AC1300 router. No CD or installation software is required. Setup is as easy as plugging in the new router and running the integrated automatic setup via the web browser on any smartphone, tablet or PC. Additionally, the My Net Dashboard makes it easy to customize, monitor or change settings on the network, by providing access to parental controls, Internet security settings, network name and password settings, all in one easy view.
My Net AC1300 includes four Gigabit Ethernet ports for wired devices such as media players or network attached storage, as well as two USB 2.0 ports to easily add external storage such as My Book or My Passport hard drives, shared printers and scanners. Additionally, My Net AC1300 is Universal Plug and Play (UPnP) certified for easy detection and connection of Wi-Fi devices, as well as Windows 8 certified for seamless support of the new Microsoft operating system.
With the new My Net AC Bridge, customers can convert up to four devices like a smart TV, game console, Blu-ray disc player and media player from wired-Ethernet to wireless and get blazing-fast AC Wi-Fi speeds for the ultimate HD entertainment experience. This reduces the amount of network cabling needed in the home without sacrificing the throughput Ethernet provides. The My Net AC Bridge is easily set up by simply pushing the WPS buttons on the bridge and the My Net AC1300 router (or other brands' AC routers).
Availability and Pricing
My Net AC1300 Router and My Net AC Bridge are available now at select U.S. retailers and online at wdstore.com. Manufacturer's Suggested Retail Price (MSRP) is $189.99 USD for My Net AC1300 and $149.99 USD for My Net AC Bridge.
Last updated: Apr 7, 2020 at 12:07 pm CDT