Following the introduction of the 280 mm Kraken X60, NZXT is officially adopting the 15 mm fan spacing specification for 140 mm radiators. Prior to this, all NZXT cases with 140 mm radiator support had fans placed 20 mm apart. This was due to a split standard in the industry, leaving some radiator and case manufacturers supporting fans with 20 mm spacing while others supported 15 mm spacing.
Since the 15 mm specification has grown to become the widely accepted standard among many companies due to the facilitation of a shorter radiator with better cooling efficiency, NZXT will now adopt the 15 mm spacing specification on all future projects.
We would also like to address some concerns this change may bring regarding our previously released products:
Phantom 820 already features the required fan spacing specifications for the NZXT Kraken X60.

Switch 810 has already begun production with revised top steel panels which allows for both 15 mm and 20 mm spacing.

Phantom 410 and Tempest 410 will happily accept the Kraken X40; however they will not be able to natively support the Kraken X60 due to their inherent hole spacing.
At the moment, NZXT's Switch 810 will be the only case receiving revised top steel panels for native Kraken X60 support. If you already own a Switch 810 and wish to purchase an NZXT Kraken X60, you may contact NZXT Support (http://nzxt.com/support) for a free replacement. The revised steel panels utilize screws for its installation, allowing users to easily replace the top steel panel with a standard Phillips head screwdriver.
For a complete list of Kraken X40 and Kraken X60 compatibility for both NZXT products and its competitors, please see the table below: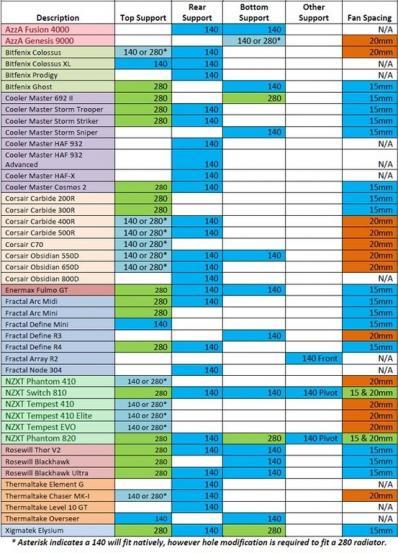 Last updated: Apr 7, 2020 at 12:07 pm CDT