DRAM Price Decline Results in 8.5% QoQ Decrease in DRAM Industry Value
Nov 6, 2012 9:30 PM CST
According to DRAMeXchange, a research division of TrendForce, as PC shipments are continually adjusted downwards and yearly growth has decreased by 5% YoY, demand for the peak season is not as strong as expected and the oversupply situation continues to worsen. As a result, contract price for 2 Gb chips fell by 22.5% in the third quarter, from US$1.11 in July to US$0.86 in September. Server and mobile DRAM are also showing falling price trends, resulting in an 8.5% drop in the value of the DRAM industry compared to the previous quarter; DRAM suppliers' revenues are falling across the board. However, looking at third quarter demand, with strong shipments for mobile devices like smartphones and tablet PCs, mobile DRAM accounted for 25% of total DRAM output, a significant increase from less than 20% in the second quarter. Consequently, market share is on the rise for memory makers with higher mobile DRAM ratios, like Samsung and Elpida. For the DRAM industry, improving core competitiveness lies in proper product adjustment, the key to profitability with such bleak market conditions.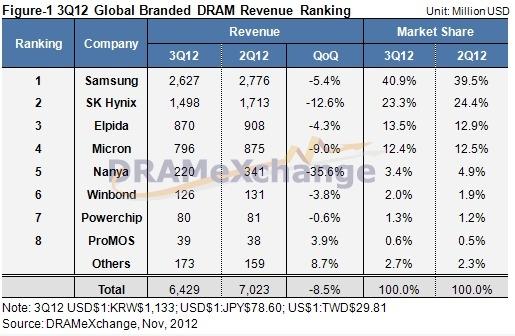 As for the DRAM brand manufacturer revenue ranking, the Korean makers' combined market share was 64.2%, of which more than 25% came from mobile DRAM revenue. Japanese supplier Elpida came in third with 13.5% of the market; while the maker's revenue fell by 4.3% QoQ, market share rose due to a greater percentage of mobile DRAM output. Close behind Elpida was Micron, whose market share was a mere 1.1% behind Elpida, but saw a revenue decrease of 9% QoQ. Micron was more heavily impacted by the commodity DRAM price decline, and the maker's DRAM operating margin dropped by approximately 5%, clear indication the supplier needs to increase the production ratios of mobile and server DRAM to avoid sustaining heavy losses due to price fluctuations. As for Taiwanese makers, as Nanya's commodity DRAM output reached 70% in the third quarter, revenue decreased 35.6%. Powerchip, on the other hand, only experienced a 0.6% decline in revenue despite increasing its commodity DRAM production. Winbond's revenue was relatively stable, with a 3.8% decrease, as the supplier only sells specialty DRAM. As ProMOS has announced its withdrawal from the market and is working on clearing inventory, the supplier's revenue saw a 3.9% increase.
Samsung, SK Hynix Still on Top as Mobile DRAM Proves Main Source of Profit
Samsung took over 40% of the market in the third quarter, a small increase compared to the previous quarter. However, the supplier was the only memory maker that saw profits, with DRAM operating margin at an impressive 17%. Samsung's strategy remains the same, focusing on cost reduction via technology migration. Additionally, as the Korean maker has the highest mobile DRAM market share, as mobile device shipments increased in the third quarter, Samsung's operating margin was the highest in the industry, at over 30%. As for SK Hynix, due to the DRAM price decline, the supplier's DRAM profit margin went from positive to negative, arriving at -5%. Nonetheless, the manufacturer still fared well, remaining in second place in terms of both market share and profitability. Worth noting, SK Hynix's mobile DRAM ratio exceeded 30% for the first time, with increased demand from Apple products. The maker's product ratios continue to improve, and the majority of SK Hynix's production is already non-commodity DRAM products.
Both Samsung and SK Hynix are relatively conservative on the fourth quarter demand outlook, as average selling price for various product lines is on a downward trend, further impacting profits. In September 2012, DRAM makers (excluding the Korean suppliers) began cutting capacity; as such, the industry's inventory levels are gradually decreasing. However, the Korean makers will have to make cuts as well if the industry is to return to balanced supply and demand and help DRAM price rebound.
Elpida and Micron Behind Korean Makers, Hoping Merger Will Bring New Opportunities
Although Elpida is having financial difficulties, the manufacturer still had the third largest market share in the third quarter, even seeing a slight increase compared to the previous quarter. Looking at the supplier's product mix, as the result of a commodity DRAM capacity cut, the maker's mobile DRAM ratio increased significantly, which helped mitigate losses. Currently, Elpida's 25 nm process is in the product testing phase, with volume production expected in early 2013. The Micron-Elpida merger is still underway, and it is expected that the integration of Elpida's mobile DRAM technology and Micron's flash memory will enable the team to develop comprehensive product combinations.
Micron's market share remained largely the same as in the previous quarter, at around 12%. As subsidiary Inotera's foundry business products are shipped by Micron, the U.S. supplier is more susceptible to risk from commodity DRAM. Micron's operating margin fell from -10% in the previous quarter to -15%. However, as cash levels are healthy at the moment, Micron has no plans to cut capacity for the time being. As for mobile DRAM, the supplier's product combinations mostly use low-density MCP, resulting in lower unit price, thereby making the lowest contribution to total revenue compared to other international suppliers. As for future strategy, Micron will continue to place its focus on server and networking products, while increasing the proportion of mobile DRAM output, in order to maintain healthy average selling prices and avoid further losses.
Capacity Cuts by Taiwanese Suppliers to Benefit DRAM Market
Taiwanese makers' combined market share fell by 1.2% in the third quarter primarily due to commodity DRAM prices sliding by over 20%. Powerchip's total revenue for the quarter grew by 4.3%, boosted by the stable growth of its foundry business, which has served to stabilize Powerchip's finances. However, due to the continual decline in commodity DRAM prices, in September Powerchip cut commodity DRAM capacity, which will significantly affect fourth quarter revenue. Rexchip's third quarter earnings fell by approximately 8.7% as parent company Elpida which was unable to purchase all of Rexchip's chips due to financial difficulties. Thus, Rexchip decreased capacity in August, which resulted in a decline in revenue.
Nanya's revenue fell by 35% in the third quarter, due to the DRAM price decline as well as the maker's announcement that it will be withdrawing from the commodity DRAM market and transitioning to specialty DRAM production, which lowered PC OEMs' desire to purchase. Nanya also cut capacity by around 20% in October to avoid cash outflow, saving capital for the transition. As for Inotera, the maker's revenue fell by 9.1% in the third quarter, mainly due to DRAM market conditions. However, as Inotera is adjusting its product ratios, increasing server and mobile DRAM output, the supplier's revenue did not fall as much as Nanya's; regardless, as Nanya's capacity cuts will undoubtedly have an effect on Inotera's fourth quarter revenue.
Looking at the market, global DRAM capacity has been cut by 7.1%, from this year's high of 1130K to the current 1050K wafers per month, a total decrease of approximately 80K wafers per month. Additionally, DRAM suppliers have lowered capex figures, slowed technology migration, and increased foundry business, in hopes of seeing the DRAM industry return to balanced supply and demand after the first quarter of 2013.
Last updated: Apr 7, 2020 at 12:07 pm CDT
PRICING: You can find products similar to this one for sale below.

United States: Find other tech and computer products like this over at Amazon.com

United Kingdom: Find other tech and computer products like this over at Amazon.co.uk

Australia: Find other tech and computer products like this over at Amazon.com.au

Canada: Find other tech and computer products like this over at Amazon.ca

Deutschland: Finde andere Technik- und Computerprodukte wie dieses auf Amazon.de
Related Tags